Not really related to either Quake or Epsilon, but I figure there's a large enough crossover of Quake fans who're also Doom fans that this is relevant:

Doom 2016's soundtrack suffers the same fate as most modern metal; overcompressed, over-limited and difficult to listen to for more than 10 minutes at a time without developing some subtle or obvious ear-fatigue. Having said that, I love the crap out of it. So I was especially happy to find that the vinyl variants don't suffer the same fate- unlike digital, vinyl has physical limitations on how much average volume you can sustain for long periods - too much, particularly in the bass, and you start to get needle jumps and obvious distortion.
Comparing the waveforms for, for example, Rip and Tear, looks like this between Vinyl and Digital: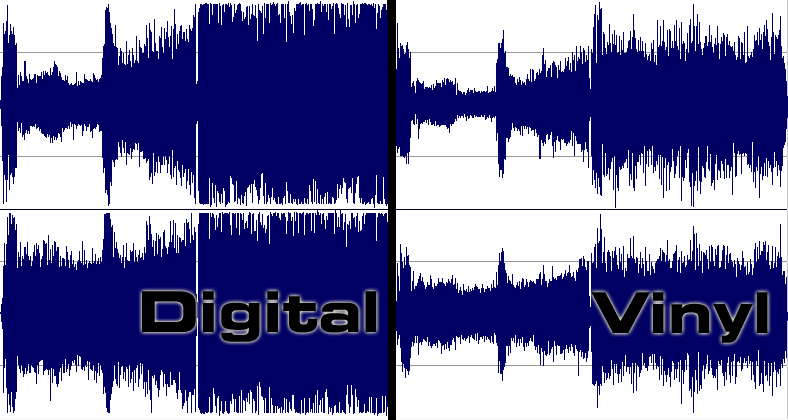 Vinyl has approximately -18db RMS (average volume) across the song, Digital is -11db - given that a 10db difference is roughly double the volume, a 7db difference indicates roughly 2/3rds more dynamic range in the vinyl. What does that mean exactly? Well, you would've heard of the loudness wars and how they basically ruined music in the 90's and beyond. If you haven't, basically humans perceive even slightly louder material as being subjectively better -to a point - so even sound engineers are easily swayed by something sounding slightly louder on average. But you do that enough and your material starts to sound like poopbutts compared to if you took the original and just upped the stereo's volume knob. Case in point:
This is the intro for Rip and Tear, first in digital then in Vinyl - both have been volume-matched so that their subjective overall volume is roughly identical. The digital version is from the 24-bit 48khz masters that come with the Vinyl box set btw. When you listen the first thing you'll hear in the vinyl is that the drums are punchier, and less compressed - overall the mix is more pleasing to listen to, particularly on a good stereo. And while most of the vinyl rip's I've heard of the soundtrack have seemed to apply some sort of volume limited or compression post-recording (or at least recorded it at a high enough level that the input clipped), I wanted a version I could hear to that was easier to listen through to the end. In one session. Something pleasing to the ear and as close to how the original pre-vinyl digital would've sounded, as I can get.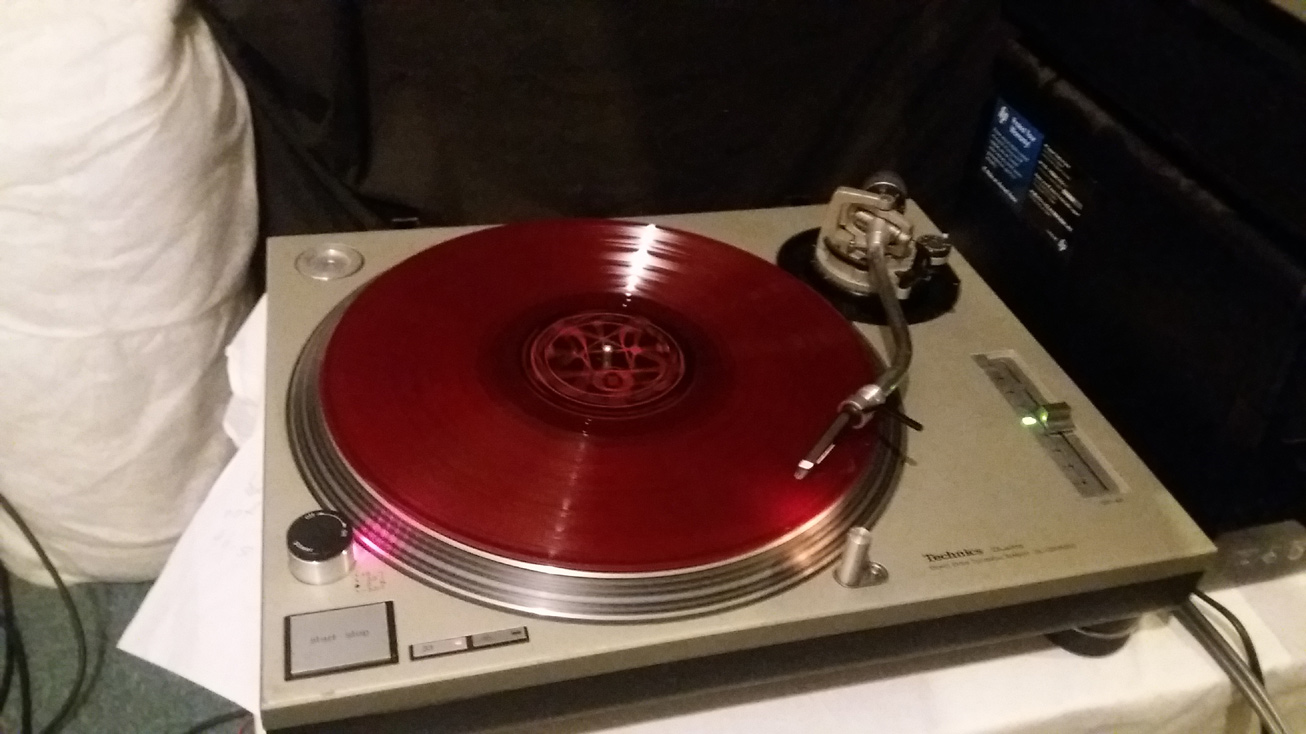 I borrowed a friend's Technics SL-1280 mk2 record player - also known as 'the' record player - with a custom stylus, and plugged it into my recording studio's black-lion-audio modded 896HD with BLA microclock. I recorded at 24-bit 96khz, at the ADAC's sweet spot of ~-22db rms, allowing plenty of headroom for sudden volume changes. I recorded each side of each record about 4 times - I never realised new vinyl often has some gunk in the grooves that has to be rimmed out either by playing or cleaning - at any rate, after four playbacks I was able to get good takes.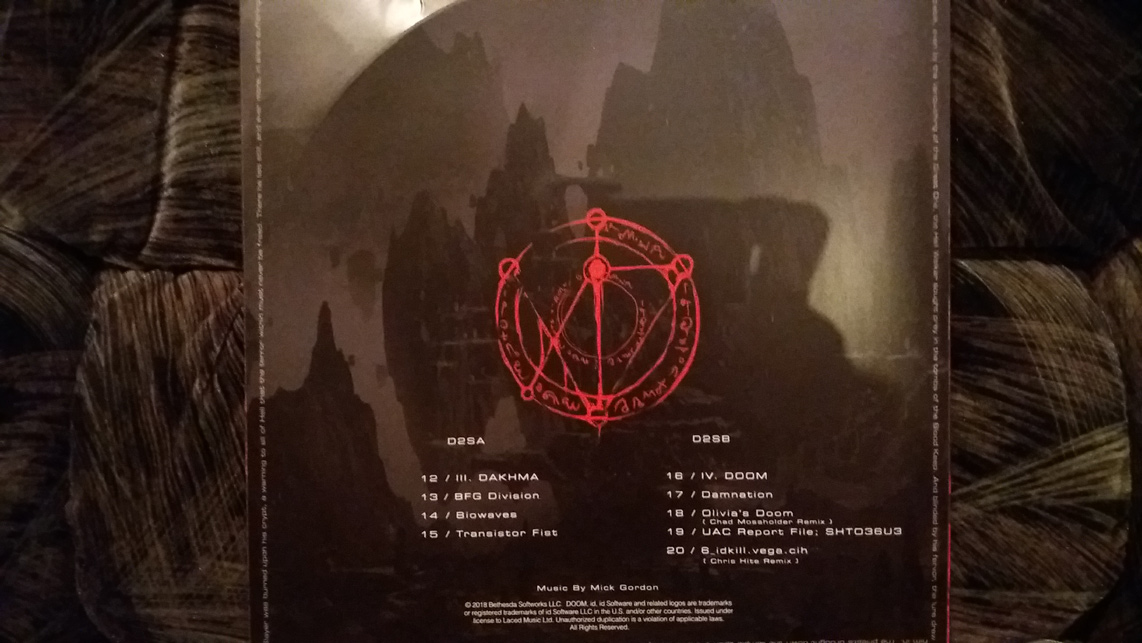 Then, time for post-processing. I decided not to do much EQ'ing, though I did experiment a little, I found the straight recording didn't need it much - a small boost of .1db in a high shelf in ozone is all I applied, and even that was not strictly necessary. After this I tried various declicking setups using ClickRepair (a brilliant piece of software BTW). But Mick Gordon's work actually contains a lot of sharp transients which oftimes sound like clicks but aren't - so just applying declicking across the board didn't work. I decided to do it manually, listening through to each side and taking out each click as it arose.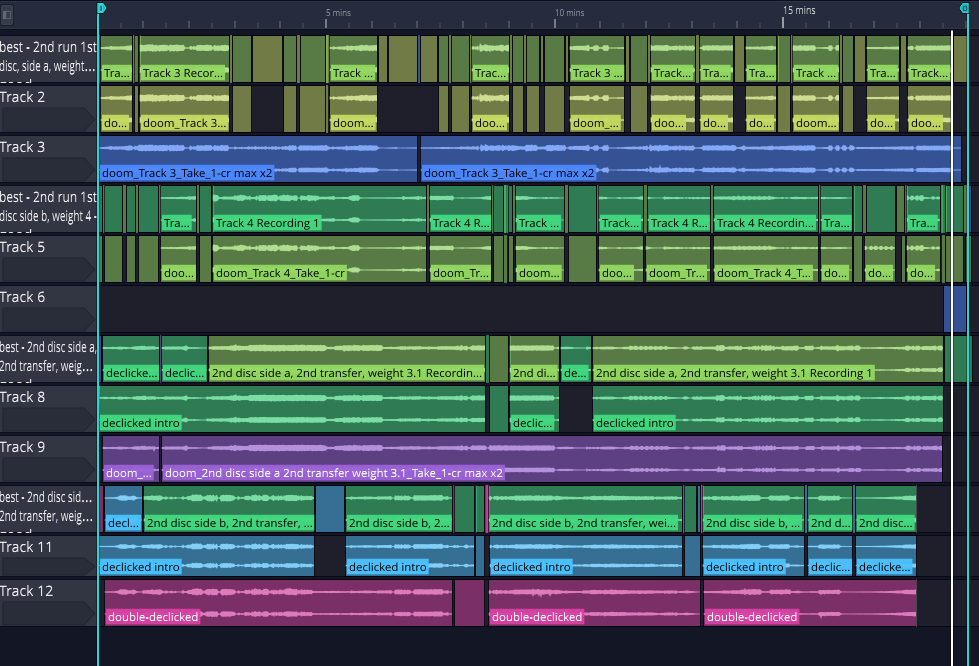 After about 8 hours work it was done, the project taking up 20GB of space overall. The result was a nice full-dynamic-range 24-bit 96khz version of Doom 2016. This is the soundtrack the way it is meant to be heard. Unfortunately I'm not aware of any free streaming services online which do 24-bit 96khz, so I've downsampled to 24-bit 44khz for the youtube version below - enjoy.
Equipment:
Technics SL-1200 mk2 (https://en.wikipedia.org/wiki/Technics_SL-1200#MK2_models)
with Reloop Conchord black stylus (https://www.reloop.com/cartridgescomparisonchart)
Motu 896HD with Black Lion audio Mod (https://www.blacklionaudio.com/store/modifications/motu-896hd-mod/) and Black Lion Audio Microclock
Software:
Tracktion 7 for editing
Izotope Ozone for EQ adjustment and dithering
Brian Davie's Clickrepair for click removal
Sox (http://sox.sourceforge.net/)