After Act One the Soviets emerge victorious and control the entire European continent. They've built a large prison facility in Warsaw, the capital of Poland, which in this timeline is never completely destroyed. Now a city transformed into a fortress, where the Soviets hold one of their most valuable prisoners. You, as the Allied commander, will have to use the first ever Chrono Legionnaire suit to rescue this prisoner. The Allied Act Two begins with..
Head to Mentalomega.com for more information on "The Mermaid" operation, new tech buildings, new maps and more. As usual, we also explain how new features come to be thanks to the Ares DLL.
Unfortunately, the spying system still fails us thus we were unable to acquire a better picture of the unidentified Chinese unit. We'll keep you posted on the latest developments!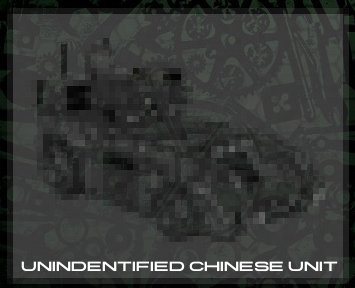 Some believe it is the finalized Iron Fist prototype. We'll see what the future holds.