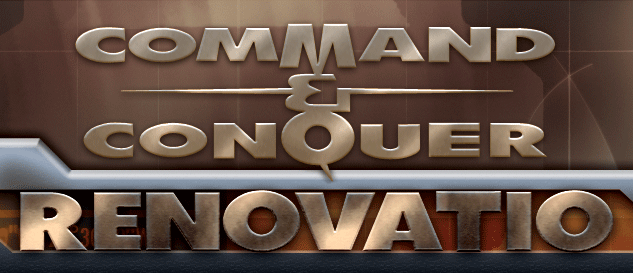 Update 7.0: Requesting Talent & Ah... Sexiness

Includes more of the new units and some insight into making of the Scavenged Soviet Tank...
*Prepares his tie and tests the microphone*
The screens you're about to see are work-in-progress and... anything that falls within your understanding of "weird" or "unexpected" is not a problem with Your vision nor a glitch of another 3rd party picture-delivery-to-brain device involved.
That said, some nifty shader work's being done, which couldn't have happened without help from Asuka, guiding Lars aka Chronosheep in the search of the right path to HLSL (which he probably already found).
Back to business.

The next unit (and not the last one today) we've got textured (and ready to kick some) is the Ranger.
Anything unexpected is quickly dealt with, given the twin phaser cannons... at their... ah... disposal. Right. Make that an M60 metal-spitting loud-bang-tube, heh.
The option of dispatching a third crew member to increase the sight is also available.

Introducing the C&C Society website.
Modding projects like C&C Renovatio and Tiberium Icestorm get hosted here.
Given there's plenty of free models and modding tools exposed to the nasty needs of a modder and that C&C-related Computer Graphics challenges take place nearly on a monthly basis, and given the tutorials and highly-qualified help that potentially can be provided... there's a reason to drop in.
Visit now.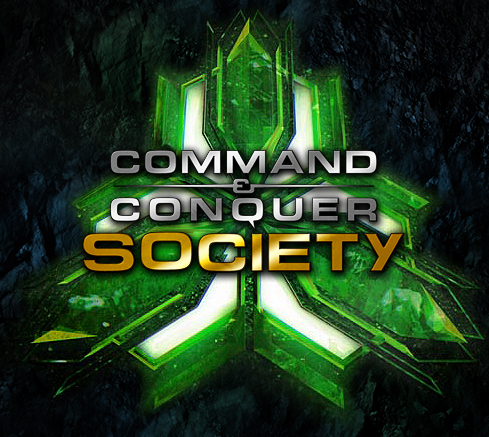 Commence... the Synthesizers as Usually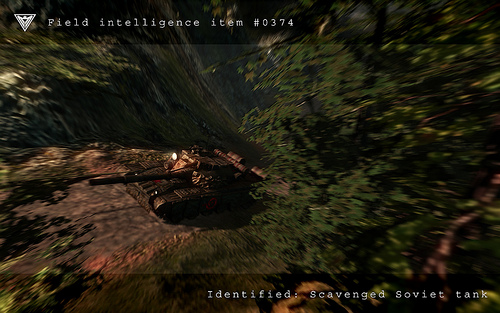 Recruits, this is not a drill.
Who's Nikolay?
- You dare not to know!?
Please, this is not an alternate Universe... everybody has to know him.
Even though you do not know him and what am I talking about... Still, you've most probably seen him.

Listen carefully... it's bedt... *cough* chillin' story present ready for ya!

Back in the days of the sinister Allied occupation, there was a school teacher, unhappily couping with his life.
Every day was like a going-from-home-to-school-and-vice-versa hell.
Seeing his native city in ruins, surrounded by the ignorance of the Allied pests lurking around.
One day, he got enough...

He decided to change his life. After all, this is HIS motherland.
Apparently, he wasn't alone... resistance forces were already tightening their lines.
After submitting his CV (hahah) to the recruitment center and after the approval of Scavenger Recruitment Commitee, he got THE JOB.
Finally, he could do... stuff... for his motherland... um.

Nikolay starts the day by dressing into specially designed radiation-resistant clothes.
First thing he does, is testing his flamethrower for leaks or malfunction... (crunchy breakfast guaranteed)

Nikolay was decisive.
He tried the unusual.
He could never be happier about his life.

What about You, comrade? Are You ready to join and make the difference?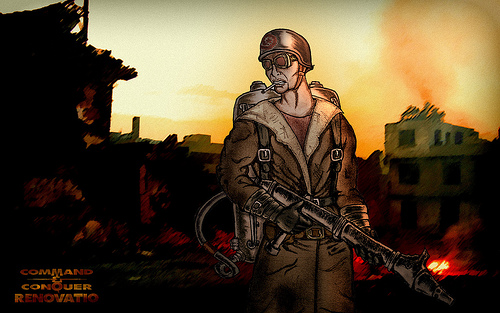 And... now comes the official part
Dear Comrades,
Command & Conquer Renovatio is recruiting.

If you do not know what is it all about, here will you get enough information.

But, if you're a busy man... just like any of us... it'd be enough to know that this is a total conversion for C&C3 (SAGE engine, in general) taking place between the original C&C Red Alert 1 and original C&C Tiberium Dawn.

Some might argue, BUT we've come this far already... so...

The goal is to provide a smooth transition in terms of story line.
The method is to keep it as CLOSELY as truely possible to the Westwood-made games, particularly TD and RA1, dismissing bad sides of modern influences...

Speaking of bad sides:
1) Lack of focus. These days (e.g. the internet) destroy our mind... our thoughts become dissipated in the fragmentary knowledge we obtain daily. Once you understand what that is, you're our guy.
2) Lack of team effort. Means you should take criticism as suggestions for improvement and see it necessary to comment critically on other's work, giving EXACT issues and ways to fix it.
3) Lack of reason. Oh... yeah, these days it seems that glowing orbs and fairytales is the way to go. Well. Not here.

Some story details anyway: It starts off at the very moment, when Moscow is about to fall. All hell breaks loose as the rats escape the sinking ship and the seemingly distinctive frontlines switch places quickly, so there's a lot of space for CREATIVITY.

The development departments in need of new recruits are as follows:

Sound: Unit voice recording; SFX & Music production (As long as it's similar to ANY of F.Ks. songs or even C&C sound effects, it should fit)

PR: Someone who's "in-it" (Every once in a while do blogs and updates. Also, You think something has to be changed in the way we communicate? Sudden ideas are discussed and implemented HERE, but you'll need to be damn strong-willed.)

3D: Low & High poly modeling (Blend of sci-fi & realism. Take that Poly Cube and turn it into a modern battle asset of the mid 80'ies or 90'ies!)

2D: Realistic texturing; Concept sketches. (Best textures are scavenged from parts of real life photos. As with concept art, let the Perspective and pencil art be with you, comrade.)
Visit the Recruitment Barracks and apply, comrade.
Unity. Peace. Brotherhood.
The Renovatio ModTeam.