Mk.2 – Combat Frame
The Mk.2 Combat Frame has all the attributes of the Mk.2 Engineering Frame but is fully equipped for war, armed with a range of ballistic weaponry and advanced combat systems.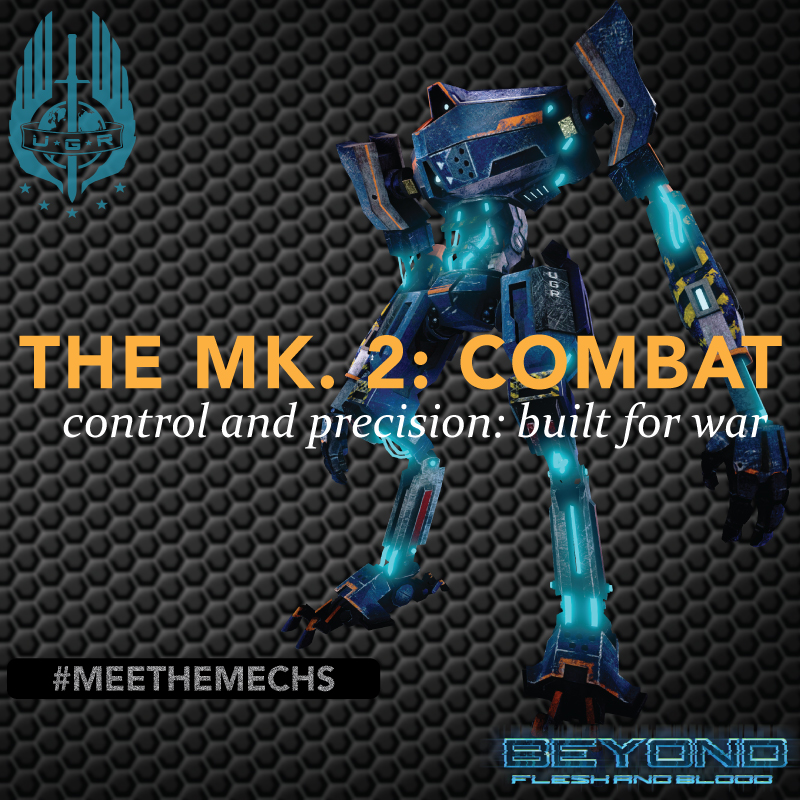 FACTFILE:
Height: 9ft
Weight: 1 tonne
Loadout & Systems:
Built in Booster Jets
Particle Canon*
*Information: Shoulder mounted canon built for combat, rapid fire.
*Information: Single fire missile system up to a maximum of four, or guided system that fires all four missiles at a locked target.
*Information: Advanced hacking system with the strength to access combat focused systems such as more heavily defended weapon systems and combat machinery.
Friend or Foe System 3.0 (FOF 3.0*)
*Information: Detection system highlights all enemies within a set range and highlights them for a set amount of time. Enemies highlighted through objects.
Upgrades:
Slow Motion Focus 2.0 (SMF 2.0*)
*Information: Digital system that slows the perception of time allowing the pilot longer reaction times, and increased accuracy.
YOU CAN MEET ALL THE MECHS FROM BEYOND FLESH AND BLOOD HERE, ON OUR WEBSITE: B-fb.net