Hello ladies and gentlemen. It has been a long, eventful and productive weekend for the Twisted Insurrection staff! For no other reason than for the pure sake of it, 6 of us decided to meet up in the flesh in Helsinki, Finland for a short break within each-others company. We had a great time and many laughs were had in the short amount of time we spent in Helsinki (and a lot of money was spent...), it also resulted in a very productive modding spree!
Lin Kuei Ominae, Twisted Insurrection's Nod Building artist and SHP artist, revealed to us for the first time tons of work that he has in production, including several Nod Structures and some new tiberium lifeforms; They are our topic for today, the TI Tiberian Friendlies to join our Whaloon in the land of friendly Tiberium Critters.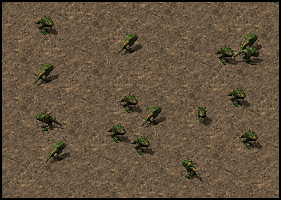 Meet the Bi-Leg critter, commonly known as the Typhon, the Greek mythological king of the monsters. Despite it's name, this friendly two-legged creature is a harmless lifeform commonly seen in largely mutated and Tiberium infested regions. Whilst up close it definitely has a frightening appearence and is around the same size as an average human male, it is a class case of "it's more scared of you than you are of it", it will flee if approached and panic if attacked.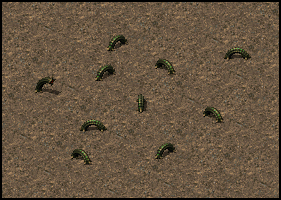 Meet the Spring-Worm, known by many names such as the Tiberian Slinky, Strider and the Tumbler. All of it's names were based on the creatures unusual movement, believed to be an advanced mutation of common earthworms (though this isn't known for sure), the Spring-Worm critter is a herbivore and will cause no intentional harm to any living creature.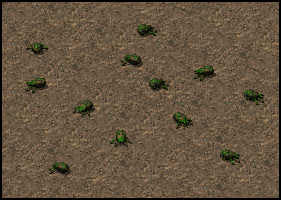 Finally, the last critter in our series of friendly Tiberium Lifeforms (aside from the Whaloon, which was mentioned in a previous post), I present to you: The Tiberian Tick.
They are large insect-like creatures that move around in a similar jumping manner to the common flea. While these are in fact friendly lifeforms, they are known to explode violently if threatened as a form of (destructive) self-defense expelling harmful toxic gas at the same time. Approach at your own risk, ladies and gentlemen, for even harmless creatures can have a nasty side!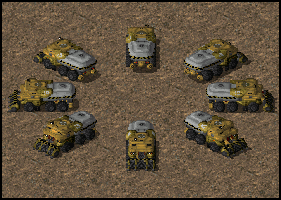 Not exactly a new tiberium lifeform, but an all new important and well made asset, this is GDI's new Tiberium Harvester, made by ErastusMercy. GDI's Tiberium Harvesters are slower than the Nod counterpart but have a much higher load capacity and are entirely amphibious allowing them to access isolated tiberium with ease.
That is all for now, but as you have already been informed, there is a lot of work in progress so hopefully before too long we will have a lot more to show you.
Several of us are in the process of producing more maps (both multiplayer and singleplayer) and some new graphics, yesterday I replaced the old and ugly Subterranean Dwellings with a brand new and improved image, which will also be shown publicly once the rest of the structures have undergone a new makeover (they have done before, as can be seen in our gallery, but I have decided that they can still be improved).
Thanks for reading, ladies and gentlemen and Take Care!