I'm not sure if anyone here knows or not but I read the forums on a daily basis. Even though I may not always reply I'm really interested to hearing gameplay ideas and to find out what you guys want to see in the game. Just please bear with us, since as I mentioned before and I hate to use this excuse but, we are a virtual team and have no funding/backing and do this on any spare time we have. A lot of the ideas that we would like to create and add to this game we just simply can't do right away. For example I would love a full 10 hour, single player/co-op story mode experience with a great story, open island world (Oblivion, Fallout) to explore and do missions, etc.
What we plan to do is release a short, fun multiplayer experience first and if sales are good we will keep adding new game modes, classes, maps, and even a full story mode as we progress. Of course, the DLC would be free as I don't believe in charging for DLC.
A lot of the ideas I've been reading on this site are fantastic and I hope to implement most of them. Then, of course there are some ideas that just make you "sigh" – lol. In any case, I really appreciate everyone sharing their opinions on what we showcase and what we should add. You guys are just like our Dev team; we all want to play and create the amazingly awesome dinosaur game that no one has ever created and that we have been waiting years to play.
I'm going to try and post polls as often as I can to give you fans the option of the features we add, it may be weekly or it may be monthly. In any case, you guys are going to be able to pick what goes into this game or not. Thanks again for all your support, especially to the donors who are keeping us alive and helping us make this game - you will not be forgotten.
P.S We'll be adding a lot of new media to the donors section tomorrow as well as information on some of our other classes to get opinions and feed back on, so check it out !
Thanks for keeping up with us and have fun gaming! Ashton Andersen[Game Designer]
Meet the Support Class: The Dilophosaurus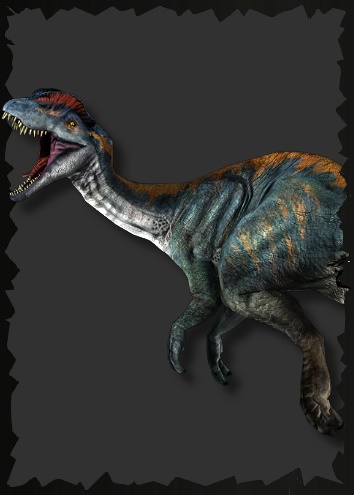 Stats:
Health: 175
Sprint speed: TBA
Pros:
Cannot be trapped by nets
Can free other dinosaurs from nets
Ranged Attack
Speed/Attack team buffer
Cons:
TBA
Tactical Summary:
The Dilophosaurus' primary function is to provide support to the other dinosaurs. The Dilophosaurus can destroy nets that have captured other dinosaurs. It is also immune to the effects of nets, making the Dilophosaurus an admirable adversary to the Trapper. The Dilophosaurus is also the only dinosaur with a ranged attack.
Spit: This special attack blurs the humans vision and causes them to stumble, slowing their movement speed. Causes a small amount of periodic damage for the duration of the effect.

Bite: A simple bite that causes minimal damage to an enemy player.
...
Screech: The Dilophosauruscan screech, providing a speed/strength increase to nearby dinosaurs.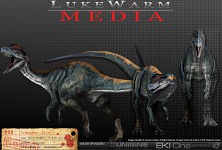 (Some in-game screenshots to come.)
Also, we would like to announce the opening of the Primal Carnage Official Merchandise Store over at Zazzle. Heaps of great products! Don't like ours? Cutomize your own, as any of our logos and artwork to any of the amazing products available. Go Cretaceous!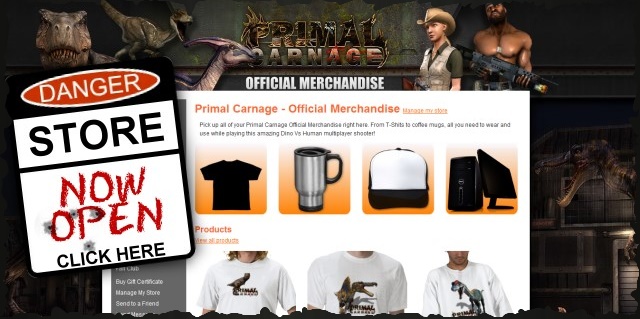 Example of one of the many designs to find on the Primal Carnage Official Merchandise Store: