After some work, three enemies were added to the game. They are the classic platformer enemies, but hey! I need to start somewhere!
These three types of enemies are all lethal. That means, if Geidas (the caveman) touches them, he dies. Fortunately, Geidas can jump and throw coconuts, so he won't be completely vulnerable.
I'll present you the enemies:
(Oh, and in case you are wondering, yes, Adventure Island is one of my main inspirations)
Snail:
The most basic enemy. You can think it doesn't move at all. But you would be wrong! It moves at an incredibly speed of 0.001 meters per second! So fast!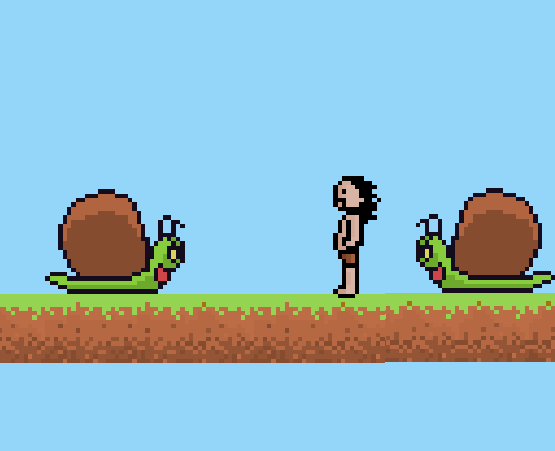 Crabs:
Like you probably have imagined, crabs moves in a line. Its terrifying look would make you lose concentration and die! According to scientists, Geidas hates crabs, so better stay away! I wonder what kind of scientists are.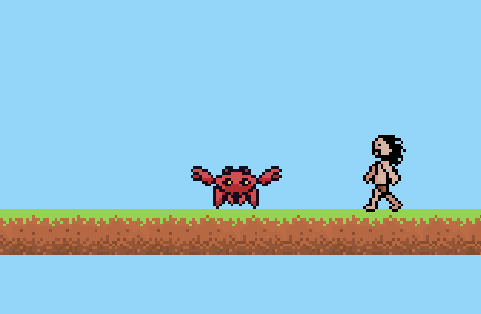 Snakes:
Oh the snake. The classic enemy that shoots in a line. Is essential, isn't it? Well, Geidas need to be careful, because it only shoots when you're near. The snake isn't very good at aiming, but that doesn't mean its attacks aren't lethal! Find refugee!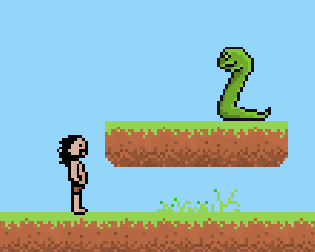 So know you know them. Probably, there will be other enemies, but this are the firsts three finished ones, and the firsts you'll encounter. Thanks for reading!