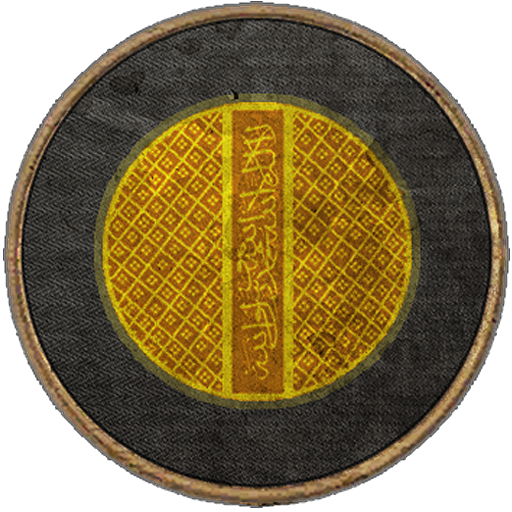 The Abbasid Caliphate
الخلافة العباسية
[A Note on Iconography]
The Abbasid Caliphate was a empire founded on and imbued with Islam, and unfortunately some of its iconography and symbolism have been insidiously co-opted in modern times by fundamentalist organizations, such as the black standard and references to the mahdi. We strive to be accurate to history in all cases, but please be aware that there might be apparent similarities with modern jihadi iconography. I refuse to disregard history just because bands of modern barbarians have chosen to steal such imagery.

Since the Abbasid revolution of the 8th century, and the stunning victories of Abu Muslim against the Umayyad Caliphs, the Abbasid Caliphate has remained the center of the Islamic world, the direct successor of the true line of Caliphs. Under the rule of the first Abbasid caliphs, art, culture, and society flourished throughout their realm. Yet, the dynasty fell on dark times in the 10th and 11th centuries as growing regionalism and foreign invasion fractured the Abbasid lands into first multiple independent states and then tributaries under Turkic rulers. Under the Caliph Al-Mustarshid and then Al-Muqtafi, this trend was reversed and the Abbasid reached out for the first time in centuries from the old court at Baghdad to flex their new power. By 1212, the great Caliph Al-Nasir holds the throne, and under his hand the Abbasids are experiencing a brief resurgence, exploding in power and size and throwing off the Seljuks once and for all. Time will only tell where the Caliphate will go next, or how the growing storm clouds over Khwarezm and the Mongol steppe beyond it will affect the fortunes of the empire.

Abbasid armies are comprised of two parts, the powerful slave-warriors of the Ghulam aristocracy, and then the feudal regiments of the iqta land-owners and their militias. Large numbers of ethnic iraqi and syrian arabs provide the core of the 12th century Abbasid armies, headed by smaller cadres of turkicized cavalry with forces of kurdish and turcoman mercenaries. At the front of the army the elite guards of the caliphs march, flying the dreaded black standard, the pitch colored symbol of Muhammad himself when the first arab armies marched forth in the name of Islam.
Early Era:

General:

Khassah Ghulam Bodyguard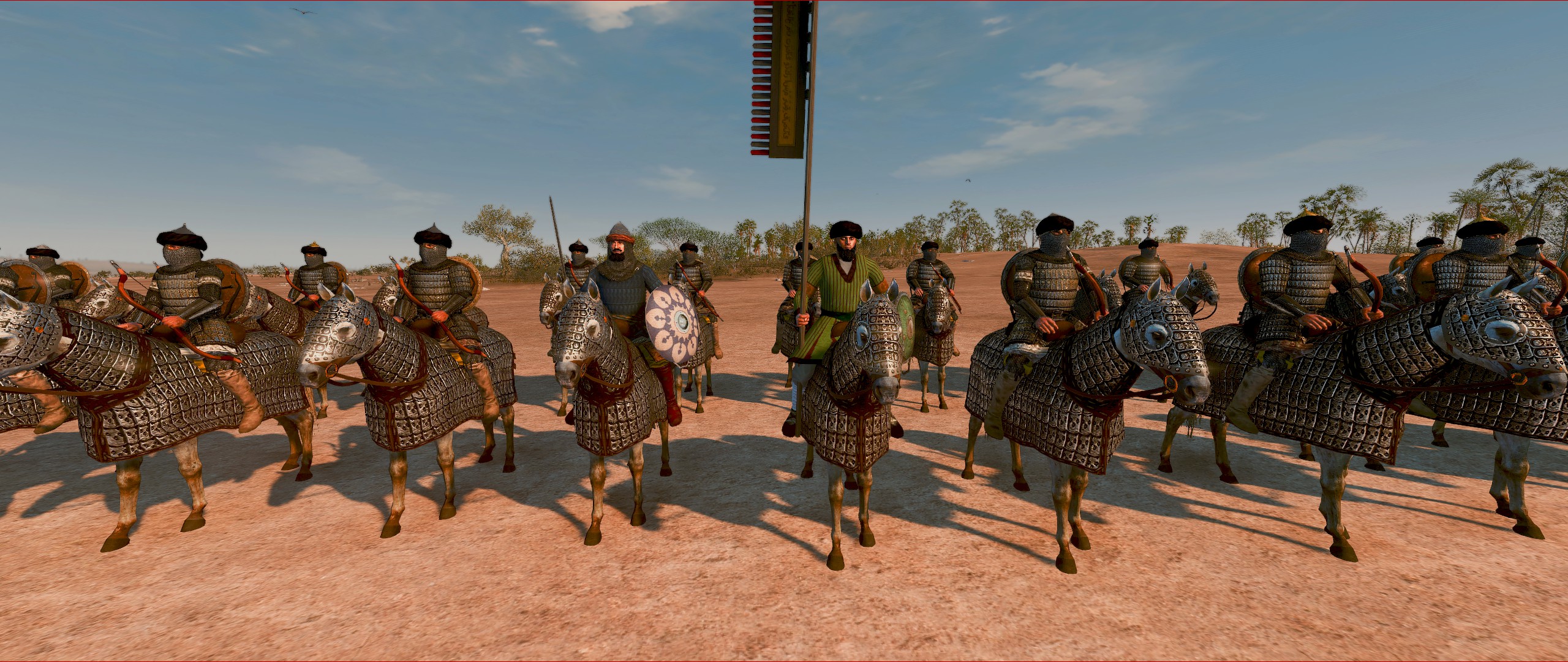 Caliphs Humat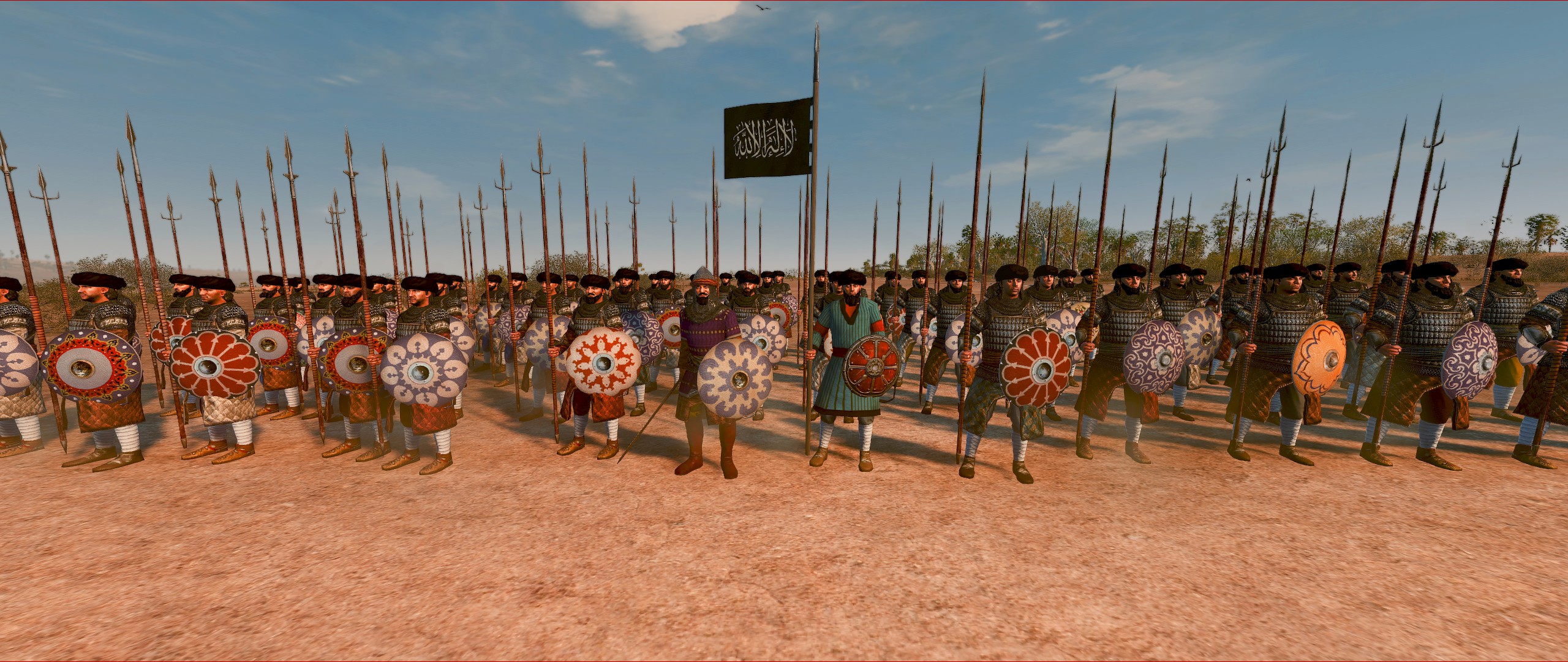 Melee Infantry:

'Ayyarun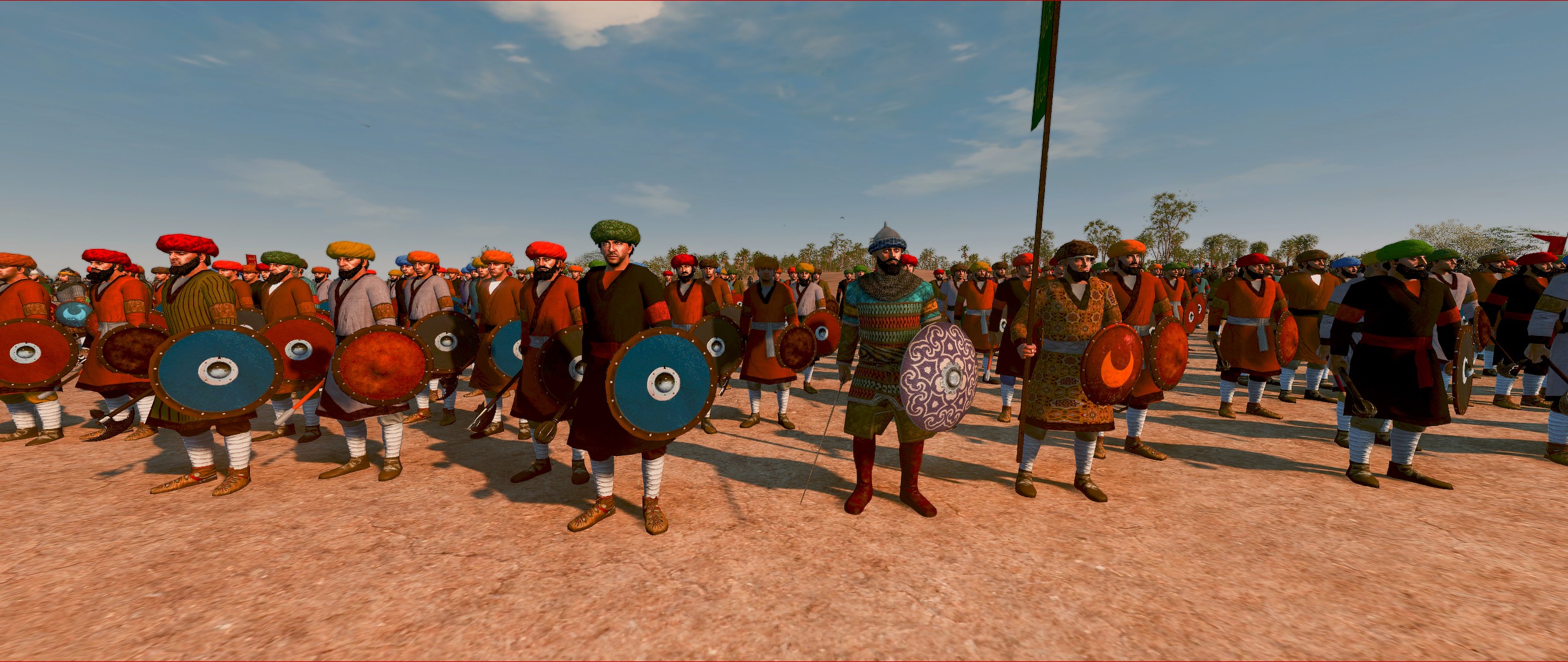 Hajabeh Ghulam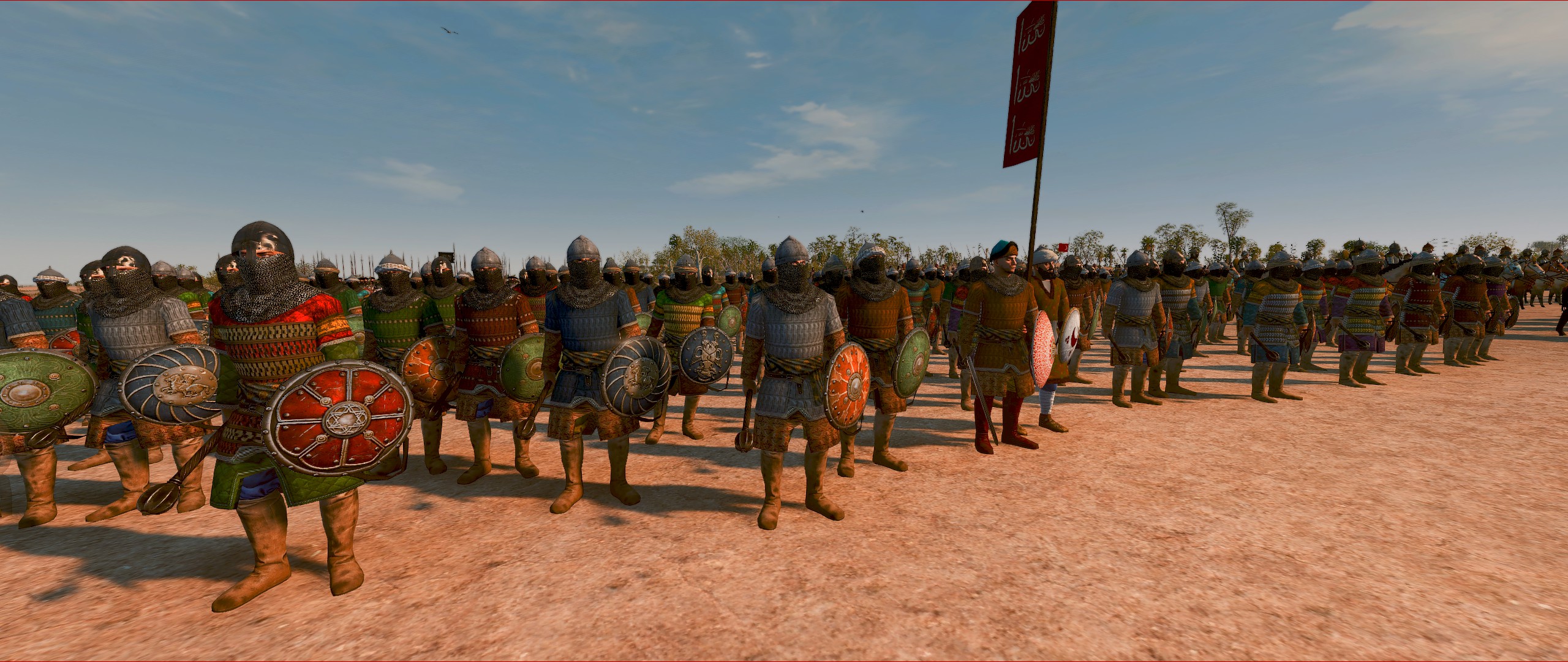 Futuwwa Jund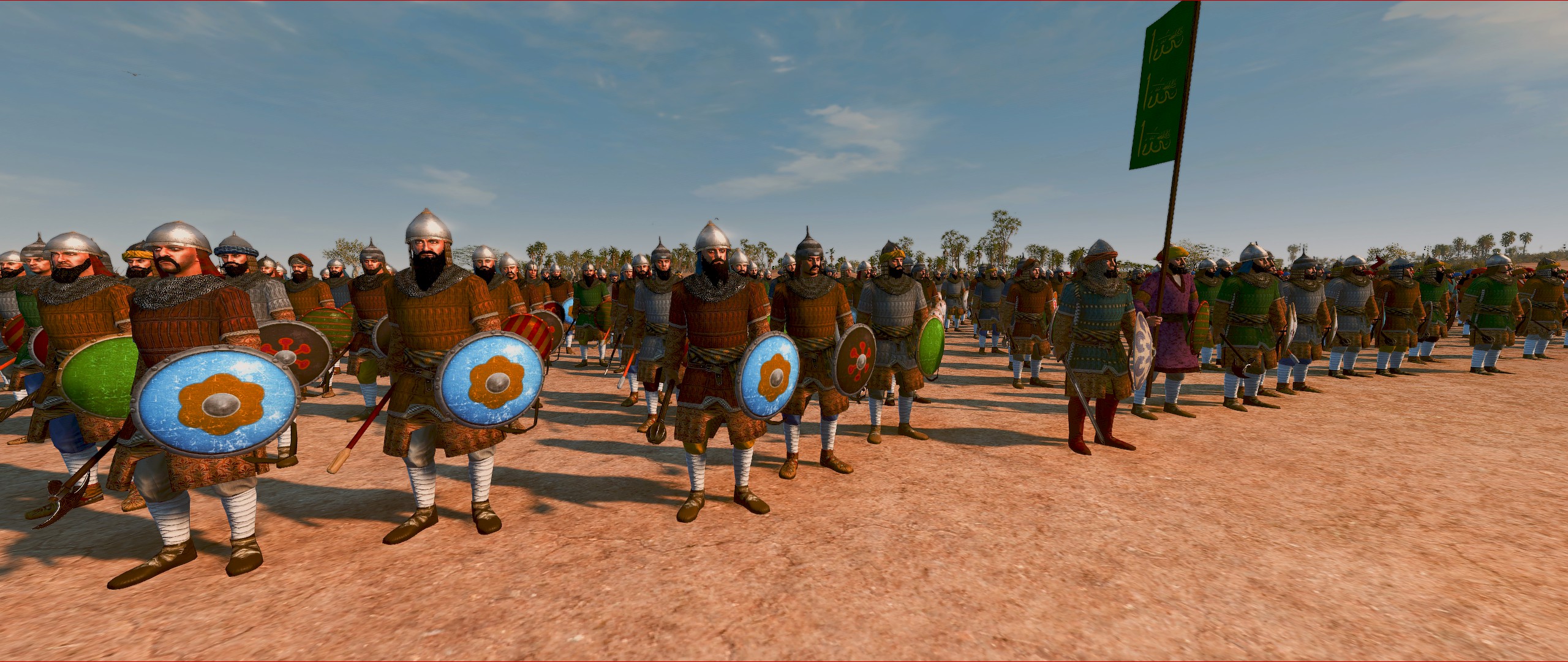 Futuwwa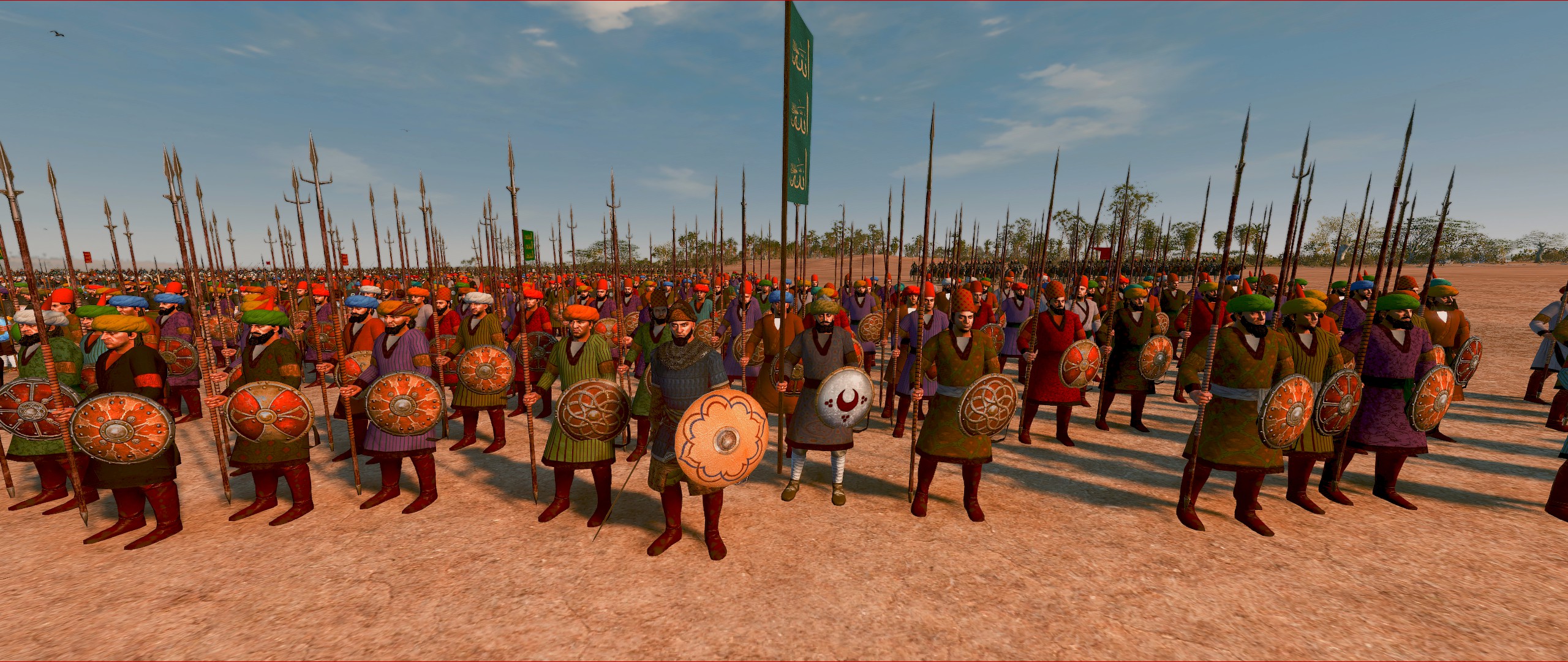 Jund Rajelah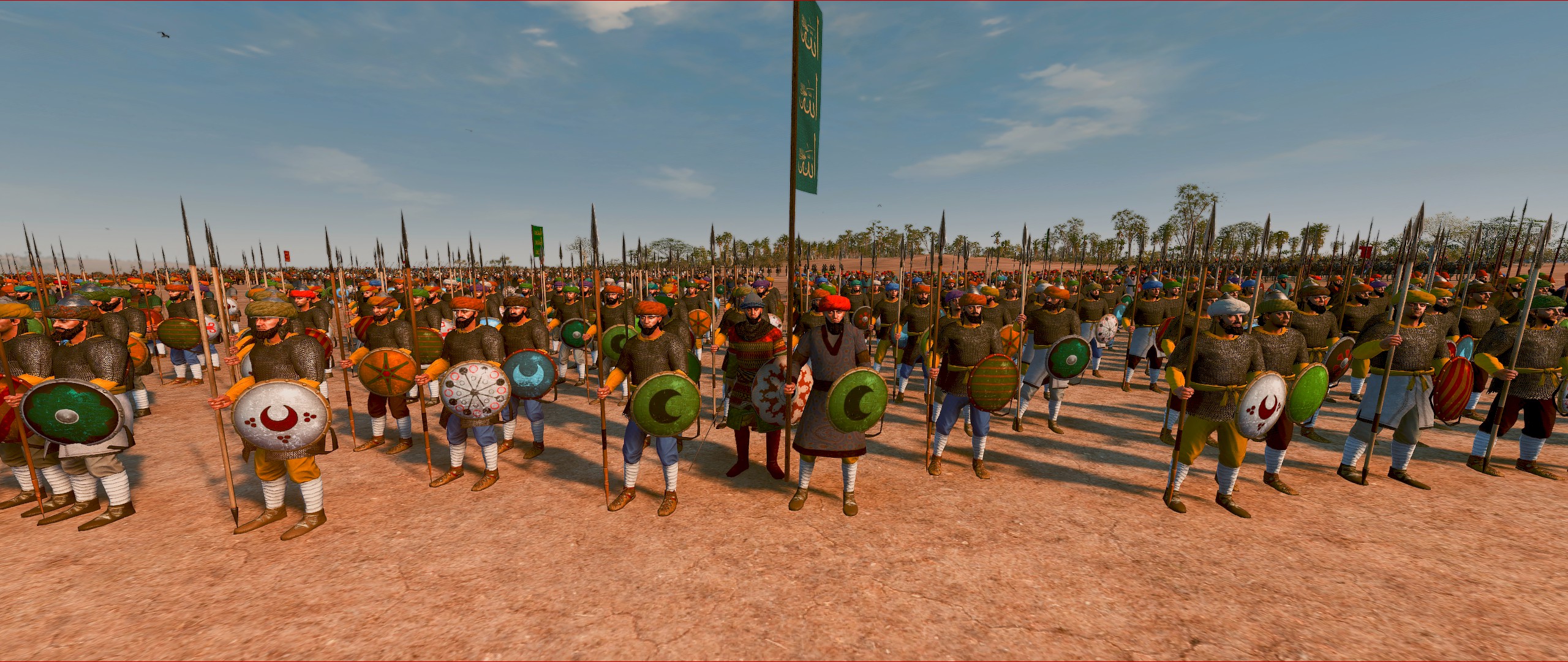 Musa'lahiyyah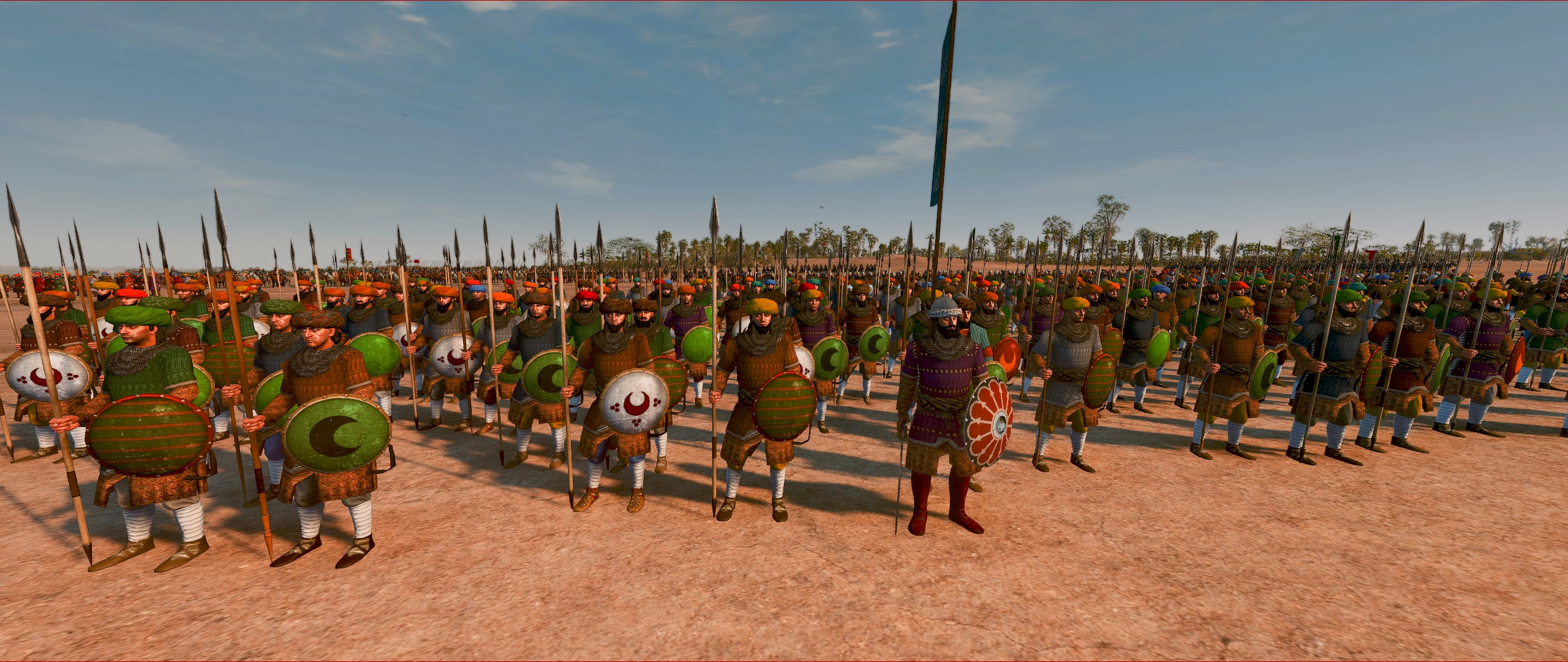 Ranged Infantry:

Jund Rumat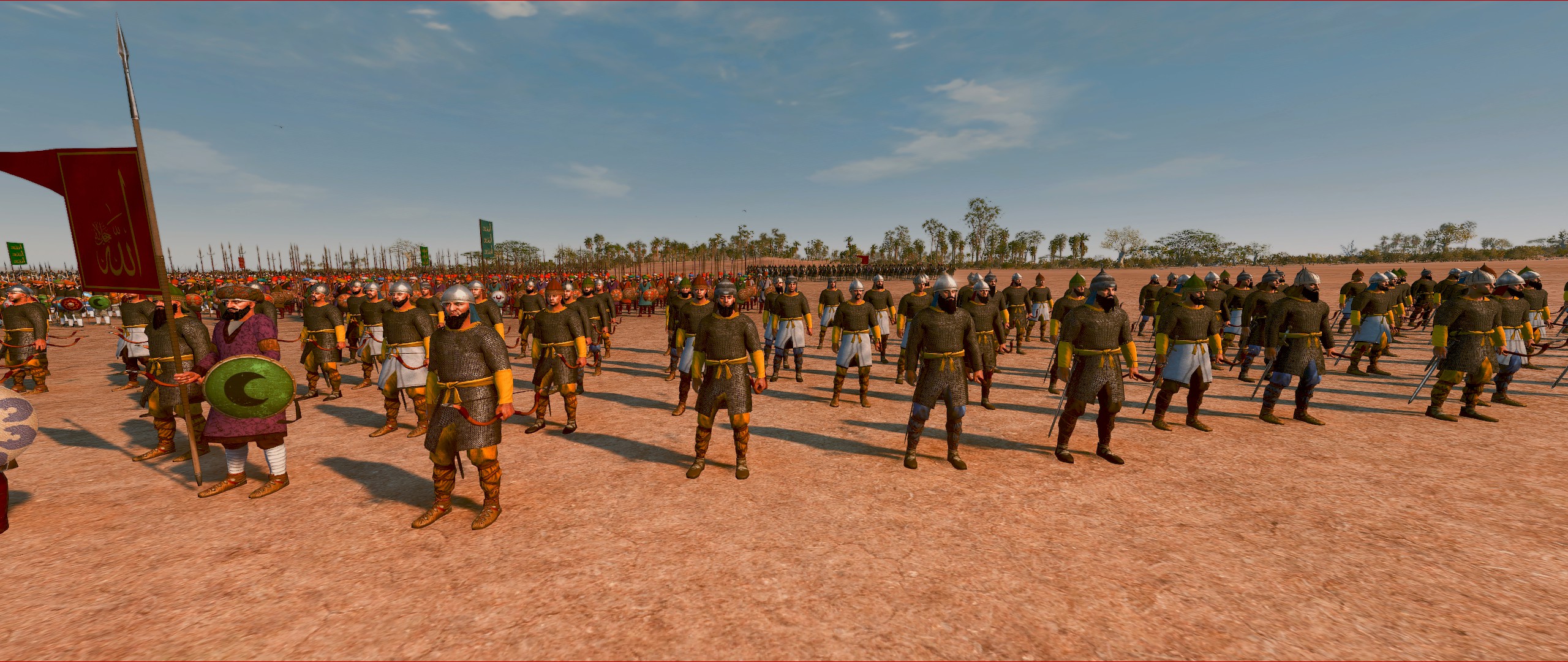 Awam Rumat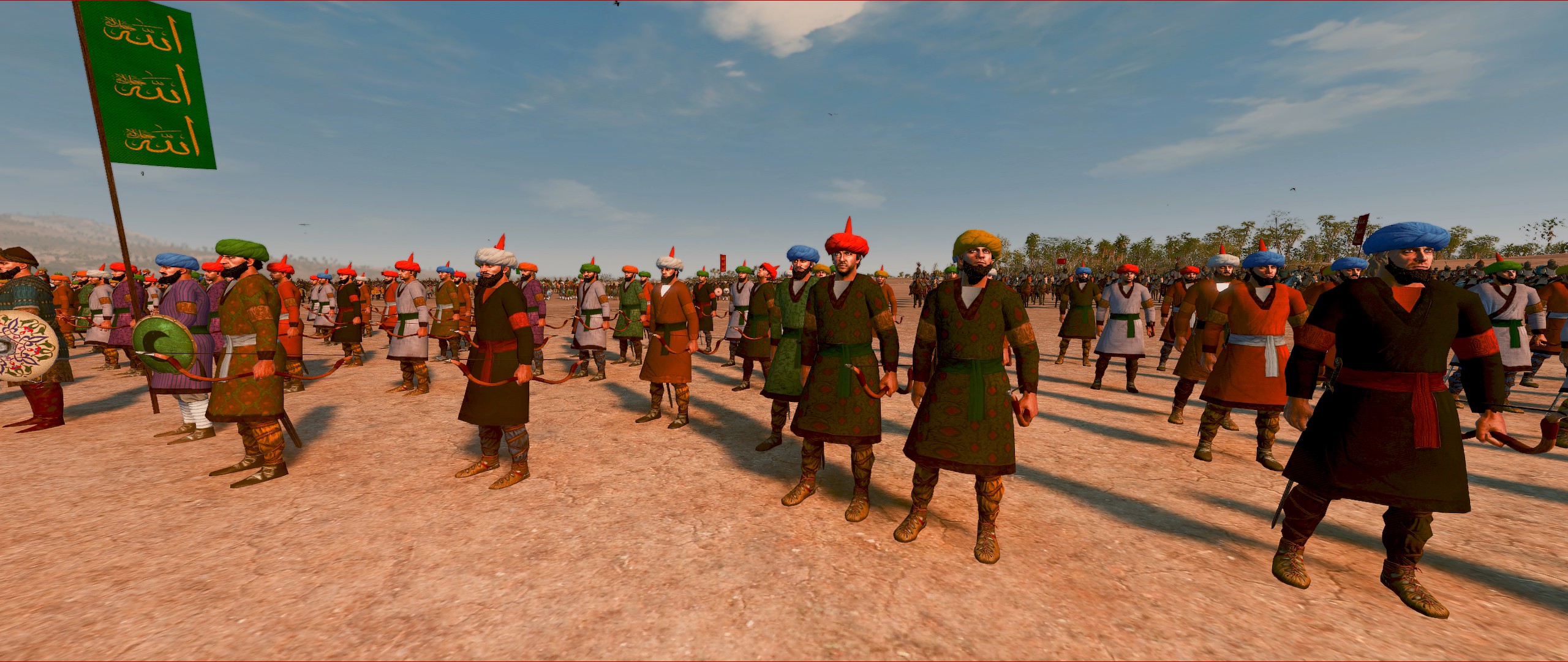 Jund Crossbowmen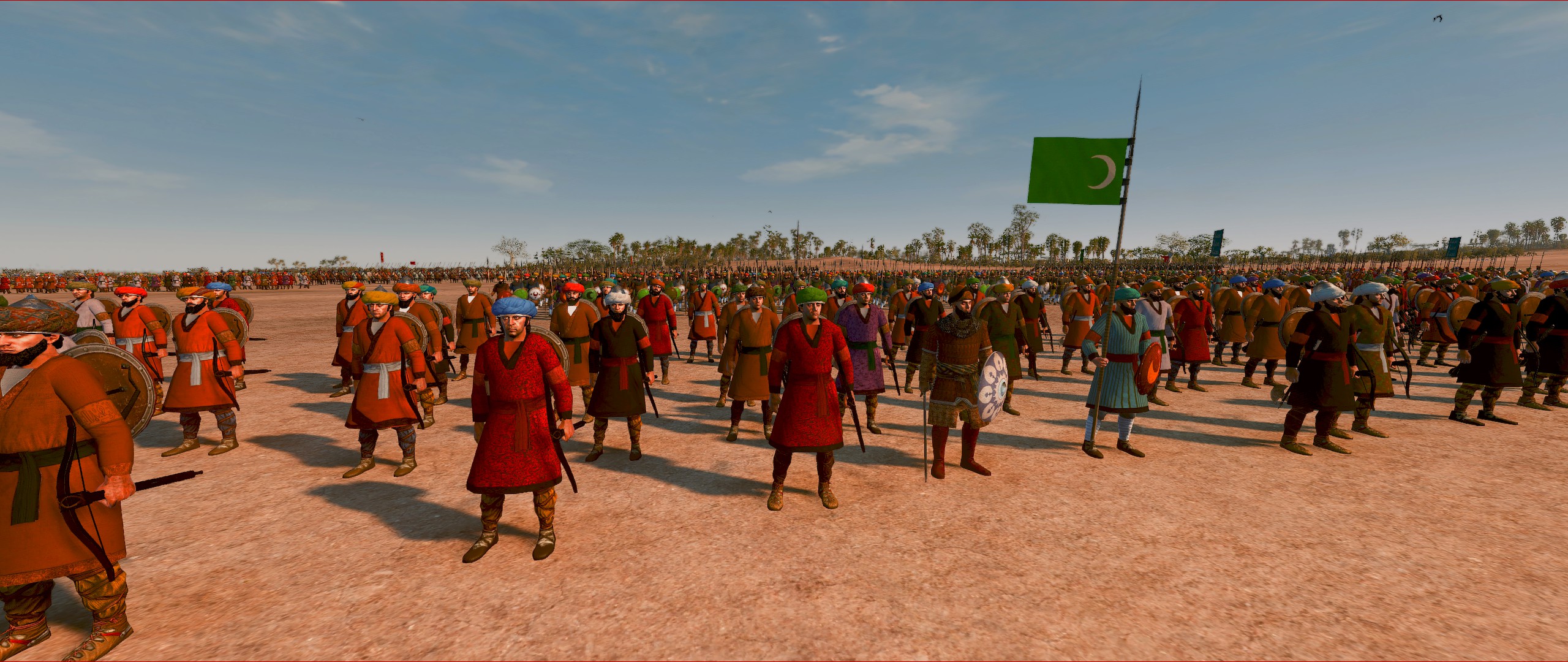 Dismounted Dariyyah Ghulam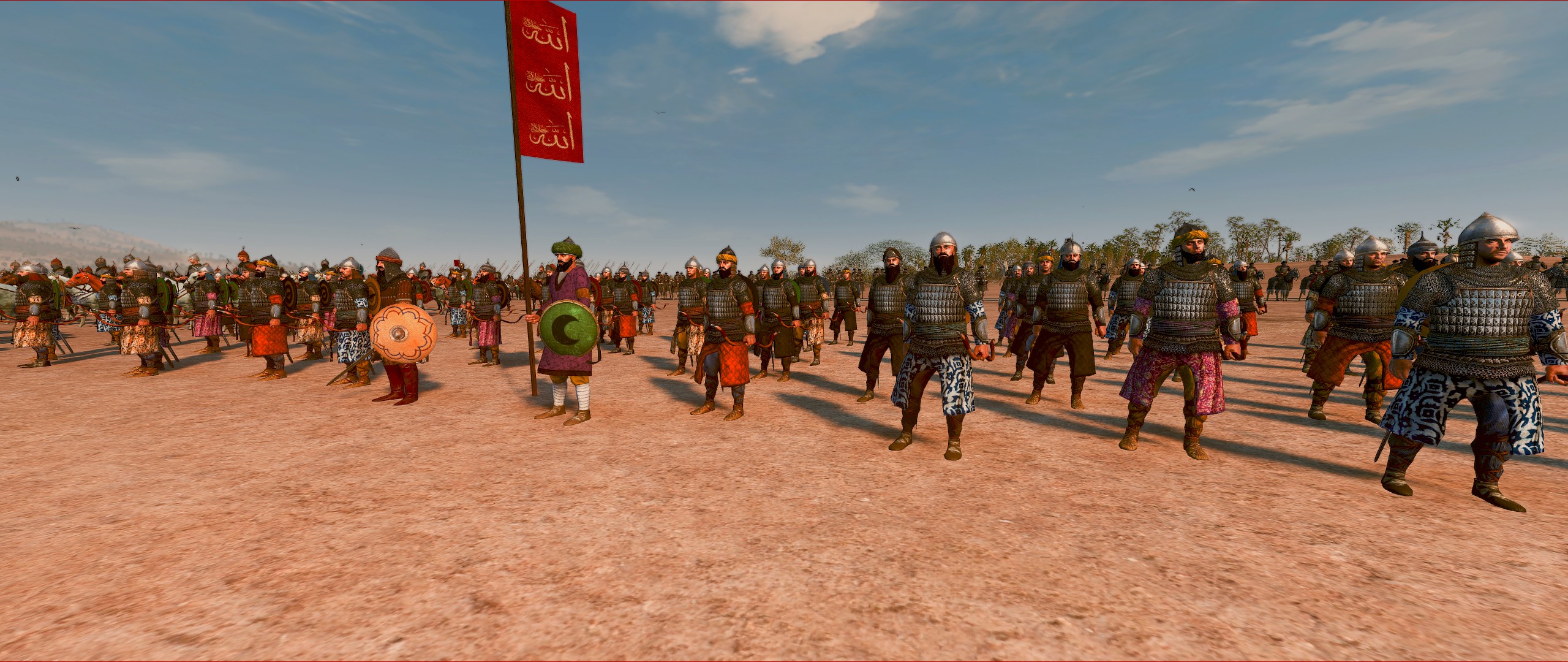 Melee Cavalry:

Dariyyah Ghulam Lancers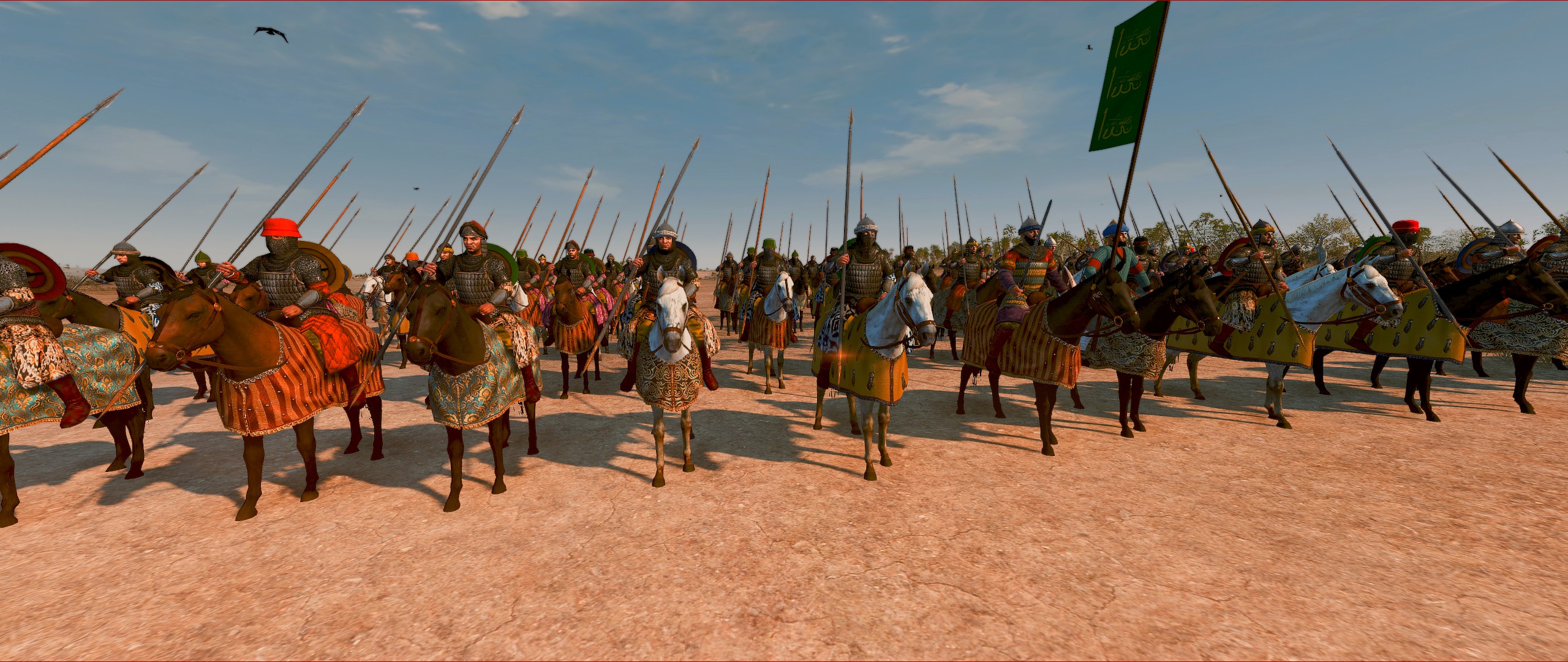 Fursan Akrad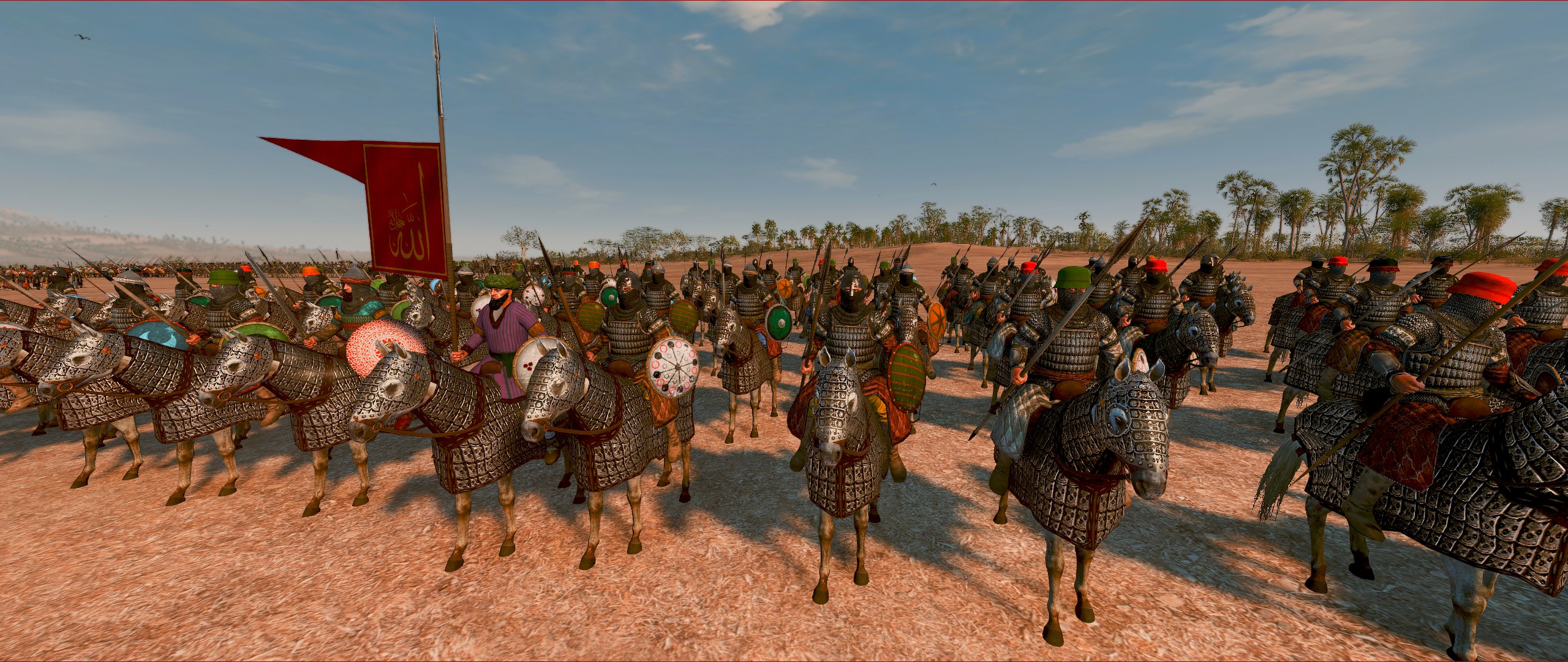 Bedouin Lancers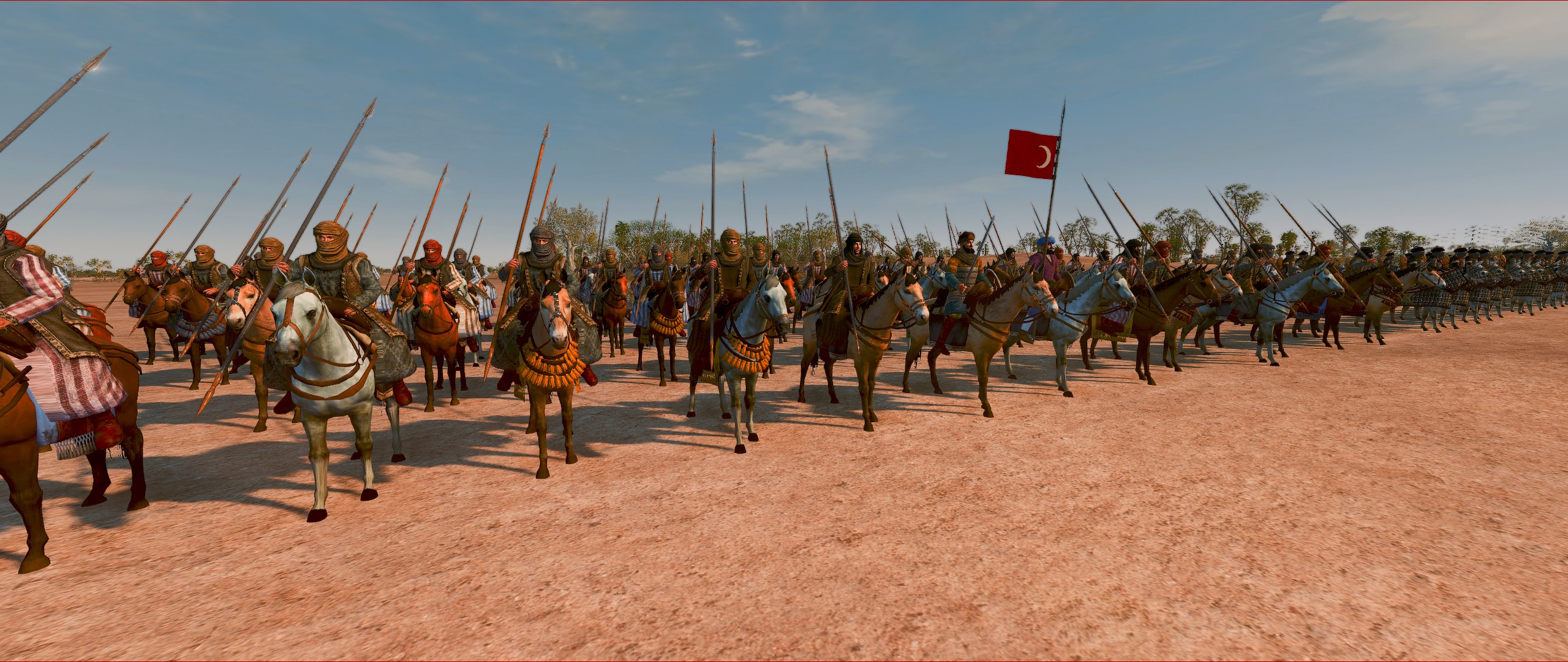 Fursan Iqta'iyyah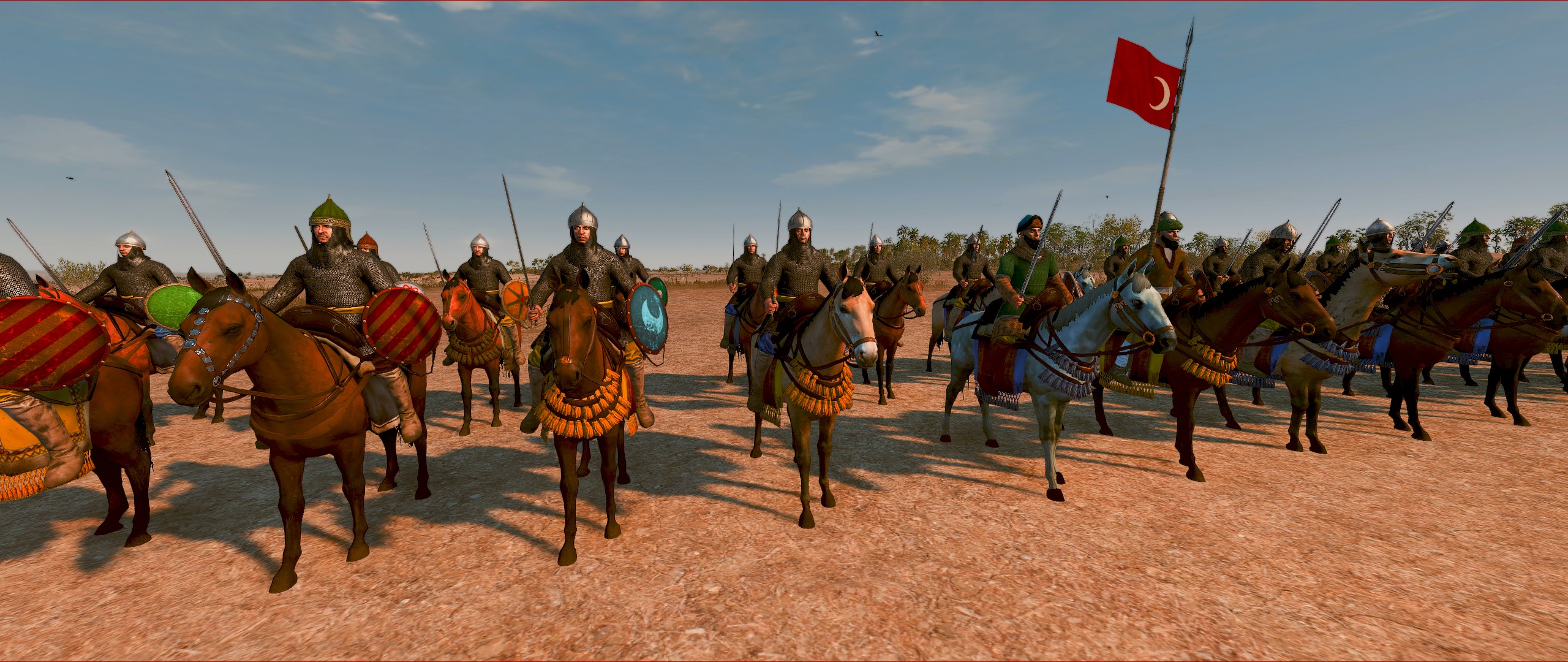 Ranged Cavalry:

Noble Turkmen Horsemen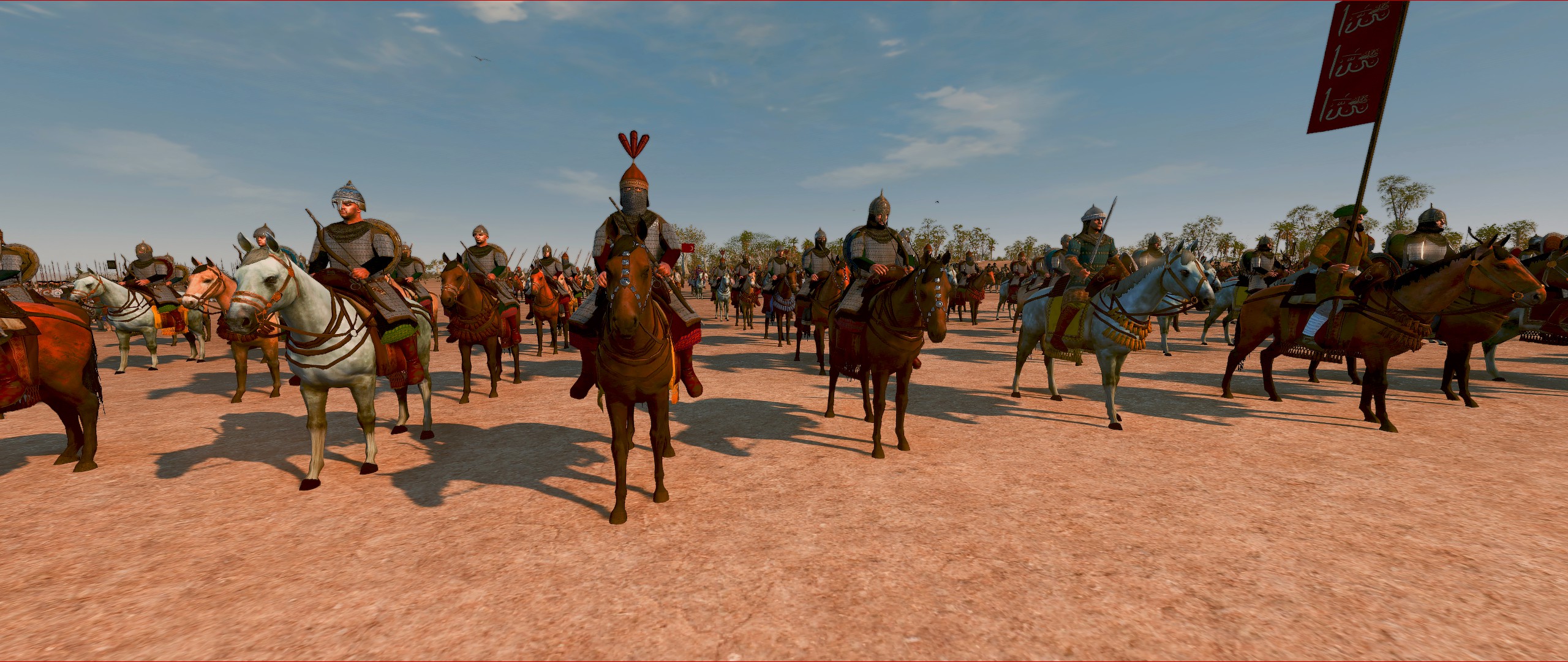 Turkmen Horsemen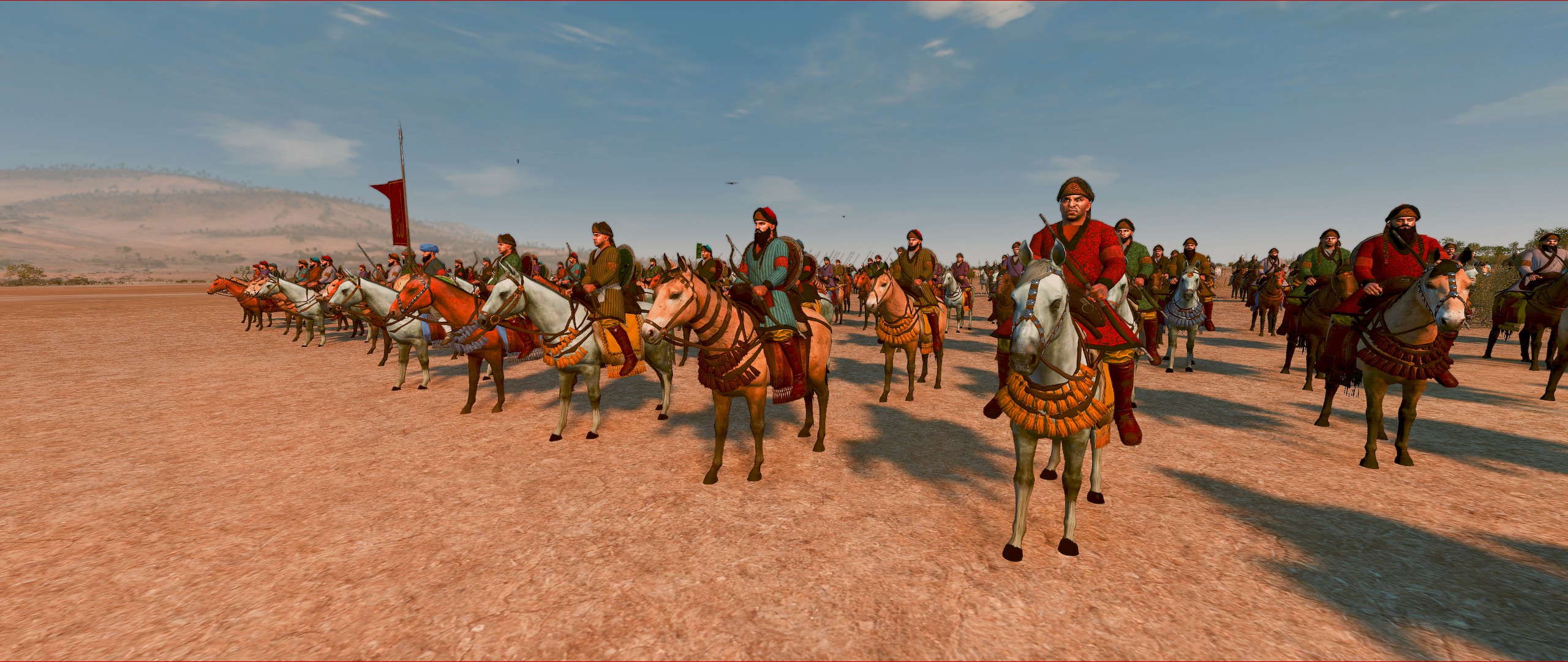 Mounted Crossbowmen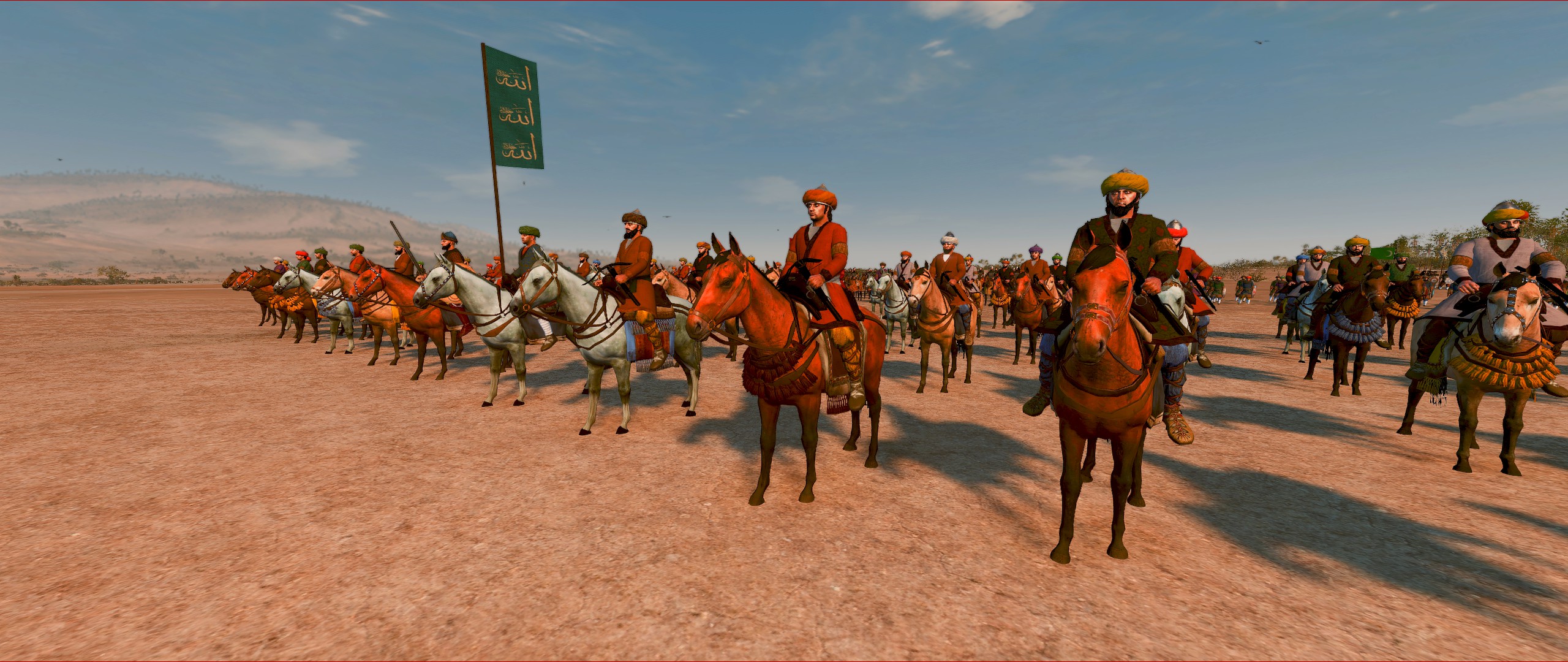 Dariyyah Ghulam Horse Archers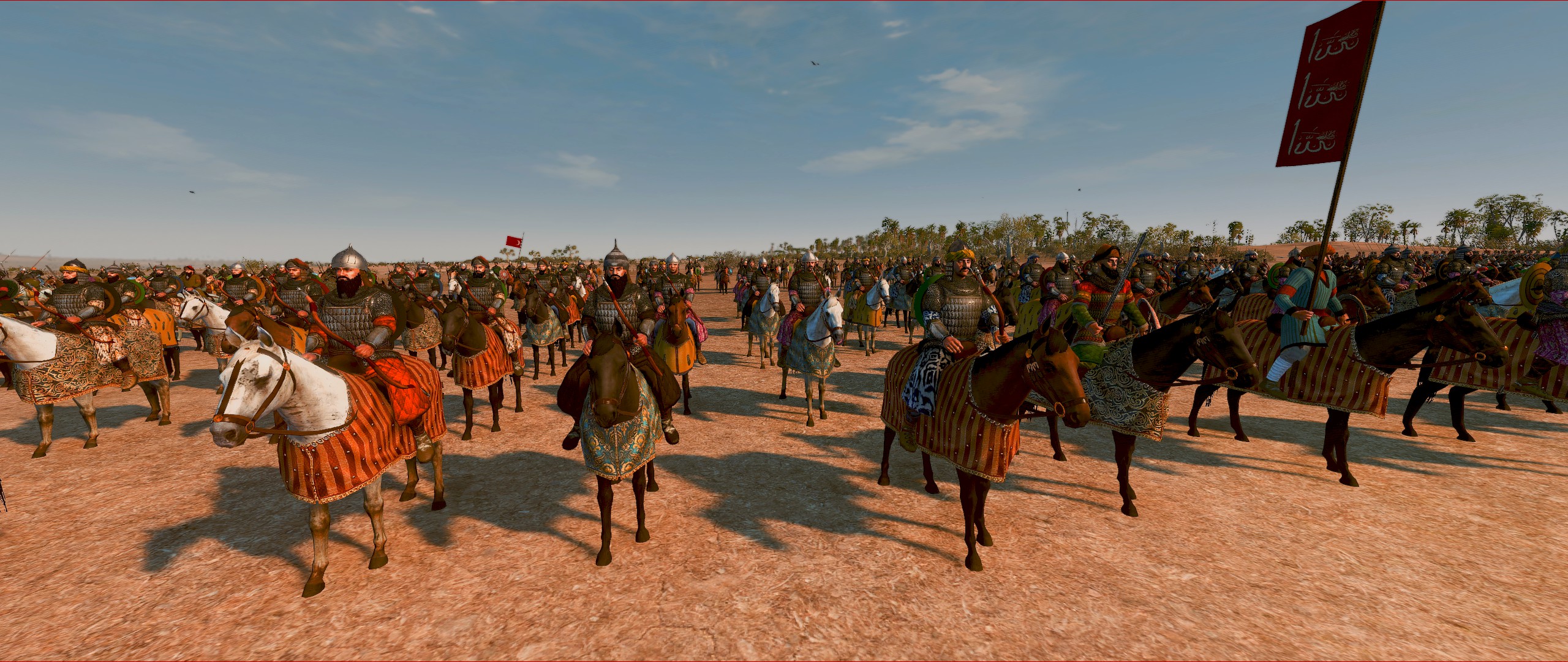 Artillery:

Counterweight Trebuchet
[coming soon]


Naffatun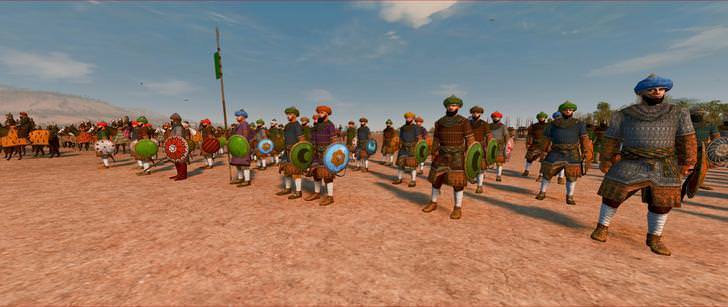 Ballista
[coming soon]


Midfa' Engineers
[coming soon]


Jarkhiyyah
[coming soon]

High Era:

General

Khassah Mamluk Bodyguard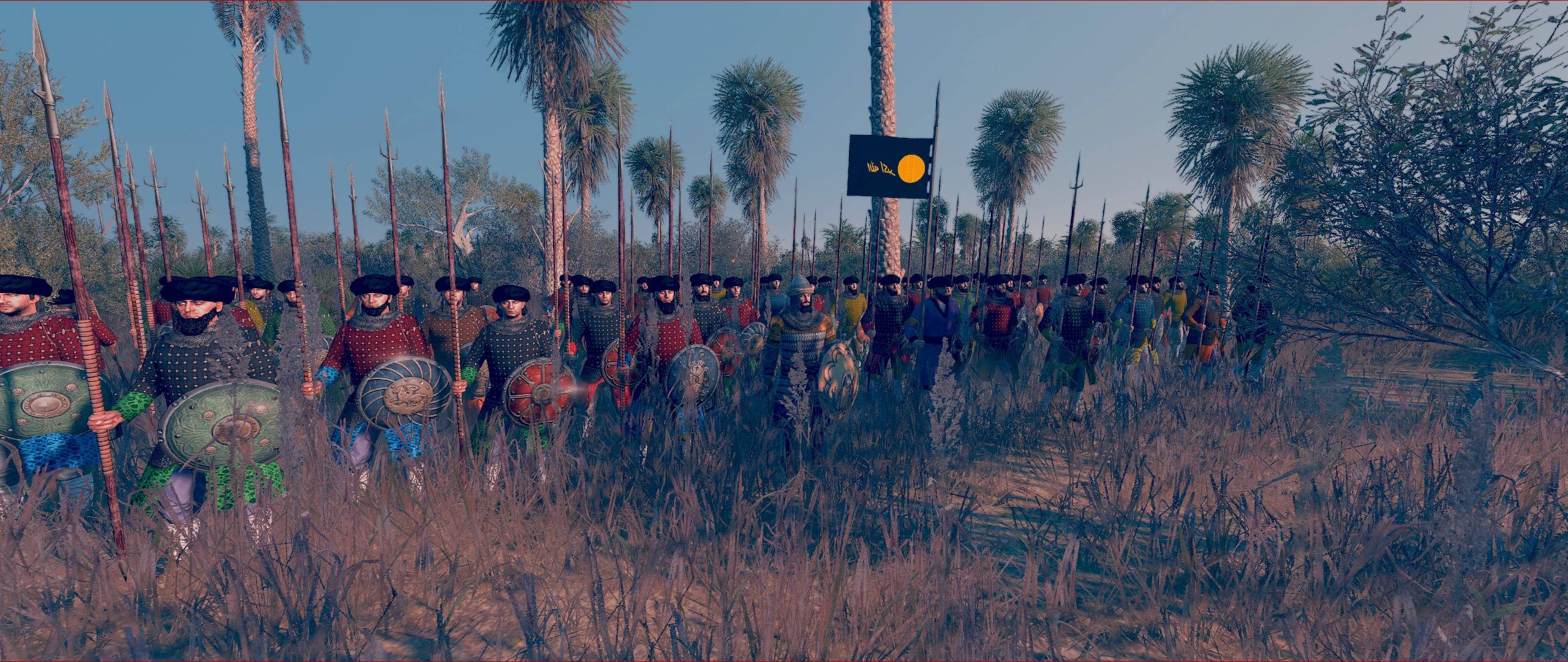 Melee Infantry:

Dismounted Hajabeh Mamluks (High)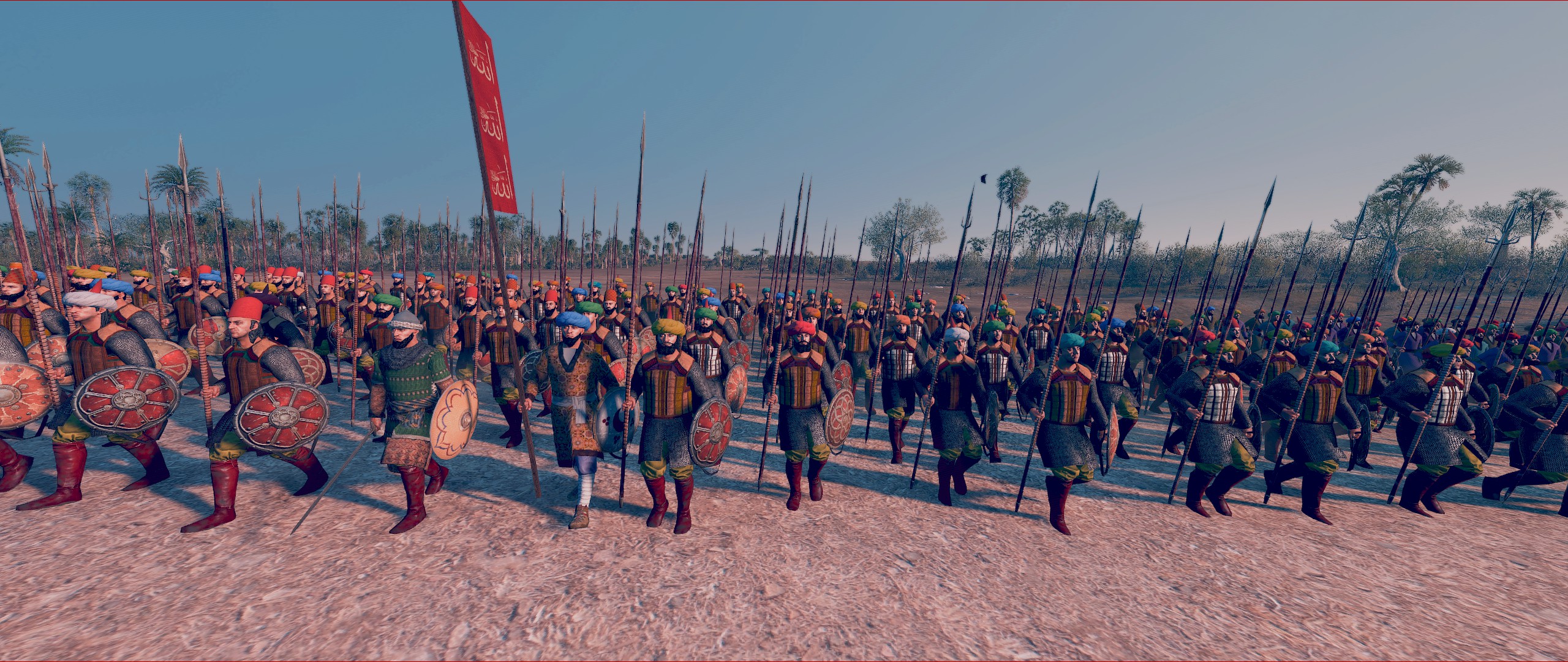 Ranged Infantry:

Jund Rumat (High)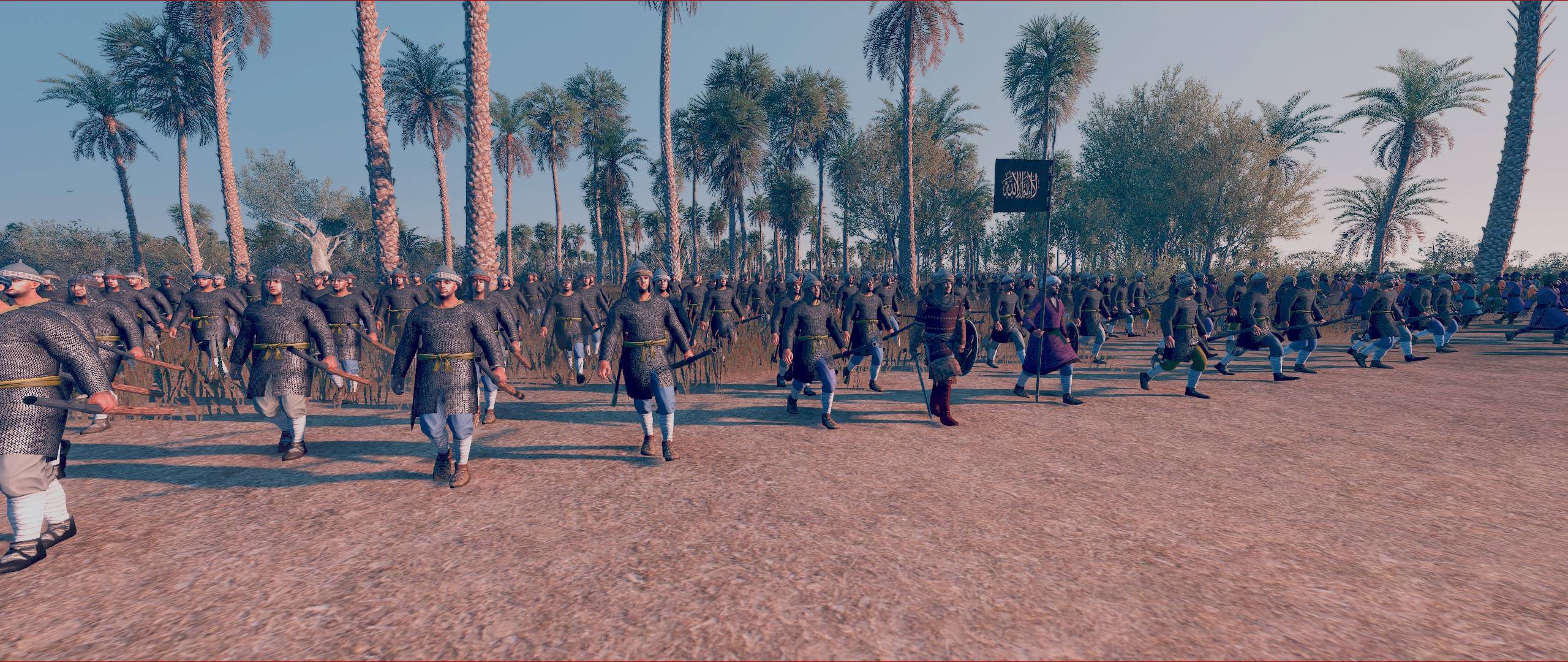 Melee Cavalry:

Hajabeh Mamluks (High)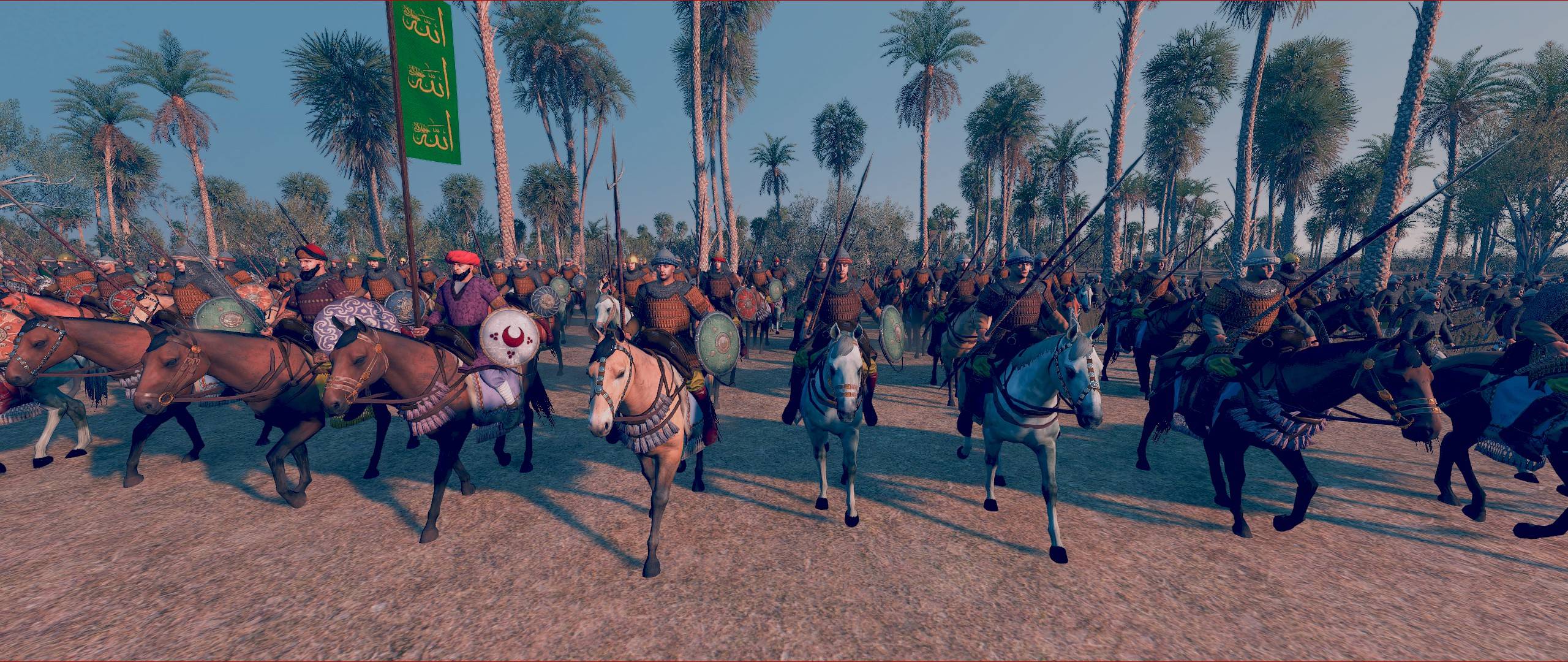 Ranged Cavalry:

Noble Turkmen Horsemen (High)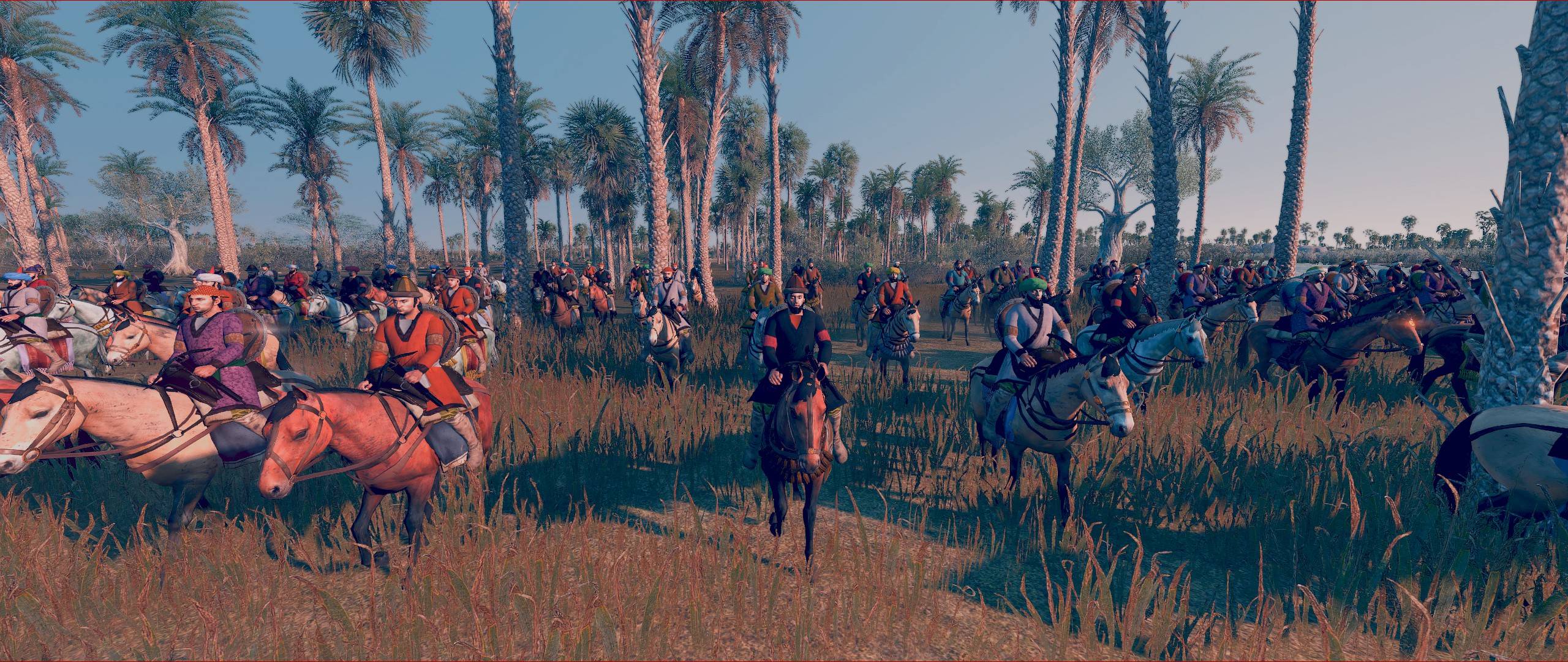 Artillery:

Counterweight Trebuchet
[coming soon]


Cannon
[coming soon]


Naffatum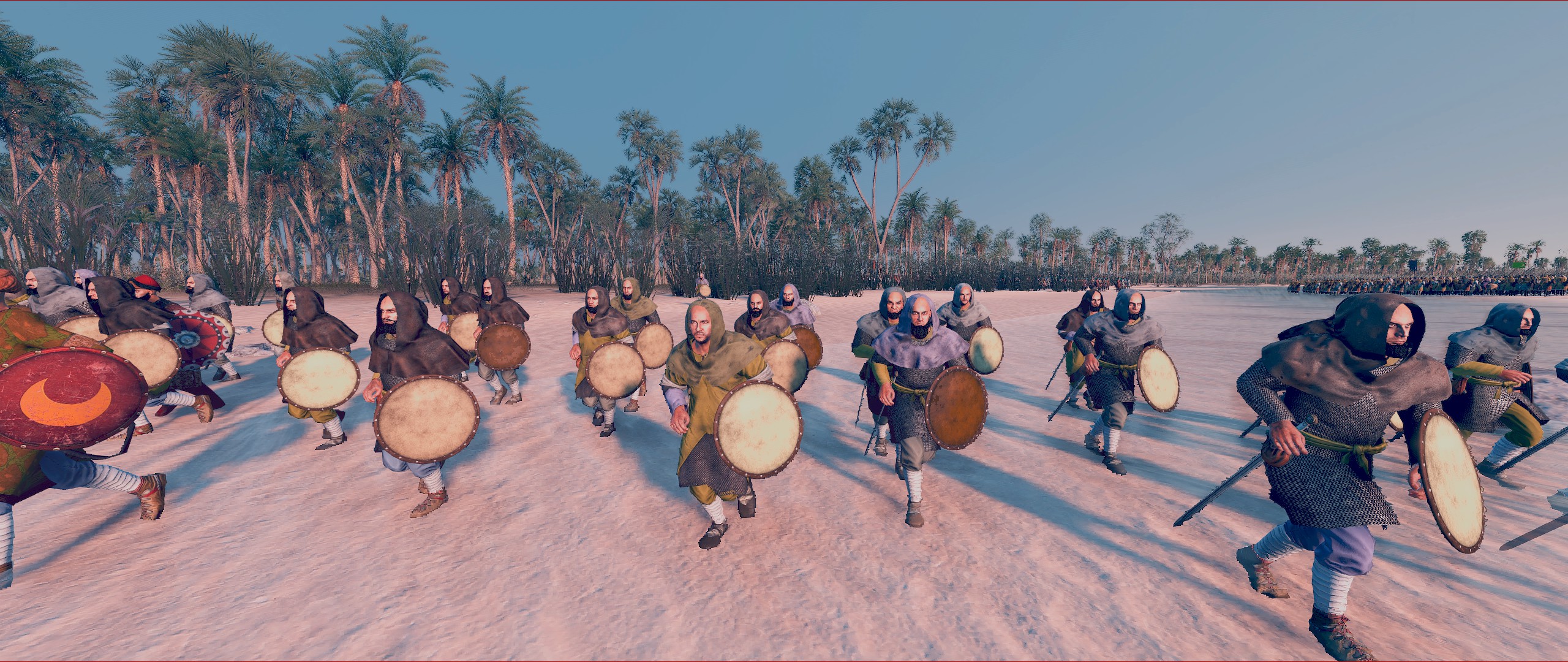 Ballista
[coming soon]


Midfa' Engineers
[coming soon]
Late Era

General:

Sultaniyah Mamluk Bodyguard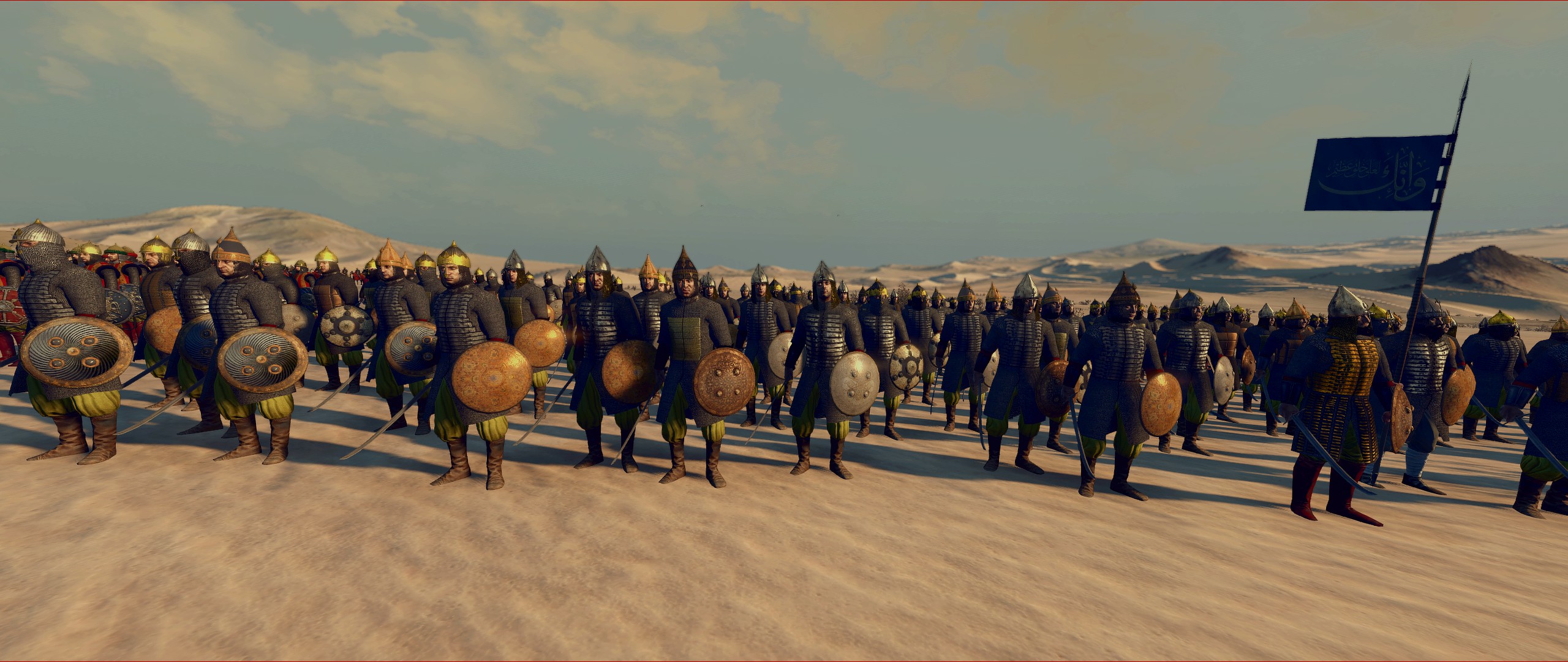 Ranged Infantry:

Jund Rumat (Late)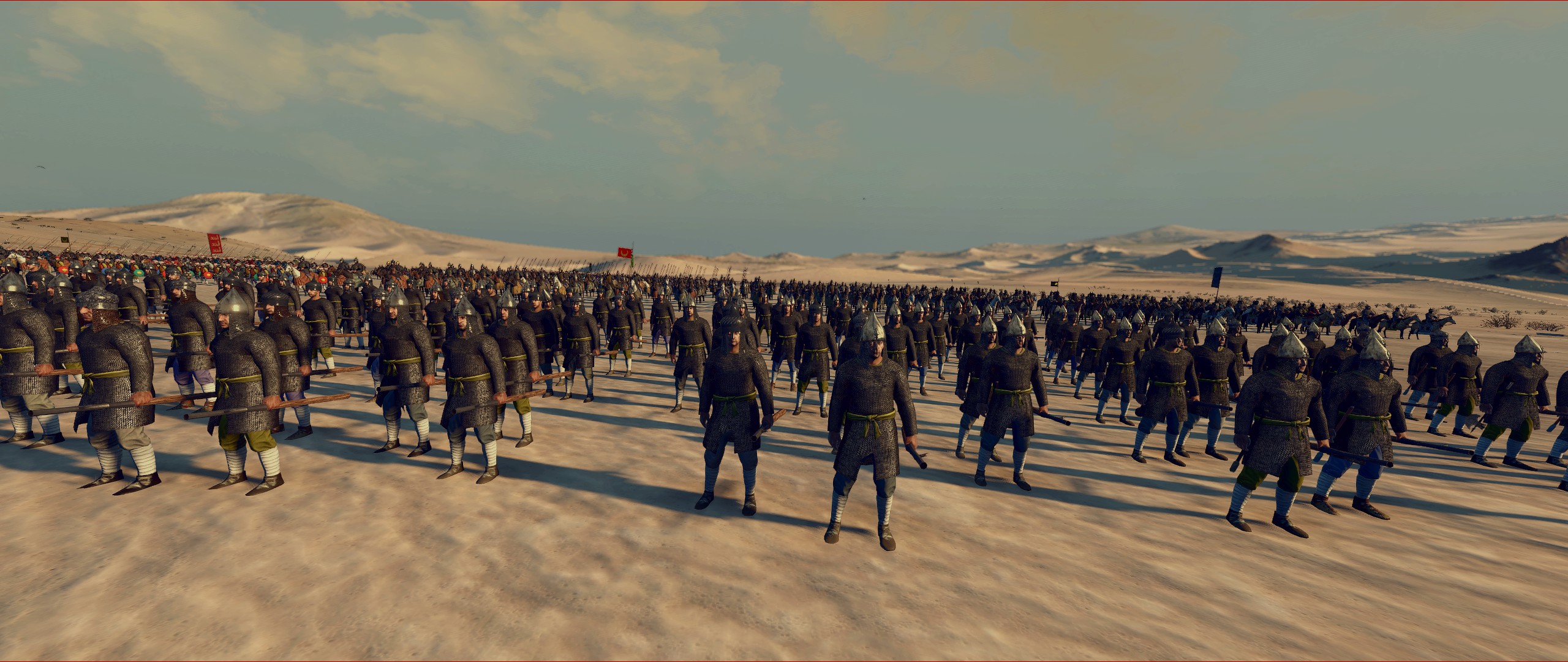 Melee Cavalry:

Qaranis Mamluks
To Be Updated

Julban Mamluk Lancers
To Be Updated

Bedouin Lancers (Late)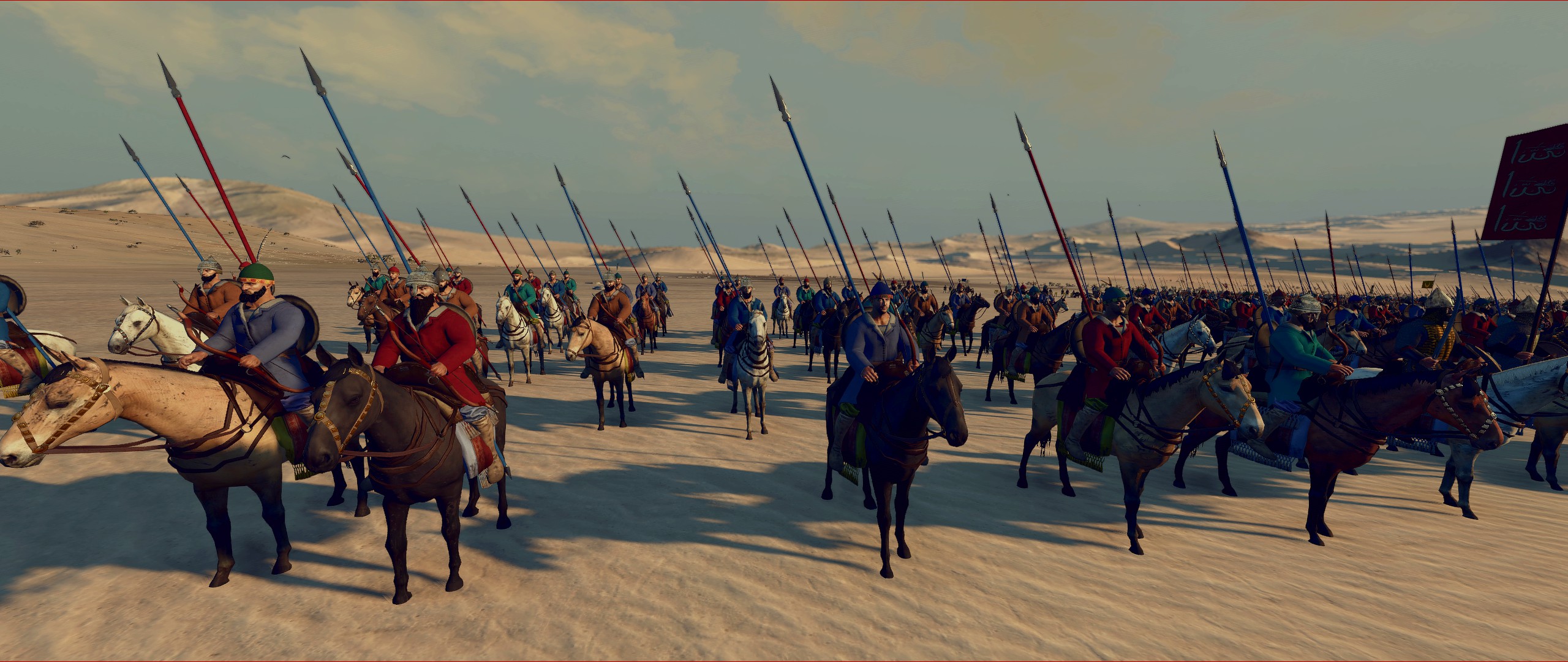 Ranged Cavalry:

Cherik Cavalry

A huge thanks to Zsimmortal, Warman, Ltd, and other team members and Druzhina for his excellently researched website

A special thanks to nnnm, without whom this roster would not have turned out as well as it did