Median XL 1.F9d is out!
You thought I'd forgotten, right? The rate of new patches has slowed down a bit because... the mod is already perfect! Ahem.
Patch 1.F9d and 1.F9c (the difference is a few minor bugs) feature the following changes over 1.F9b: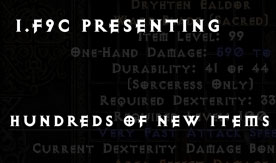 Shiny!
A new assortment of sacred uniques was added. A few hundred new items, some tested over the past few months, others entirely new. Resurrect druid? Hell yeah!
Annoyances eliminated
That annoying Rapture cast sound? Imbalanced sorceress poison skills? Fixed! Also, people with a real life will be happy to hear that you now get two signets when you disenchant a set item, up from one. You should know what this means.
Mod of the Year...
Last year Median XL finished on the #6 spot in the Mod of the Year Player's Choice 2009 ranking out of over 10,000 mods! Once the second round starts, I'll need the votes of all of you to break the top 5!