Median XL 1.F9b is out!
And it has been for the past three weeks, but better late than never.
This patch features the following changes over 1.E9: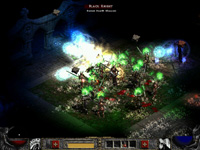 Good, bad, I'm the one with the crossbow
The necromancer skill tree was overhauled and improved - the hated defensive totems were eliminated to remove the need to teleport around everywhere. This freed up several skill slots, which were used to achieve complete separation of the melee and crossbow trees by introducing a number of new melee and crossbow skills.
Jai maha Kali
The amazon bloodwitch build was further improved with the Balefire skill that answers the most common issue with the build: no controllable way to lower one's life for Bacchanalia to kick in.
More...
Mod of the Year #6
Thanks to the votes of many players, Median XL ended 6th in the Mod of the Year Player's Choice ranking out of over 10,000 mods! This is a great achievement. Thanks to everyone!