Median XL 1.D9c is out!
This patch features the following changes over 1.A9c:
Unseelie Court dismissed
The druid's dubious charm/fairy tree has been removed. Taking its crown are the mindlessly powerful Treewarden Morph ('oak smash!') and the more unusual spike-slinging Trap Rat Morph which makes up for its slow attack rate by making each attack as devastating as it can be.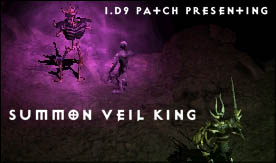 Hail to the King baby
The necromancer has received a major overhaul based on user feedback. The melee druid has been redesigned to include a bouncing ball of pain and a Deathlord morph. The maximum totem limit has been reduced but individual totems boosted. Finally, a new Veil King minion with a sweep attack that may instantly kill a target... but if damaged too much, he will turn on you!




More skill changes
Many other skills were improved, replaced or rebalanced. The assassin now features a Psionic Storm that deals damage based on energy, the amazon bloodwitch build now has a viable single target attack in the form of Lava Pit, the holy paladin can instantly kill a target with Hammerstrike and the melee sorceress has been optimised.
Itemisation
Throwing weapon runeword itemisation was improved with new type-specific runewords and the extreme reliance on specific items in some slots has been mitigated.
Etc.
Improved drop rates in underused uberquests, rebalanced monsters, and a host of secret items!
Realm wipe!
The official (d2maniacs) realm starts a new ladder season!
Download now at Mods by Laz! (SITE MOVED)