1. Table of contents
2. Team
3. Lightingsystem
4. [placeholder if i forgot something]
5. Teaser
---
Table of Contents
- Full voiceacting
- New weapon & armor-models
- New ambience sounds
- New creatures and enemys. All with own stats. So it's compatible with all Overhauls you can find.
- New lightingsystem (see below)
- Shortstorys to further and describe the Questline
- A new art of design. It's unique and more realistic then Oblivion. Also we created new HDR. It gives the maps many contrast.

---
Team
:: Sagantor ::
Leveldesign, Ceoncepts, Sounds, Quest and Organisation.
&
:: Carcharoth ::
Leveldesign, Concepts, Levelscripts, Lightingsystem
---
Lightingsystem
We created a new system in Azraoth. Our goal was to create something unique that you can't finde ingame. The first point ist the lighting in the game. Okay, it isn't bad, but Bethesda didn't do a great job with it. You can make it better with some inspiration and creativity. So we ended up with this result. Now we can add "real" gloomy lights. Nice kind of atmosphere. One to go!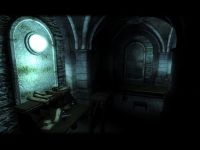 ---
Teaser
There is a little teaser out there. Sorry that it doesn't show more. We want to create an ingame play video later.