After a good lack of public activity since the last media update, the Rogue Threat Development Team is proud to unveil what we've been working on.
The first thing you'll notice is that we've got a new website up, complete with flash. This is due to the efforts of Jack (the project leader), Horny_Devil and Coge_Balas. For you people still in the stone-age of 56k (Or AOL), the HTML site is still online, and will be kept that way. Both versions of the site can be accessed through the homepage, which remains www.roguethreat.com
Now, the stuff that you all have been waiting for; THE IMAGES!
Quieter then that Pulse Rifle, and more accurate, the Combine F-2000 Rifle is the perfect solution for eliminating Rebel resistance. Be warned however, it lacks the brute force of the Pulse Rifle (Or the RPG, but that's a given :D), so it's wise to kill as many of the Rebels as you can before they can get a fix on your loaction. Modeled by The Llama, it will be of great use to you in maintaining order.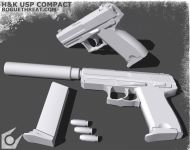 Despite it being about as technologically advanced as the Doom Engine, the USP can still pack a hefty punch, especially when paired with the experimental Combine Gravity Glove. Modeled by Relic.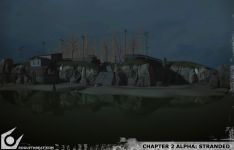 Mapped by Dr. Glass, Chapter 2 can be considered the proper starting point of Rion's adventure. Shipwrecked on a mysterious coastline, a long, hard journey awaits Rion and his squad, if they wish to return to what the Combine call "civilisation". You will have to contend with Headcrabs, Zombies, and even the mistakes of your superiors, as they mistakenly shell the area with Headcrab Canisters, if you intend on making it back to the Citadel in one piece.
Thank you for your time,
Ben "Aidoneus" Lander.