First thing we'd like to show you are some screenshots of Jannicks new map which puts the player into the devastated landscape of the Somme valley. Serre hamlet was the at the northern edge of the battlefront of the Somme in 1916. Placed at the western end of a ridge that stretched 4km to the east, originally taken by the Imperial German Army in 1914, several attacks were made, but the occupation of the Entente forces only ever lasted a few hours. Ultimately the British only took full occupation when the Germans carried out a controlled retreat from the area as part of operation Albrecht, but the Imperial German Army came back and retook the area in March 1918 as part of the Spring offensive.
The location was pivotal as it was one of three strong points or redoubts (along with Gommecot and "the Quadrelateral" ) which were gateways for troops garrisoned at the former to enter the trench systems to the south. The village overlooks a valley 200 yards wide, at the base of which (500m from Serre) the Triple Entente trenches ran. In effect German troops based at Serre had a wide field of fire over the enemy immediately opposite, and also could over the troops advancing on their trenches to the south.
On these screenshots you can see the work in progress shots of the british trenches around Serre. Please take note that these shots are heavy work in progress and lighting aswell as assets are mostly placeholders at the moment as our environment designers are working on creating some great custom assets for our maps.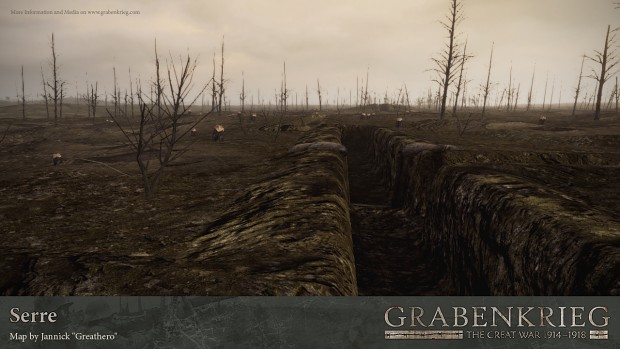 In the second screenshot I want to show you a small aerial view of the british trenches as well as a aerial recon photo from 1916 so you can see how much we are dedicated to recreate a believable, realistic trench system.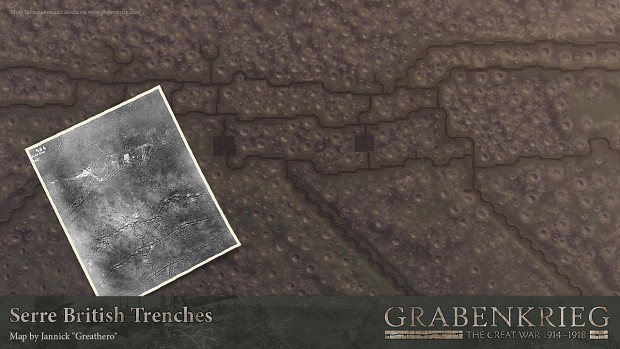 While we're at british trench systems, it is good to know that the british forces had a severe shortage of hand grenades at the beginning of the war, so when the demand was at it's greates engineers were encouraged to improvise these from the tins containing the soldiers rations and a self-made grenade was born: The Jam Tin Grenade. The grenade consisted of an inner can of explosive with an outer can of metal fragments or ball bearings and was ignited by a friction device or something as simple as a lit cigarette.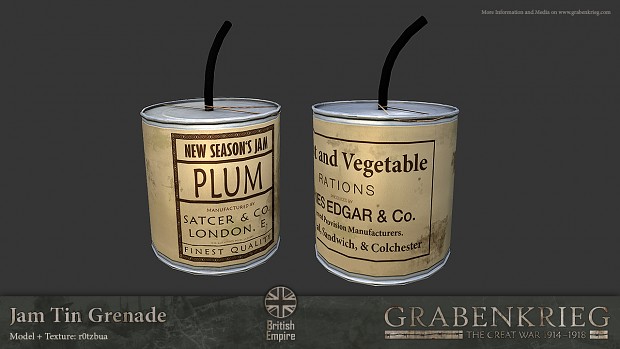 So now that you've seen all this it is time to ask for your help. At the moment we are producing assets and weapons and levels like crazy, and our coders are hard at work. But we really need some help: If you are someone who is proficient with 3d animation, exporting assets into Unreal Engine 3, coding in Unreal Engine 3 or level design, please check out our recruitment forums or write us an e-mail to recruitment@grabenkrieg.com. If you can't do anything of the above but may know someone who can and doesn't even know we exist, tell them to come here and help us out!
That's it for today, there are a lot of other things nearing completion, we will post another media update soon. And if you want to get a sneak peak at them, you can always register on our forums, where we have a developer art dump which is only visible for registered members, where you can see exclusive Work In Progress shots of things that are in development.
And while you're there make sure to take part in our discussions or give us your input on development. Thanks for being with us at while you're at it make sure to check us out on grabenkrieg.com and Facebook. See you soon!