Welcome to the ninth overall and first weekly update for June of 2009, presented by the team of the Crysis total conversion modification MECHWARRIOR: LIVING LEGENDS. After last week's fairly huge update, this one is going to be a bit shorter. This time, we've got the textured Atlas, a short video demonstrating the time-of-day-settings on SA_Extremity and a new set of playtest impressions. Enjoy!
Textured Mech: Inner Sphere Atlas
It's only been a week since we presented to you the four variants of the Inner Sphere's iconic flagship, the Atlas assault Mech. Our artists turned out to be more productive than expected and finished the textures for the Atlas, which is why we're promoting this monster made of 100t of steel again this week. The following screenshot shows the Atlas' new clothes at different times during the day on SA_Clearcut.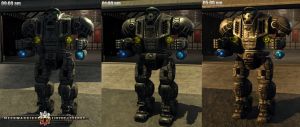 Progress Report: SA_Extremity
One of the most unique maps in MWLL's set of confirmed beta release maps, SA_Extremity is making excellent progress in the past days and weeks. While we expected it not to support the impressive "Time of Day"-features that Crysis offers, our level designers still managed to come up with a pretty impressive solution. Check out the short video clip below to see how the skybox changes during the day. The screenshot is a still impression of some of the new assets and terrain that Inner Sphere and Clans will be fighting on. The music for this video has yet again been created for MWLL by Mike Jennings from Sunpost Music.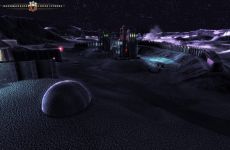 Playtest Impressions
Again, here are a few pictures from this week's playtest.