For the second Mechanics Blog I will be discussing the buildings. In Retro-Pixel Castles, you place buildings in a similar fashion as you would in an RTS, as long as they're within your range map. (See the previous blog for an explanation of the Range Map system) but how they all function varies greatly, and many of them interact with each other in symbiosis. :)
The Village Center
When you start a game of Retro-Pixel Castles, you'll hunt down a good spot to call home. Once you find a spot you think is think is safe (hah! sucker! You're going to die anyway!) you will place your very first building, the Village Center. The Village Center is your primary building, and the only building that houses "Builder" workers that can construct other buildings. Losing this building pretty much spells doom for your village, so protect it well!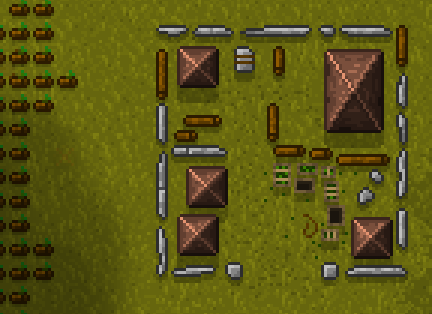 Homes
Homes are fully automated, each house can hold a certain amount of villagers, some food and in the future, some wood for heating for my future plans to add seasons to the game. When a villager gets hungry, sleepy, or simply just bored he will head to his house for some relaxation. Additionally as your villagers go through their day, they will also couple-up with other villagers. When this happens they attempt to move in together. So over time, your houses are naturally filled with pairs villagers who coincidentally will occasionally go home and "get busy". The happier your villagers are, the more often this happens, and in turn, the faster your population growth is!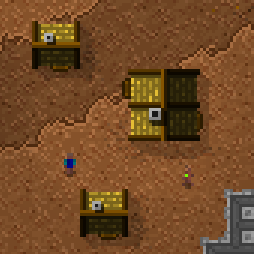 Farms
Farms, are your main source of food. (Big surprise there!) There is food scattered all over the map, but none of it is replenishable. You will have to build some farms in your village and plant some of the food you find to get a stable food source going. The workers assigned to the farm will automatically harvest crops, and deliver food to the houses on the map.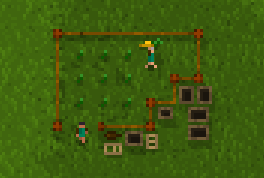 Harvesting Buildings
Every resource in the game as a harvesting building that goes alongside it. Like a Lumber Mill for wood, and a Stone Masonry for stone. The workers assigned to these buildings will go out and gather materials on the map where ever you tell them to and bring it back to their building to store. They also play a vital role in the efficiency of your builder's building process because they can deliver resources to build sites, allowing more time for the builders assigned to your Village Center to build, and less time wasted gathering materials.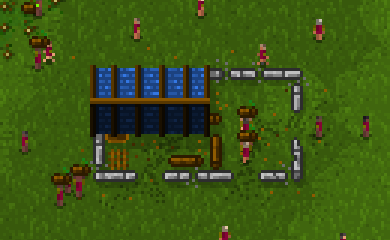 Abandoned Buildings
Many of the maps will have abandoned buildings scattered around, these old buildings cost roughly half as much to restore as it would cost to build a brand new one. So when placing your Village Center, it can be very helpful to locate some of these buildings and start your village near them.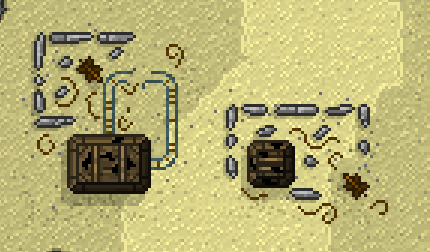 Light Sources
Light Sources extend your build range, allowing you to place buildings further away from your Village. They play a vital role in setting up your defensive permitted out beyond the normal limits of your village.
The Future
These buildings are just a small sample of what RPC will offer in the future. I have plans for guard towers, barracks, mage towers, alchemy labs, schools, orphanages, forgeries, workshops, and many other buildings. What I've shown you today (and what will be released in the upcoming Building Mechanics demo) just barely scratches the surface.
BONUS: Stay tuned! The Kickstarter, Greenlight AND the Building/AI Tech-Demo will be released soon! Don't forget to follow the game. :)