MechCommander Gold - Darkest Hours
Player's Guide

Mech Commander Gold - Desperate Measures - especially pages 26-33 about Tactical combat!
XXL - Campaign Merges containing 130 single-player missions. For sp campaigns there is IS technology available as purchases in logistics. Clan technology can be salvaged from battlefield during campaigns. For Solo-Missions integrated mixed-tech is available.


In Multi-Player games both sides using same techs equalizes the natural disadvantage on IS side. This way all competitors of a multi-player scenario can use same potential for building a force.
Mixed-Tech all goods
MechWarriors (30 Vanilla Warriors +20 New Warriors for extended campaigns)
(only remastered version)
For campaigns & solo-missions - mixed-tech can be used on both sides (IS & Clan). In solo-missions mixedtech is available for playing free as players desire to play using all stuff game offers in its original content.

Player´s Gadgets


User feedback & Bugfixing
Feedback from "MechCommander Gold - Darkest Hours 3.0"-players
Bugs & Solutions - Thread for MCG-DH-v3.0

MCG - Discord & Reddit

MechCommander Gold

MechCommander Modding - Threads, Tools & Milestones
How to use mission editor & design, create or adjust own missions
MC1, MCG - Mech Commander Editor & *.abl scripting reminder
MechCommander Gold - Modder´s Corner by Community
MCShell

by StaticZ

MechCommander Sprites - Source Milestone

by Bestia Infernali

Object.PAK 2 content

by Bestia Infernali

Mech Paint schemes

by Bestia Infernali

Weapon Effects

by Bestia Infernali

Mech Data Modding

by Bestia Infernali

CMunsta Tools & *.fst editing video tutorial

by SeanLang

allcomp.fit / combpas.csv / desc.fit / objsort.rsp files

Thread by SeanLang

Weapon Balance

by SeanLeang

Modding Tool Suggestion & Error reports

by SeanLang

Weapon Rebalance-Mod by SeanLang
MechCommander Modding Discord Channel

by SeanLang

MCG Campaign Clan-Tech Mod

by Timothy Soh

Vehicle Rebalance Mod v0.1, v0.2 & v0.3

by Confused_shelf

Mech Tonnage Fix v1.0

by Confused_shelf

NEW MODDING FORUM (MCG-DH Home)

by Confused_shelf & RizZen
---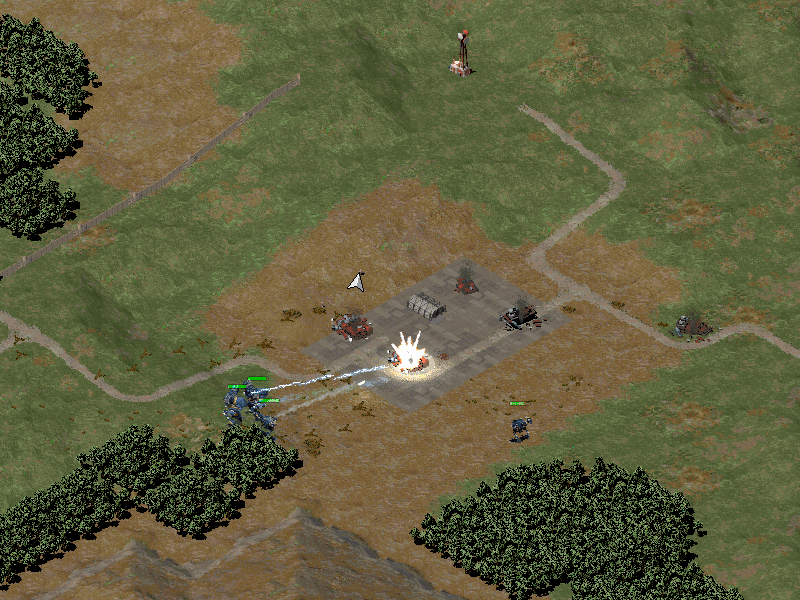 Terms of use

MCG Darkest Hours CONTENT
(c) by RizZen (2016 - 2020)


§1
Reproduction & translation of my work (as a whole or parts of it) in any mode without permission is strictly forbidden allowed.
I don´t claim owner rights of all informations and files i have created while modding and working on this game. Anyone is free to do with it what´s desired. I love to test new game improvements and evolving old retro games. What i have done on MechCommander is my tribute to one of the best Real-Time-Tactics games i´ve ever played. I don´t feel offended or betrayed when someone is using my Version - i would be honored.
§2
All names and marks are properties of respective owners (FASA Interactive / BattleTech / Micropose / Microsoft & Hasbro) - freeware since 2006 (Begin of active Modding: 02/2017).
§3
MCG Darkest Hours - Guide - you are here!
MCG Darkest Hours - Full Version (all versions)
MCG - Downloads on modDB

are all officially hosted by owners of everythingbattletech.com
Without this website & forum there won´t be a single version of mod or a full version standalone for MechCommander. Only after given a new home by it's owners all MechCommander content would be actually permanently offline. Therefore i dedicate MechCommander Gold - Darkest Hours - with all content to everythingbattletech.com, AceTimberwolf and his crew. If changes are desired i admit my help to make them. My only attempt on MechCommander is and was all-time = FUN!
---
(c) by RizZen (2017-2020) - overhauling (2020)
"Thanks for reading! Have fun, that's an order, RizZ!"