Today we'd like to let you know about the story concept of Star Guard.
Please consider that characters, plot and names are still work in progress. You'll be playing as Jason Miles, an elite Star Guard Soldier. The Star Guard is a security organisation for civil travelling and trading companies in space, foundet by the governments of important stars in the Milky Way System who have special economic interest in protecting their trading companies. The Star Guard become more and more important these days as a growing terrorist clan keeps on capturing big trading starships with Hyperspace Drive. The leader of this clan, Drake Whiteborn, is a well educated tactician who served the Star Guard in the beginning of this organisation, but has now, for some reason, very different interests. So this is where Jason Miles, where you come in: You have to find out what Whiteborn is planning and stop him - this won't be an easy job as no one knows better than Whiteborn about the tactics and technologies that the Star Guard use, he developed some of them himself.
We're still thinking about a name for that evil clan, and we'll let you know when we've got one. If you would like to make suggestions, we'd be happy if you'd tell us at our forum.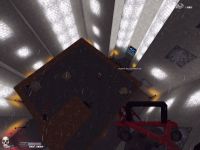 Jetpack-Action
The map that we lately finished is a dark, rainy skyscaper city with indoor- and outdoor parts. A jetpack adds the possibility to make high jumps to high places and engage the enemy from the air, and the red Mini-Gun is available with tons of ammo for long enduring attacks.