Ultimate Apocalypse Home Page | U.A. Main Group on Steam! | Frequently Asked Questions (FAQ) | MODDB Forums | Terms of Use | Ultimate Apocalypse "Library" | Strategy Guide | Changelogs
---
Ultimate Apocalypse Mod
News - May
---
With finally version 1.73 of the mod released, along with its patch, version 1.73.4, version 1.74 was in progress! We are currently at the stage of apocalyzing the Inquisition Daemonhunters and Chaos Daemons (again), via making all of their stats. Ultimate Apocalypse mod compatible. These two races will be available to the crowd upon the release of version 1.74.
Maybe something else. ;)
We will also be fixing a lot of bugs encountered throughout version 1.73.4 even, found within the Ultimate Apocalypse forums. Skirmish will be more polished, plus we hope to make these two races of version 1.74, version 1.73 like, completely skirmish focused and finished so we may now move on to our campaign!
1.74 planning...
Version 1.74 will still take a while. Odds are less than a year definitely because we are only dealing with two races this time instead of 9. We will not give out percentages of completion or release dates, however, as that will cause confusion in the eyes of the waiting like before. But we will still update you! We haven't really posted anything "new" to you guys due to... well stuff you have seen before and we were very busy these last couple of weeks after 1.73's release.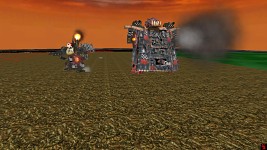 <----------- And then stuff like this in the works.
1.73 races to revamp...
We might also revamp two more races due to the fact the crowd is not in favor of these two races, at the moment:
About the Chaos Marines...
Chaos has some gameplay problems, due to the fact that it isn't really that "fluffy" of a Mark system and some other stuff like POK's Chaos Lord everybody is wanting is not ingame. Dark Prophecy mod contains everything, etc... Chaos is the least liked race in the Ultimate Apocalypse mod due to the fact that the main coder (me) dislikes them so much and has no passion to make the Chaos Marines. Ideas are too narrow for my mind to make the Chaos Marines awesome like the Dark Prophecy mod. BUT!!!! Yeah they will so get a reworking upon 1.74. I also hope to apply some ideas over to them from Gambit's ultimate Chaos Daemons mod!!!
About the Necrons...
Finally Necrons starting economy was a work in progress up until now, where I have finally GOT THE FLOW from start to end of the Necron economy due to the fact that generator spamming and Necrons being super slow in the beginning, and unstoppable at the end did not fit many people's taste. And so I just revamped them all of Tuesday and they are back with awesomeness from start to end. You will see their finished product in version 1.74. However there are still some tweaks I'd like to make with them, more abilities, more FX, sounds, immersion feel of the slow build up of the Necrons, yes they will be back again, sloooooowwwwlllyyyy.... ;)
What to possibly expect?
But yeah otherwise version 1.73 covered basically everything skirmish finalized. There will still be balance changes. Will there be new units in version 1.74? TONS! Too much new content especially for Inquisition Daemonhunters. New content for all races will be ingame for 1.74, all bugs reported that needs to be fixed will be fixed, and finally, like 1.73, 1.74 will be a huge blast!
A mention of the campaign WIP...
The campaign will then be worked on, completely reworked and finalized after the 1.74 release and its needed patch (patches are always inevitable).
Otherwise we are kicking ass still. Got any questions? Please feel free to state them anywhere on our forums or PM the Apocalypse mod team! Thanks for reading!
---
Ultimate Apocalypse Trailer:
---
Ultimate Apocalypse Downloads:
Download the latest version, 1.73!

Mirrors:
If downloading from Mega, make sure you either use a Chromium-based browser (Chromium, Opera, Google Chrome) or install the Mega browser extension for Firefox, otherwise the file won't be saved correctly as it is a bit over 100MB. Official explanation here.
Get the latest patch! (Very Recommended!)

Download the recommended map pack!

---
PLEASE DONATE TO THE APOCALYPSE MOD TEAM TODAY!!!!
Why provide donations? You get lots of stuff from us, including a continued campaign that is yet unfinished and loads of support and mod fixes. This is not a requirement, and by donating, the Apocalypse mod team will be active doing up the mod, releasing updates, and providing more epic entertainment than fooling around with other stuff.
Why provide donations? Over 50 members have, and they were rewarded with what they wanted to see in the UA mod, and because of them, this mod is continued in development. We have explored it all in this mod, and we are not inspired by passion anymore, so by these wonderful donations, well, just look at the progress!
This is no requirement, you are not forced to make any transaction, it is all optional, very appreciated, you can be put in the list of donators or possibly be a character in the UA mod when the campaign is done, and further, you get to boss us around and have at what you want!
So what are you waiting for? Donate!
---
The list of donators are provided in the link above!
More donations were added as of 5/23/14