The weapon system is now highly advanced, and some weapons like bananas and shells are already working. Unfortunately, we're not able to give you footage of those items, since the kart isn't finished yet. Anyways, Sh4rk remade the banana model with higher definition like the shells :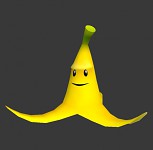 (Nope, it's not the Giant Banana from Double Dash!! but the classic banana)
Along with the new banana model, MKS got a new kart ! We wanted to get our own kart, like MKDS, MKWii or even MK3DS have their own kart style. The new look is aggressive and perfect for explosive races and battles !
We also have new music to add to the collection. The MKDD Twilight house music has been remixed by Milkydeathgrind. along with our previously released music we have a good library of music so far. MK64's Block fort, Mario circuit, Koopa troopa beach, Main menu, Bowsers castle and the star powerup music have all been created. Here is a bunch of available musics and themes :
Twilight House (Battle theme) from Mario Kart DS
Menu Theme
Bowsers Castle Music from Mario Kart 64
Koopa Troopa Beach Music from Mario Kart 64
Mario Circuit Music from Mario Kart 64
We're trying our best to provide you with some footage of the kart, items and of course a playable version as soon as possible.
Thanks for your patience and support for MKS !
KillerMapper and Milkydeathgrind