Hello again community, we were very surprised that our news from Monday enjoyed that much popularity at the beginning. Today however we must realize that everything goes off course. The reactions and comments from some guys of the community have been extremely excessive and insulting. We want to clarify at this point, that the news from Monday was NOT the real May-news, but still a serious hint, that we are also only humans and that not all the things always go as planned.
We hope that you have catched the meaning and are proud to present the real May news!
Originally we wanted to release this news within the next weekend, but to finish all the useless discussions, we have decided to reveal it now! But because of that, we were not able to finish the (in the April news) promised "big thing". We need to delay it to the next month. In return we present you today a very cool video, but first let's start with some new pictures.
This is the heavy Wraith satellite, also called anti-capital satellite.
Credits:
Model: Wolf V.2
Texture: MerlinGalgotta
Next one is a new model of the known Asuran corvette. It now fits to the rest of the new Asuran ships: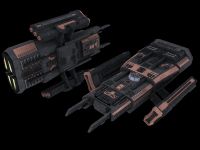 Credits: Modell&Textur;: DukeaufDune
Important: this is the high-poly version!
Last but not least we start a new series of videos with this news. They are mainly a profile video about the units, as you know it already from the hardpoint layout pictures. Many thanks to Pifroggi, who has joined our team a short while ago. he is responsible for these videos now.
We start today with the X-303:
That is the end for this months! ;)
Greetings,
the SGMG