Herro! With the 1.23 patch lagging behind, Dunwich and the overland map still under construction I've been messing around with things not initially in the BETA scope. Those who know Call of Cthulhu, also know that books and tomes are a rather important aspect in the game. They are a large resource for knowledge, spells, in our case crafting recipes and other kinds of niceties. Of course... books aren't always in the same language. I've been dissecting the readable books pack and translation tools in the DMFI package to come up with some fun results.
Book functions:
- Read Original
The original text. Untranslated.
- Translate
Translates the text into readable English (or 'Angian' in the setting). The player rolls a language skill check on each word. A successful d100 roll translates it.
- Study
Straight from the CoC rulebook. Studying a book takes a long time and studying a mythos tome usually costs sanity and provides an increase in your your mythos skill, though the rewards are usually worth as they provide the reader with powerful occult magic.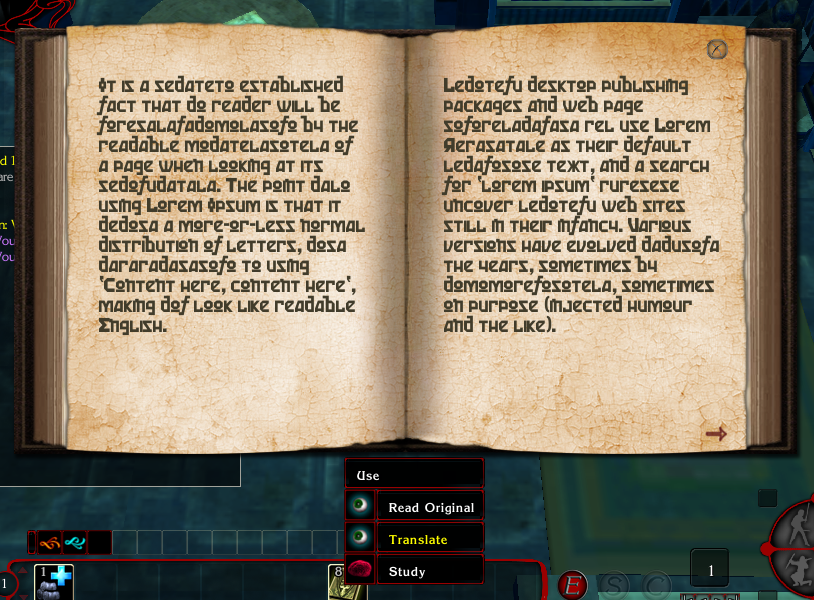 That's currently the basic lay out of it. I'm still looking in to adding pictures in to the book, as well as 'chapters'. I'd like to do it slightly differently then the original readable book mod, though. But we'll see how it turns out. So far it serves its purpose.
Oh yeah, other then that the server is up. Usually from 9am to about midnight, GMT+1. You do your own calculations.
A lot of the work that's been going on are bug fixes, a few crash fixes and polishing of what's already there. All in all, everything has been going quite well and right now I'm currently working on slowly expanding the world... implementing the new stuff and the systems, as well as finishing a few others. As far as I know, the only major UI reliant system that still needs a lot of work is crafting.
In any case, I haven't managed to get a direct connect link up yet, though if anyone wants to take a peek at our presently small but fairly stable server, look for
ESV EARLY BETA, In roleplaying.
You need the 1.23 beta patch to play however, so if you don't have it, send me a message.