Masterspace v1.7 has been released, introducing a new building system. The placement of construction platforms is now seamless, which allows for simple construction without regard for the world geometry. This change particularly makes building on spherical planets much easier.
Additionally, the resolution of the world has been lowered, which increases the size of the planets. Instead, a high resolution is limited to buildings on construction platforms, as well as spaceships. It is also possible to set the surface extraction method individually for planets, buildings and spaceships, which allows for e.g. a smooth planet terrain with cubic buildings.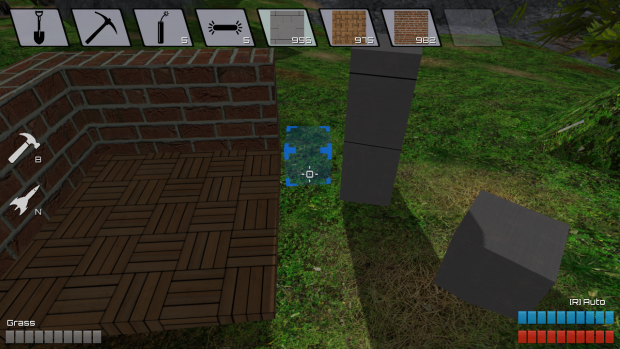 Four new mobs have been added. This includes friendly tortoises and two bird species, as well as one hostile alien species.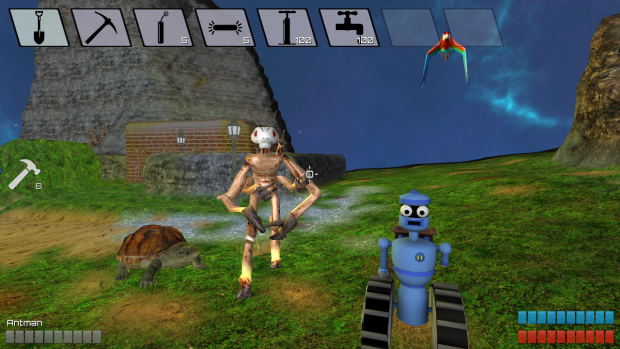 A lot of 3d models have been replaced with higher quality models. This includes new models for the bed, botanic assembler, furnace, workbench and the trading post.
The pumping system is now functional. Pumps may be used to transport water from one place to another using pipelines. Water is pumped from all open ends of the pipeline to the pump. Several pumps may be connected in parallel to increase the pumping capacity.
Finally, the spherical "resource balls" have been replaced with 3d models more closely resembling rocks.

Download the free version here:

To upgrade to the full version, download and install this unlocker. Please note that you need to apply this unlocker even if you have unlocked a previous version, as the unlockers are version specific.
IMPORTANT NOTE REGARDING SAVED GAMES:
This version critically breaks compatibility with save games from older versions. This is due to changes to the world scale and resolution. Old save games will still be possible to load, but the world scale will be wrong and both texture tiling problems and crashes may occur. It is very highly recommended that you start a new game in Masterspace v1.7. We are sorry for any inconvenience this may cause.
As usual, some bugs and crashes have also been fixed. For a complete changelog, please see below:

Changelog
New features:
New building system with seamless construction platforms
Support for different resolutions and surface extractors for buildings, terrain and spaceships
Support for animated objects and NPCs
Non-spherical resource balls
4 new mobs: Tortoises, Antmen and 2 bird species
Water pumps are now functional (only single player for now)
New objects: Seat, power station (no function yet)
Changes:
Resolution is now 75% for planets and 150% for buildings and spaceships
Voxel region size changed from 40 to 48
New model for bed, botanic assembler, furnace, workbench and trading post
Maximum inventory size is now 1000
Removed tutorial mission due to wrong world scale
Bug fixes:
Fixed crash in random number generator
Other:
Spherical planet generation reimplemented in script