Masterspace v1.6 has been released, introducing a new user interface. The production and object construction screens have been redesigned to include a lot more information and most object descriptions have been extended and updated. Additionally, the old inventory icons have been replaced with new icons with a consistent graphical style. Hopefully, this effort will make it easier for new players to become familiar with the game.
A bunch of new objects and materials have also been added. Plants are now growing on the planets and it is possible to fabricate new plants in the "botanic assembler". There are five different types of plants. Also, support for transparent materials have been added and it is now possible to fabricate glass from sand in the furnace.
The inventory system has been revised and is now limited to 8 slots, each capable of holding up to a maximum of 200 items. These limits may be customized for the scenario by scripting. This introduces the need for more storage containers, as well as introducing logistic problems. To solve storage problems early in the game, a new storage container, the urn, has been added. Urns are constructed from dirt and have 2 storage slots.
The scenario scripting has been greatly improved by the reimplementation of the planet generation functions in LUA script. This means that customized, random planets may be generated specifically for each scenario. A testing ground scenario has been added, demonstrating work-in-progress features, such as meteorites and rain. Also, multiplayer games have been simplified by automatic transfer of save games and scenarios.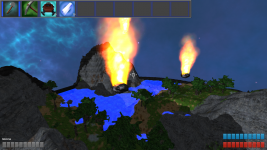 Finally, the demo limitations have been changed and, as of this version, both saving and loading of save games and scenarios is enabled in the free version. Instead a demo reminder popup has been added, appearing every 5 minutes.
Download the free version here:
To upgrade to the full version, download and install this unlocker. Please note that you need to apply this unlocker even if you have unlocked a previous version, as the unlockers are version specific.
IMPORTANT NOTE REGARDING SAVED GAMES:
This version partly breaks compatibility with save games from older versions. This will (hopefully) not cause any crashes, but constructed items may disappear. Primarily, steel forges and stone cutters will not appear, as they have been renamed to furnaces and multimachines, respectively.
This may be solved by editing the save game file and manually replacing the old names with the new ones. Also, problems may arise from the introduced limitations in the inventory system, and any number of items above 200 in a slot will be removed.
As usual, some bugs and crashes have also been fixed. For a complete changelog, please see below:

Changelog
New features:
New inventory and interface graphics
Improved production screen
Support for assignment of particle systems for idle, production, damaged and destruction
Support for collision-less custom voxel types
Five different bush types
Planet generation reimplemented in script
Support for custom planet generators for scenarios
Automatic transfer of scenarios and save games in multiplayer
Transparent materials
New material: Glass, transparent material, made from sand
New object: Botanic assembler, produces plants
New object: Urn, 2 storage slots
Meteorites
Support for limited inventory size set by scenario
Random planet name generator
New bomb model
Bug fixes:
Fixed water rendering crash
Fixed placement of objects on spaceships and space stations
Fixed crash when loading construction platforms on spaceships
Other:
Loading saved games and scenarios is now enabled in the free version
Demo reminder popup every 5 minutes added to the free version
Improved liquid algorithm
Reduced size of medium sized resource balls from 25 to 10
Construction menu may now be opened with "B"
Standard inventory is now 8 slots of 200 capacity each
Reduced number of inventory slots in containers
Setting to change port added
New descriptions for most objects
Objects are now slightly less expensive