Hello everyone!
Our last post is now about one month old but we made lots of improves during this time so prepare yourself for a massive update!
First, some of you pointed out in our first video that our tilesets seemed to blocky and that you wanted more flying islands.
We heard them and we worked on our graphics, adding new tiles to fix that block effect and creating several kinds of clouds to make flying levels.
So, we created new tilesets and some declinaisons, as you can see on the following screen.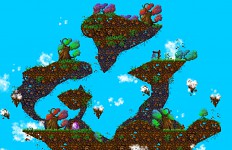 A sample of our new tileset
In addition of that, we finalized our background system to adapt any size of pictures. That means you can now upload any picture and display it behind your level. Its behaviour will directly depends of its size.
If it is smaller than a camera size (760/475), the picture will repeat to fill it. If it is bigger, it will sccroll, following your character position in the level.
For example, if you are at the top-left corner of the level, you will display the top-left corner of the picture, if you're in the middle of your level, you will display the middle of the picture and so on. The scrolling speed of the background will change, depending on your level size.
Finally if its height is bigger and its width smaller, it will scroll in height and repeat in width (or the opposite, of course).
Also, we added our first mob, the Shadow with two behaviours allowing it to patrol on a plateform or to wander around.
In response of this new danger, we give Lucas the ability to defend himself with an attack. He is now able to deliver a powerfull yoyo hit, smashing every ennemy in front of him.

The 3 main frames of the yoyo attack's animation
However, even if he can now fight Shadows, he isn't invincible. That's why we added checkpoints. Looking like dreamcatchers, they are activated by just touching them and, if you die, you go the last checkpoint you passed. To let the level designer freedom on their level size and difficulty, the number of checkpoint is not limited in the editor.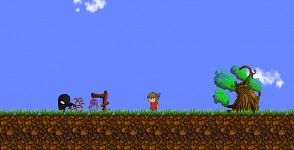 A Shadow walking next to a checkpoint
Last but not least, we added the Cookie. It is a collectible, limited to 5 per level and will be used as in game currency to buy additional contents (such as new levels for instance). In order to avoid a farming effect, you will only be able to collect them the first time you go through a level. Once you
pass the exit door, you will be able to replay this level as many time as you want but Cookies won't be there anymore for 24 hours. After this delay, they will respawn and you will be able to collect them again.
And, to end this article, I wanted to say that we are trying our best to deliver a first playable version of Somnea within the following month.
The IronHorse Factory team.