Market Day in Darineth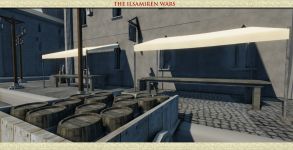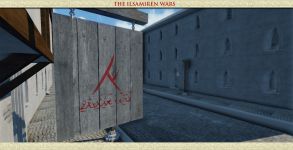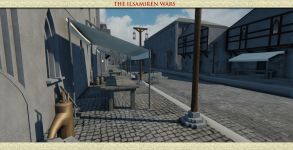 Left to right: barrels waiting to be unloaded, a shop sign and a street-scape
The markets of Darineth operate more or less every day, except during certain religious festivals, and you are likely to find a few stalls set up on almost every street. There are also two larger market spaces in the city's north and south. Although merchants generally own a shop (marked by a sign, like the one seen in the centre above), it is quite common for sellers of all goods to set up a stall right outside their shops or in one of the two market squares.
Darineth Alir (the Province of Darineth) has a cool climate which allows for the sale of fish and meat on the streets for much of the year. A side effect of the cool weather is the inability to cultivate two of the crops which the Ilsamiri prize most - olives and grapes. Their strong alliance with the Southern Kingdom, however, allows them to maintain a steady supply from the warmer lands around the Bay
The Ilsamiren Wars Team is Seeking Character Modellers
Help us populate these streets by becoming a character modeller for the IW Team. If you are interested, send me a PM or email containing a sample of your previous work.