Mario Runner is an addictive, breath-taking adventure of a thief who stole an ancient roman god's weapon Mario from a hidden treasure far inside a forest. But help him now, for he has done a big mistake, he is on foot and police is chasing him in the dense forest. Enjoy this thrilling dash of thief through forest as he avoids oncoming hurdles in order to save himself from the police car that is chasing him.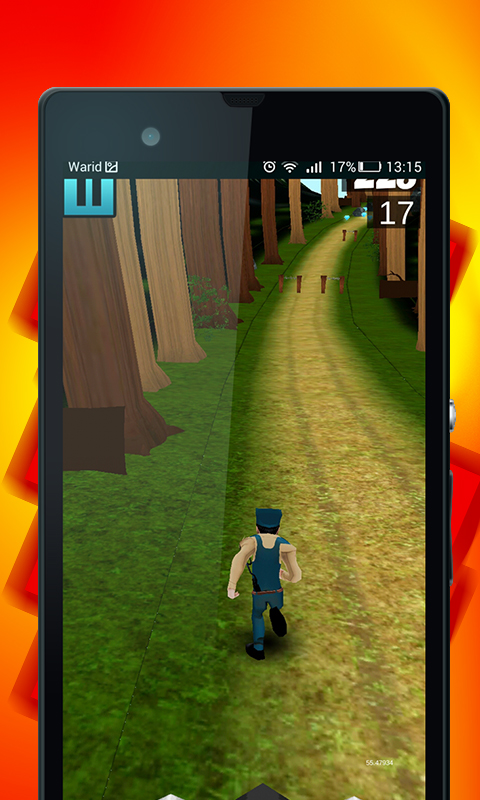 A long time ago, an ancient roman god left his weapons hidden in a temple ruin founded in a forest. Getting in this forest is sure easy as surfing in the ocean or partying on the beach, but coming out is not a dash. The police is on the loose with their dogs, and fast cars. The chase is infinite and endless run in the woods, field-runners are indeed fast but the hurdles are barbed wires, stones and trees falling on the trail. He must get through every single hurdle put on by the grumpy police inspector and their pets guarding the ancient relics.
The explorer's ambition to save the relics from the government and discover its potential is extra-ordinary. Previously, he has saved another goddess treasure. He must make a packy run in order to save the relic and himself from the inspector. He must escape or he would be jailed in the prison for his ambitious adventures. He carries the burden of this relic; he must escape to enjoy the rest of his life on beaches eating fruits and candy. He must run day and night without getting tired and pass through the forest to the rendezvous where help is waiting for him to approach. Powered up with his gadgets like ghost card, magnets and camouflage ring. He must get away from the forest. He remains a rogue treasure thief instead of a hero that works for the government or for someone with power.
Join this hero on his run and help him escape the police. Mario Runner is an endless 3D running game and takes you to an adventure of an unspoken hero.
Features
• Jungle Run
• Jump and sweep
• Collect Treasure
• Collect Diamonds
• Escape police
• Explore the depths of forest
• Avoid Grumpy Inspectors
• Run to rendezvous
Hello!
We at MA Gaming Studios, bring exciting, fresh and realistic games at your doorsteps with really cool backstory.
Do check our latest games by clicking on the more games!!
Have some suggestions? put it in the reviews, we will update the game as soon as possible.
or
Email us at ammar@romio.com
Follow us on Facebook! Facebook.com