In the past few weeks I have spent the majority of my time again on unit concepts (I sketched a few storm drains too...). The major product of which was the final character sheet for the industrial riflemen, which means Ryan finally had something to do.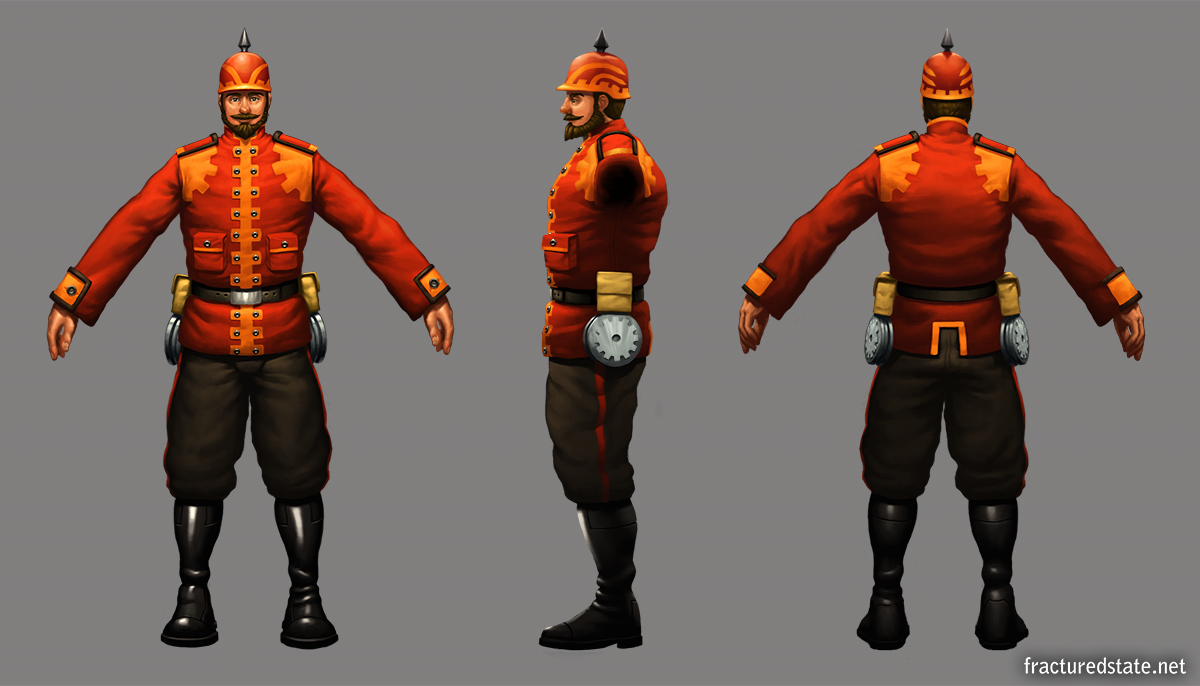 There isn't a lot new to say about the concept, but this was only the second character sheet I have ever made so there were some opportunities to learn. The one trick I knew going in to it was to finish the front view, copy it, and then flip it to properly mirror the back view (at which point I then blocked color back in). Other than that it was just guides everywhere.
The next big hurdle in relation to this unit is the texture sheet, which I am somewhat excited and horrified for. I expect the first few attempts will result in a lot of expletives.
In addition to the character sheet I needed to give Ryan a concept for the rifle these fellows will use.

I had figured he would be occupied for a bit by the character rendering and the rifle. He decided to not sleep the night I gave him the concepts and had the rifle rendered, along with the unit render started, by the following morning. How am I supposed to keep him occupied if he does that?! Productive jerk.

Amidst grumblings of discontent I shifted my focus back to doing concepts for the Ritualists' first unit- the knight.


The consensus seems to be that the ancient technology they utilize should look in essence non-technological. This works to obscure the ways these devices operate, which plays into the mystified reverence the Ritualists have for the devices. The first and third concepts as such were immediately out. The last concept I worked on, the one on the far right, is probably the best for differentiating the factions as it would have a drastically different silhouette than the riflemen. The gauntlet also plays into the unit's name fairly well. My next task is to sketch a bunch of concepts for the mantle.