Let us peer over the shoulder of our level designer Michael Richardson (Ruckus) today and discover how he approaches cartography digital-style. No outdated blueprints and paper drafting for this one! Just a mouse, a monitor, a computer (we assume) and perhaps a highly-caffeinated crystal vial to nurse him through the late mapping twilight hours.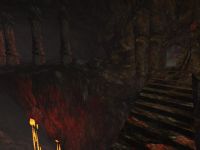 Q: Where are you from and what do you do for a living, can you tell us something about yourself?
I live in Toronto, Canada. I work at Real Programming 4 Kids. Realprogramming.com
Q: Have you worked on other mods or TC's before Hexen:Edge of Chaos?
I worked on a Doom 3 mod called Project 0 for a few years before joining the EoC team.
Q: What is your role in the team?
I am a Level Designer.
Q: When did you join the team?
I joined in spring 2007.
Q: When did you hear first of the TC, and how?
I heard about the mod when it was first announced on Planetdoom.
Q: What style of developer are you? Do you rush into things, or do you plan a lot in advance?
I rush into the planning phase. Seriously though, I am very hands on. I rarely plan out a level on paper, unless of course I'm not at home. I find working on simple layouts within the editor yields the best results.
Q: What was your first experience with the Hexen/Heretic series, and how did it impact your view on computer games?
I first saw Heretic when I was about 11. I was pretty fascinated, but Doom had really stolen the thunder away since I had seen it first.
Q: What things besides gaming do you currently feel strongly about?
I'm a musician and I am very passionate about my music. I play in a band which covers subjects that matter to me in the lyrics. So it is pretty rewarding.
Q: Which game are you currently playing?
I play World of Warcraft and a Warcraft 3 mod called "Defense of the Ancients."
Q: Some modders play the games they mod for on a regular basis. Other modders actually just primarily enjoy modding. Which would you say you are?
First person shooters have become less fun for me over the years, however, they provide the greatest outlet for creativity in design as they are generally on the cutting edge of graphics. I really enjoy design.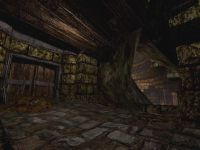 Q: Are you working on any other mods or TC's right now?
Not on any other teams, but I have a few projects going.
Q: What do you like best about the Doom3 engine? What would you improve?
There is nothing particularly awesome about the Doom engine. It does allow for some stunning visuals though. I have done a lot of level design on Quake 4 and I feel it improved the engine quite a bit, especially in regards to lights and lighting. Also the packaged editor is quite a bit better.
Q: If you could have any new feature added to the Doom 3 tools, what would it be?
Drag-scaling lights, and Freelook in the Camera view. Something like GTKradiant (which EoC doesn't work in!).
Q: How has this TC influenced your life (either on a personal or professional level) so far?
The mod gives me a nice solid goal to aim for, which is nice.
Q: What's been your worst experience so far with making the TC?
Lack of inspiration, all artists get it now and then. It's really tough when you want work on something you have no ideas for.
Q: What part of (working on) the TC do like best so far?
I enjoy the creative freedom. I like to challenge myself to make the best levels that this engine can support.
Q: Which part of the TC are you currently working on?
I am currently working on two levels for the end portion of the game.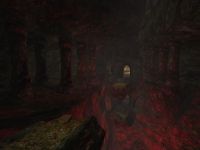 Q: Which aspects do you consider to be crucial in keeping the original Hexen feeling going in this TC?
For the story and characters, as well as the weaponry, to follow pretty closely to the original HeXen universe.
Q: Describe the best feature in the TC in your opinion? What should the person look for that they might miss?
There are a lot of cool new features we are adding. Every person should look carefully at the little details in the world we have created. A lot of talented designers have put a lot of hard work into the smallest things.
Q: Describe the weapons, what weapon you will use the most and why?
I'm not going to spoil anything for you. (Ed: Aww, but interviews with spoilers are the best!)
Q: What is the hardest part about working on Hexen:Edge of Chaos?
Collaboration over the internet can be difficult at times. Keeping up with all the members is an interesting challenge.
Q: Any final thoughts?
I'm very pleased and honoured to be a part of this team. It's shaping up to be a great TC.