Since our last news, we had some great progress in the modelling area: Chromeangel finished the Necron Warrior. This beast will be the basic class for the upcoming species of the Necrons: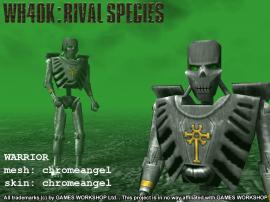 He also finished two new weapons for the Command class of the World Eaters: The Plasmapistol and the Poweraxe will be available as a combination, and finally provide the Commander of the World Eaters with the requisites to be a match for the leaders of the other species!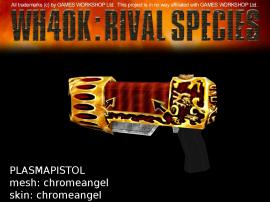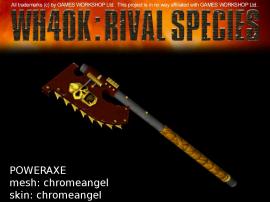 As well as showing off our modelling progress, I am happy to announce the release of an experimental map-package! It includes new versions of landingzone, city_conflict, deathvalley, gigant, and rust. It also some entirely new maps like hivecity, centurion and landraider. These maps were built by the following community and team authors: Dark Marine, Cyberman, Korkonius, nic2, zamme and Lord of Chaos. The package gets played on the 1st-Catachan clan server every wednesday.
So, go and get prepared for the battles next Wednesday and download the package from our homepage!