Originally posted: 4/30/2017 on our website
Hi everyone,
Tyler here from the Deckpoint Studio team! I'm writing this week to give a nod to what's ahead for Mark and the rest of the Luckless Seven. As the writer, I'm usually focused on the next narrative frontier for our band of misfits, but this time I'm looking forward to what's next physically: the levels players will traverse in the next segment of the game!
As a teaser, here's what to expect for the next tournament venue: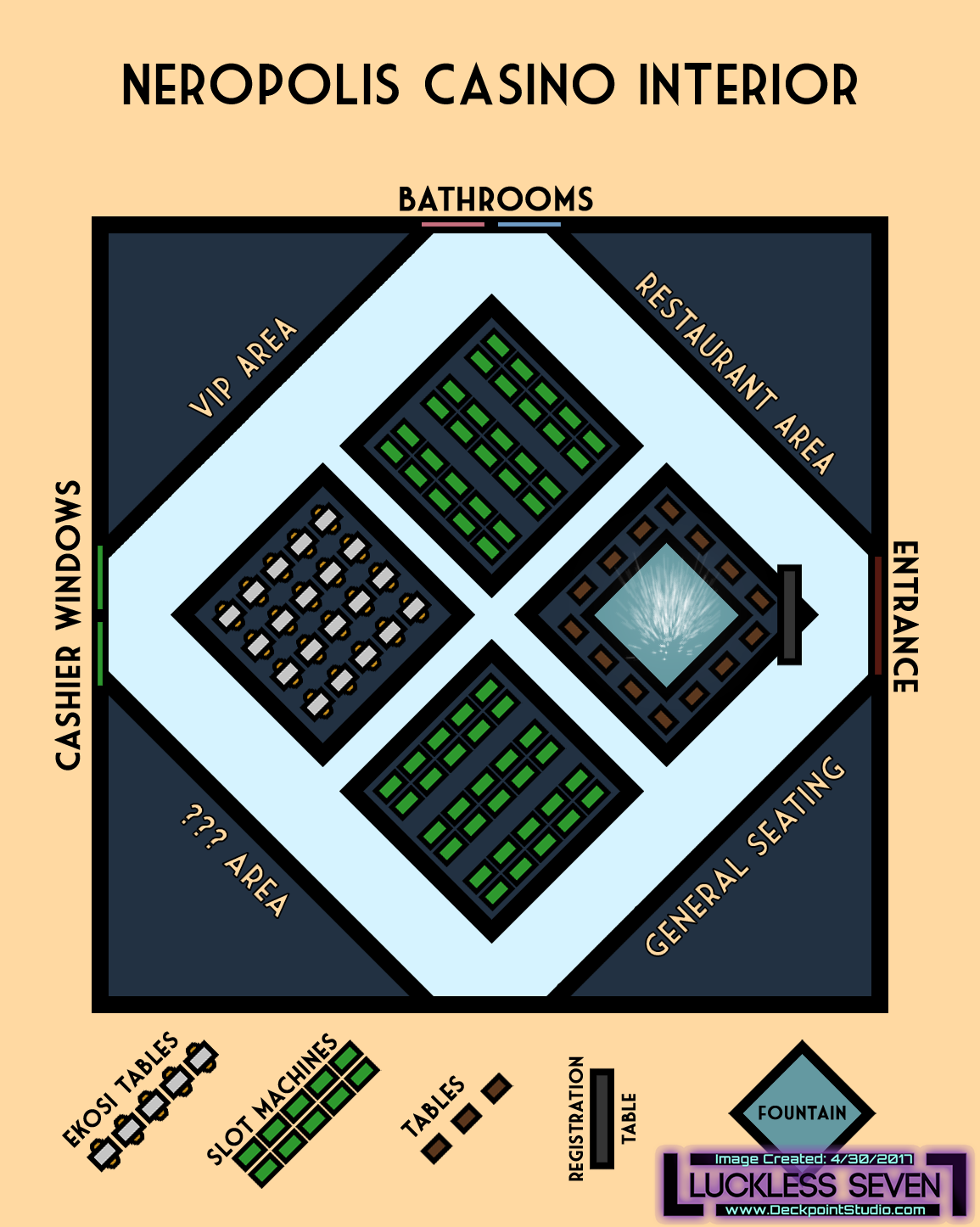 When I came aboard the project during our Summer '15 Kickstarter, a few, important spaces were already designed: Mark's apartment, Krista's house, the hospital and library. Jesse invited me to partake in the level design process, and I eagerly did so with the least impressive Photoshop work in history.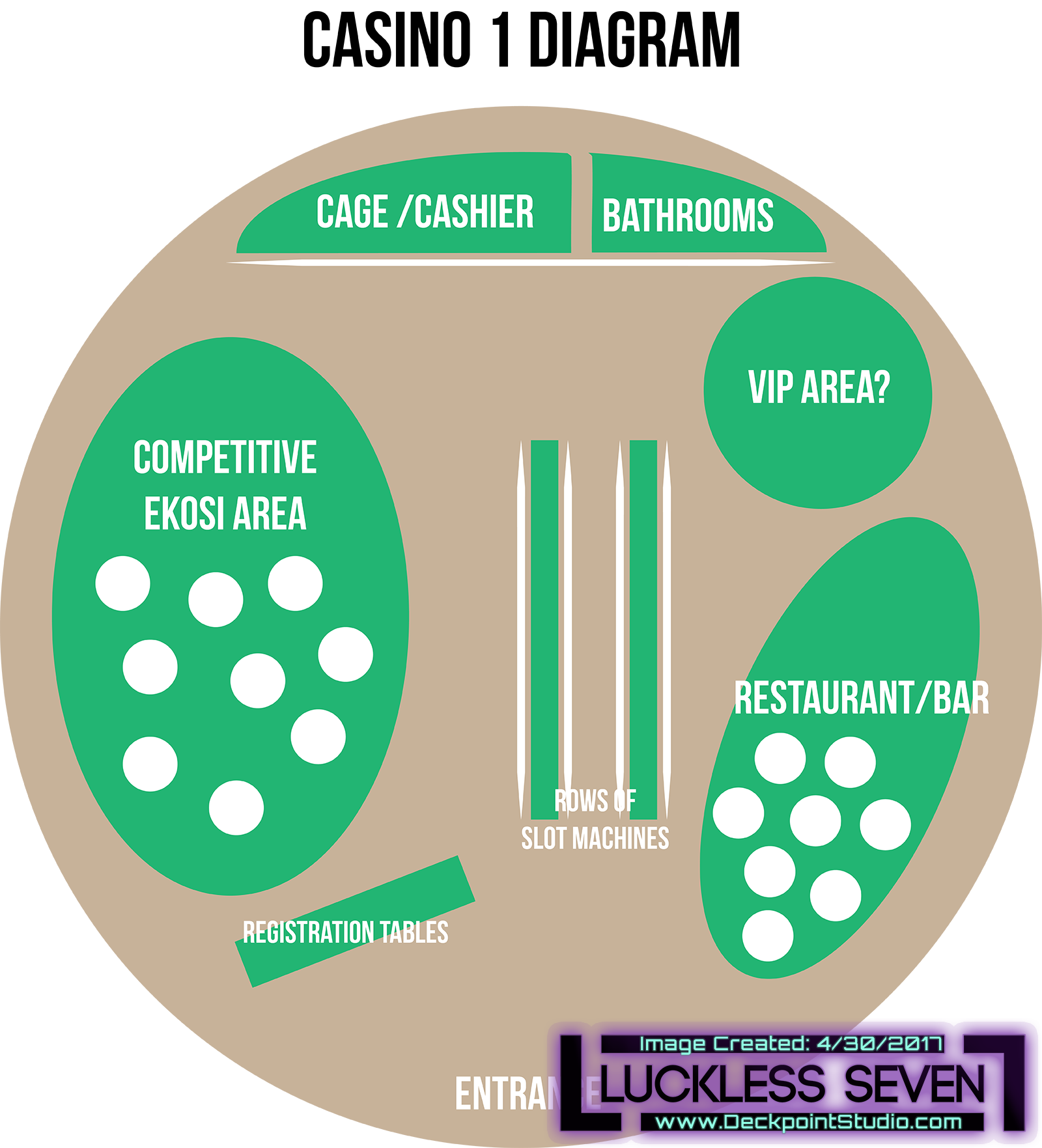 Look familiar?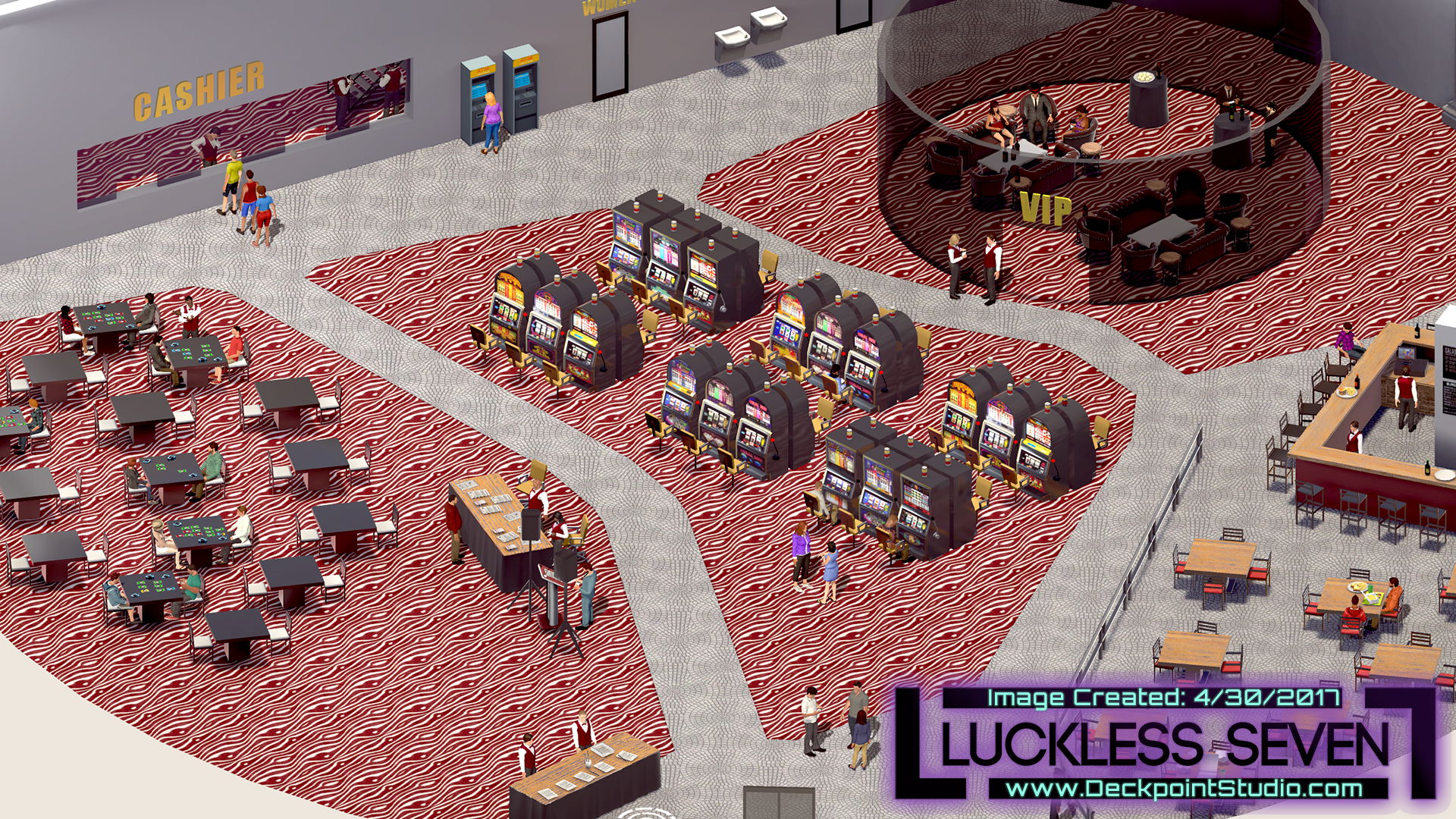 Obviously, a lot of work takes place between my brainstorming and your playing. When reviewing my plans for the story, Jesse and I discuss the levels required to accommodate every event. I prepare a list of desired areas & design documents. Jesse makes suggestions from his perspective as developer before undergoing the Herculean work of bringing our ideas to fruition. In anywhere between a few days and two weeks, Jesse has a functional model for us to improve as we go.
Our design priorities are efficiency, story fit, and style fit.
Efficiency:

There are no superfluous levels.

Story fit:

All levels are made to fit their definitions and roles in the story. Our spaces are built with realism and important thematic/story information in mind.

Style fit:

All levels should complement the isometric art style. We avoid placing surfaces perpendicular with the camera, and we always avoid obstructing the camera's view of traversable terrain.
Take Day 4 for example. We've long known we needed just two levels: one large, mostly-open trail level between the cities, and one level dedicated to the reflective campfire dialogue. I knew I wanted Mark and Krista to encounter diverse personalities along a sprawling route that really made Mark feel his size. Here's the first design document I presented and the finished level below: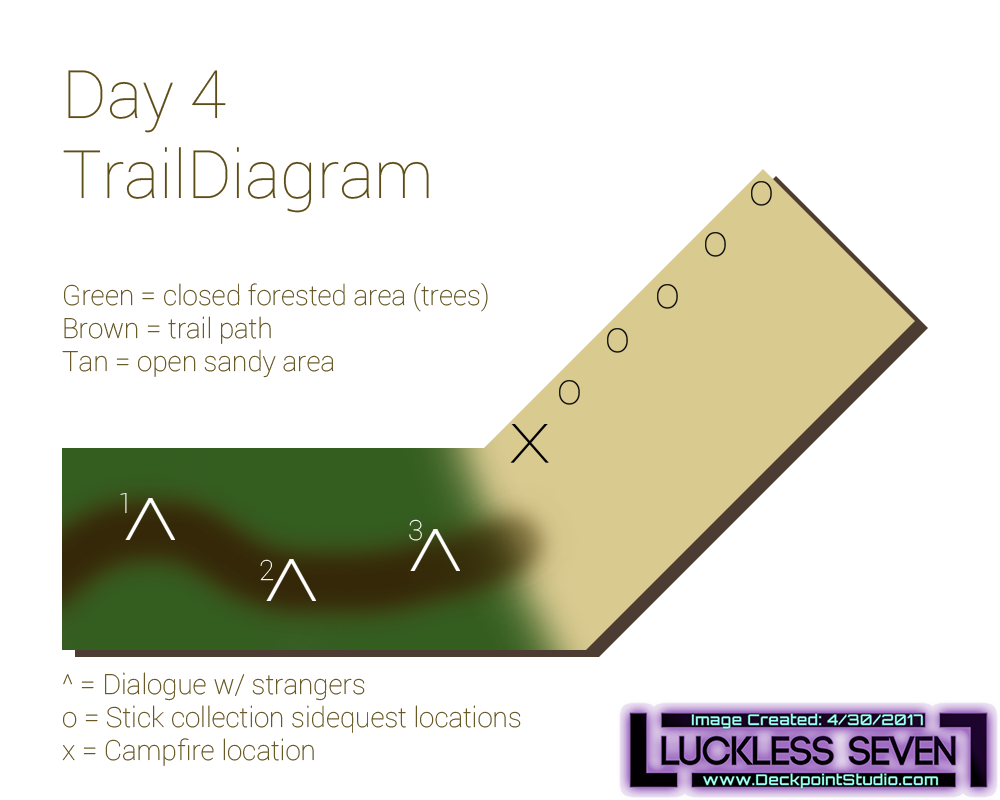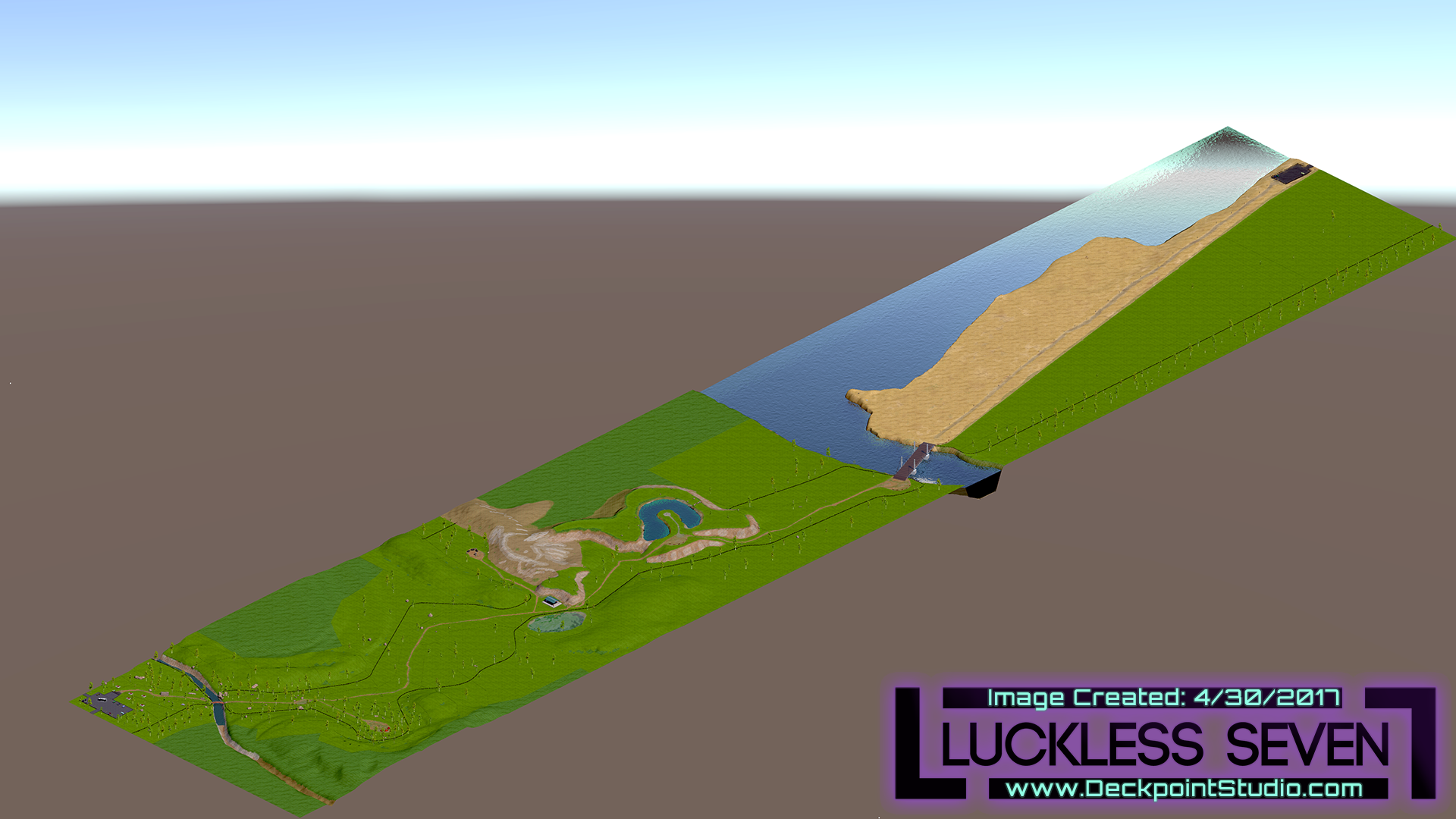 Big, just like I'd hoped. We eagerly wanted to communicate that Mark and company were traveling a huge distance across Arithia, and I think were successful in delivering that message.
For Mark's next steps, we have functionally similar spaces in mind: a casino interior and exterior, a living area, card shops, etc. However, they'll all come with Neropolis's new visual theme. Neropolis, host to the next stage in the Ekosi tournament, is a quaint coastal city set upon by new development. To build it, we're drawing inspiration from the Mediterranean peninsulas and islands. Here's a peek at what's to come: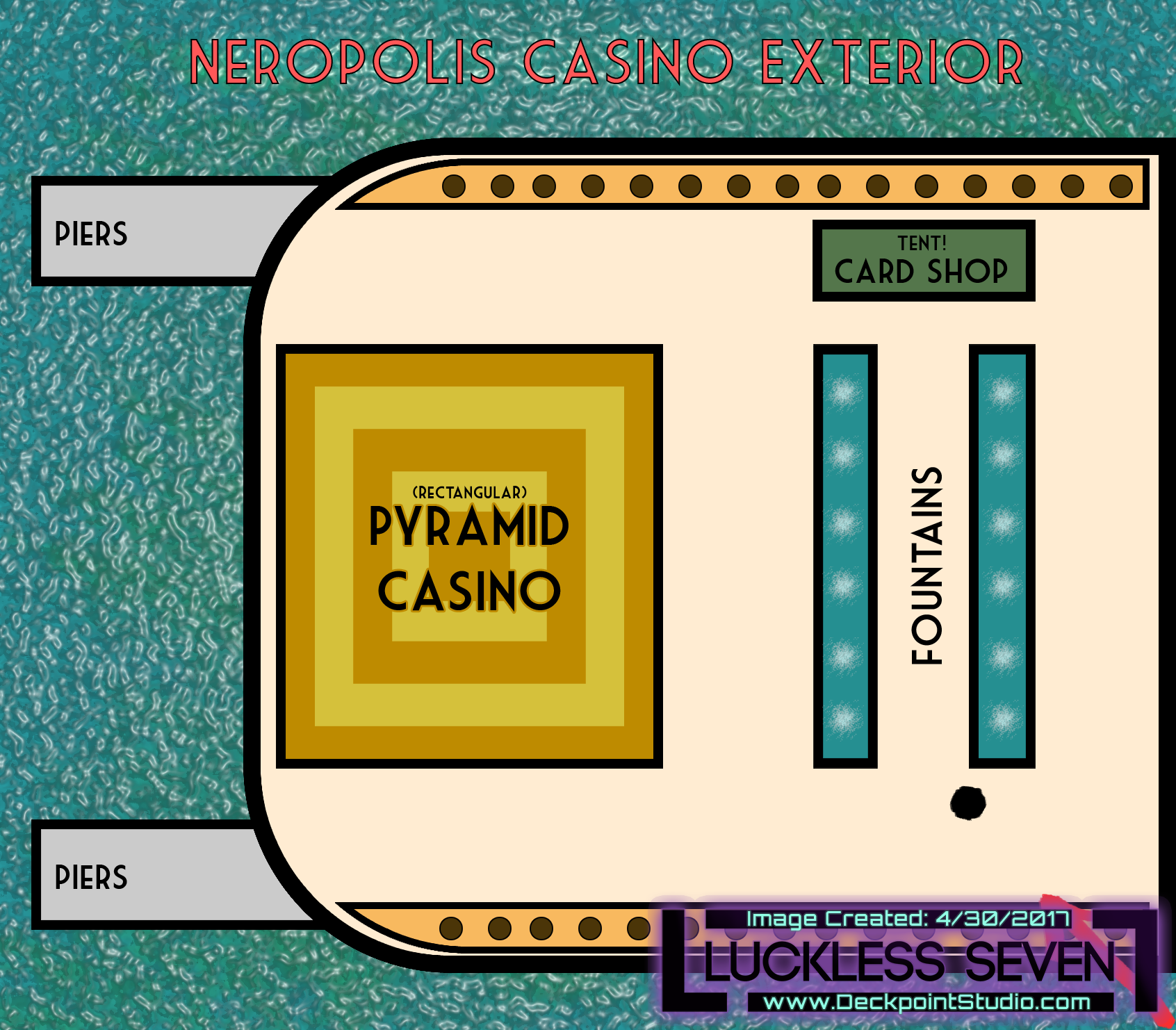 We're working to bring you a fully-realized coastal paradise that will meet all of your Ekosi and vacation needs. In our next update, we also look forward to bringing you the long-awaited and much-requested save/load system.
We couldn't have gotten this far without your support. Thank you as always, and we look forward to your thoughts!