There's a bunch of different techniques that I employ while working on the level design for adam. I figured I'd take one of them and sort of break it down into an almost tutorial, because why not...
---
Step one is to have a surprising amount of alcohol bottles knocking about at various different levels of completion. Take those tasty treats and line them all up.

---
Step two is to get rid of the background. As we all know there's a few ways to achieve this in Photoshop, layer masks an alike. Arm your preferred method and get cropping!

---
Step three is the interesting bit. Since adam is viewed from a top-down/isometric perspective we're gunna need to push this photo around so its up and down angles are all straight as can be. Free transform and warp are your friends for this stage.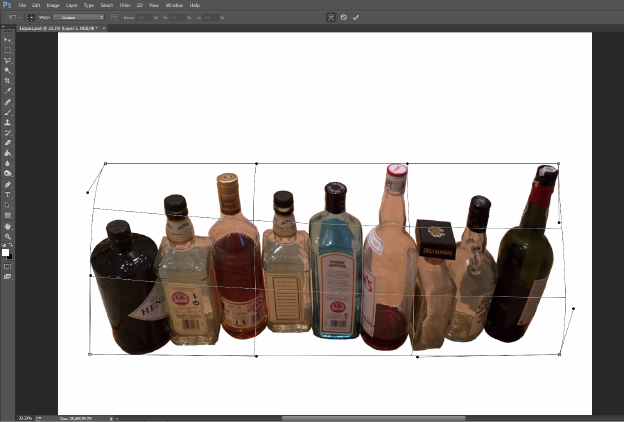 ---
Step four is finishing up. Once you've got he bottles angled right we're gunna make it all black an white as well as boosting the contrast and levels to balance out the image

---
Step five is our final. We'll bring the image into our main Photoshop canvas. This is where I build the level as a whole. All my little components come together here.
So in this close up of the kitchen you can see our bottle. All I've done is apply some extra tweaks to the contrast and levels to help tie it into the environment as well as add a key line and a drop shadow to keep things consistent with the very slight hand drawn look.
The last port of call it to make sure its small enough so none of the logos are visible in the hope to avoid copy-write stuff . . .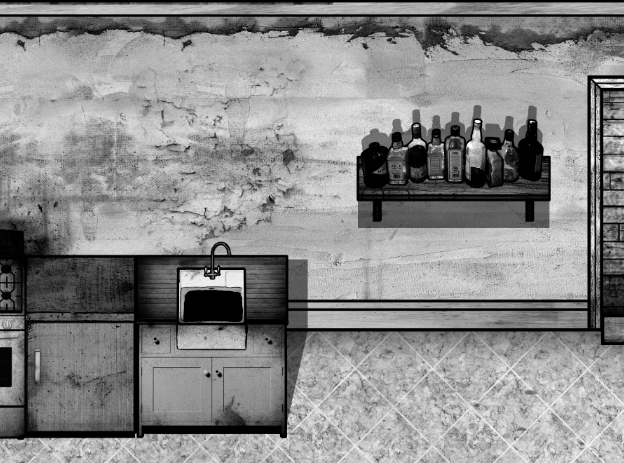 ---
So that's pretty much one way to get stuff into the game. I'll be exposing the other techniques I use as I progress.