I am pleased to announce that I finally made the switch to UE4 a few months ago!
Since the September update I have been busy remastering all of the old objects and art, updating both the textures and the models as well.
Here's is a small glimpse of some of the remastered models:

(Click to see Larger Version)

Aside from that, I've been working heavily on remaking the physics interaction to include smoother, more polished controls, including the ability to rotate objects: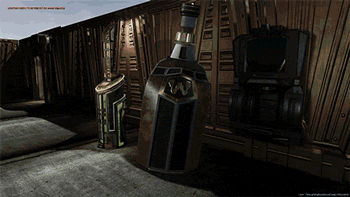 Switching to UE4 has opened many new possibilities thanks to its powerful visual scripting system. As such, I'll be able to add many features that I'd been wanting but were difficult to put together in UDK.
For example, I've already been able to add a few new mechanics/elements such as a lean/peek system and DDoF (dynamic depth of field). I'm also in the process of remaking the levels to be more detailed/atmospheric.
There's still a long way to go... but it's going to be worth it ;)
I can always use feedback, so please leave a comment about any questions/concerns that you may have!
Until Next Time,
-DSP
To get up to date news on the games's development:
---
---