1) The official website of Operation: Future Domination has all new visuals. Check it out here!
2) The game/main menu screen for the OFD is practically complete.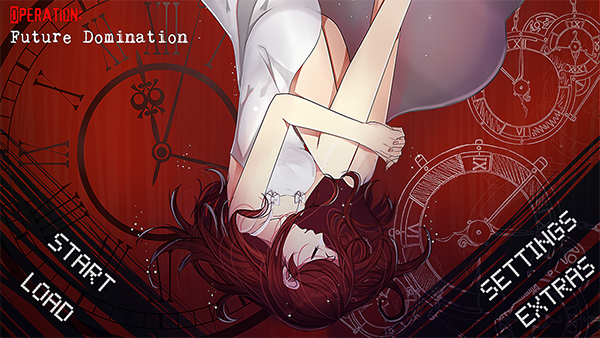 The only changes I will likely make in the future is the logo and the font choice.
3) All the backgrounds for the game have been finished! The talented Bella Hsiao has done a wonderful job making them come to reality for this game. Hooray!
4) The in-game phone has been set-up! There are five apps on the phone: messaging, GPS, notes, music player, and quiz. The messaging app has live chat, and some NPCs might take their sweet time answering your texts. The GPS allows you some agency to choose where you want to spend your time. Planned a meeting with someone? Make sure to be at the right place at the right time! Or stand them up; it's your choice. The notes app records what you've done that day and any insight you might have gathered. It'll come in handy on your investigations. The music player enables you to change the background music to your liking while you fiddle around on the phone. The Food for Thought app offers a list of quizzes and questionnaires that delve deeper into the themes of the plot and even give hints.

The phone is pretty crucial part of the gameplay in OFD. The fonts and placement of the apps and windows may change in the future, but the set-up of the phone is pretty much complete.
5) The demo/open beta of OFD is on its way. With hope and a lot of luck, it will be complete and open to the public around the beginning of July. Anything in it will be subject to change, and expect some bugs and typos that will need correcting.

Thanks for reading, and stay tuned for upcoming news!