What happened?
Many of you surely noticed the lack of activity in the past two months. You probably thought this marked a period of total inactivity for the Inferno Team, but fortunately this is not true. Because I'm the one who handles most of the PR here on ModDB, my own inactivity resulted in a serious lack of updates to this mod profile. The other team members worked steadily on the project, and the screenshots and video posted in the last few days prove that.
INFR1U
On February 20th, the Inferno Team announced INFR1U, the 10th Anniversary Edition of the original INFR1 released back in 2001. INFR1U will be a remake, boosted by enhanced models, graphics and missions. There's also a video presenting the new project to the public, with music made by Zajed. Author of the announcement and FAQ is Woomeister, the Project Leader of Inferno.
You're probably wondering why we're using INF SCP's profile for INFR1U, which is to be considered a separate game. The thing is, INFR1U and INF SCP will mostly use the same assets, and the main difference between the two will be the style (we expect INF SCP's missions to be revolutionary under many points of view, thus ensuring an original gaming experience), with minor differences related to the plot. Another good reason to do that would be preventing confusion among fans who'd be seeing three separate mod profiles (INFASA, INF SCP and INFR1U) with only one of them being updated frequently.
A message to INFASA watchers
That said, we'd like to send all INFASA watchers a message. Specific news on the matter will be posted on INFASA's profiles, but the subject also deserves to be posted here. Basically, we would like you watchers to follow INF SCP's profile because, until the release of INFR1U, the team will focus on the new project. Content may still be added to INFASA, true, but progress on it is to be considered halted from now on. Adding INF SCP (and, consequently, INFR1U) to your list of watched mods and games takes 2 seconds, and will be really worth the effort.

Here you can find the original announcement by Woomeister.
---
The team would like to officially announce our 10th anniversary remake of Inferno R1, which is more than just an upgrade of the original campaign, it is also the completion of the main campaign story, that's right Inferno R2!
Official Site: Inferno.hard-light.net
Official trailer 1280*720 avaliable: Youtube.com
[...]
FAQ
What is this Inferno anniversary release?
This is a enhanced remake of the original R1 Inferno campaign using updated assets with full FSOpen compatibility
Is this Inferno SCP?
No, this is a direct sequel to Inferno Release 1
Is this a standalone mod?
Yes, like INFSCP and INFASA the Inferno 10th anniversary release does not require a FS2 install or any additional files to run
What are the main differences between R1 and this?
Below is a list of the main differences to the original 2001 release
1. New upgraded models with many new high poly additions
2. Replacement of lower quality or broken ships that no longer work correctly using FSOpen
3. Full FSOpen compatibility, including use of SCP specific features
4. New weapons and new weapon effects for old weapons
5. Improved missions, fixing errors and general quality in some areas
6. New missions expanding the R1 'EA War' campaign
7. A 'R2' ending involving the Gigas invasion of GTVA systems
When is it coming out?
Our intention is to release near the end of 2011, and it will feature the entire main campaign not split into chunks this time
Ships/Mod Related
Are all the ships from R1 in this version?
No, due to time and the fact that some ships are either broken or are not needed, not everything in the R1 modpack is included with this release. However there are plenty of new ships as well as the upgrades of previous R1 ships and some INFSCP models
Are the SOC/Ancient fleets included?
No, since there will not be a separate SOC campaign the SOC content was removed from the mod. The Ancients however may be added after the initial release period as an additional campaign and download
Did I see some original FS2 ships?
Yes, some of the original FS2 ships are featured in the campaign alongside the new ones
Campaign Related
How long is the new campaign?
The current combined R1+2 campaign is over 30 missions long, more than double the original R1 release
Will it be heavily story driven?
No, it is our intention to have this version of the mod to play more like classic FS2 like the original R1 did
Other
Is there anyway I can help?
Yes! check out our recruiting thread
Hard-light.net
We need help in upgrading some of our ships still as well as weapons and we will need mission designers.
---
Screenshots
News would be incomplete without them, so here you are!
Various
These are various screenshots showing a number of assets in battle.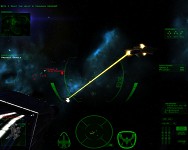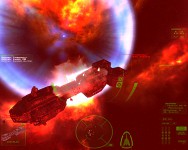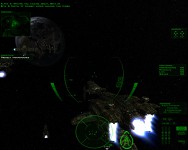 Models
Shown here are pics of models, both completely new and upgraded.
SF Danta
The fearsome Danta Shivan fighter, armed with the dangerous Melkath hunter drone, has a new skin.
EAB Aetna
Work on the EA light bomber Aetna continued. The details add to the mesh are, in fact, impressive.
EAB Lonchos
This is a new design whose mesh have previously been showed here on ModDB. Now, this elite bomber is textured and cockpitted.
EAB Gagana
The giant Gagana was probably the most famous bomber at the times of INFR1. Its mesh evolved to match modern standards, and results are truly stunning.
EASC Minoa
The Minoa is the EA's science cruiser and AWACS vessel. Its previous design was similar to that of the old Faustus, but proper changes to it have been made to underline the differences.
EAC Soter
The Soter is a surprise: it's been quickly created and completed in the past few weeks. It's a new EA cruiser capable of launching volleys of missiles to quickly pulverize enemy targets.
EACv Raiden
As you can see, the Raiden's mesh has almost completely changed, and the result is a more aggressive design.
Jessnec's Weapon Effects
Jessnec, a new member of the Inferno Team, has been working steadily on weapon effects. Their importance in a game like this shouldn't be underestimated.
That is all. Expect more updates soon!