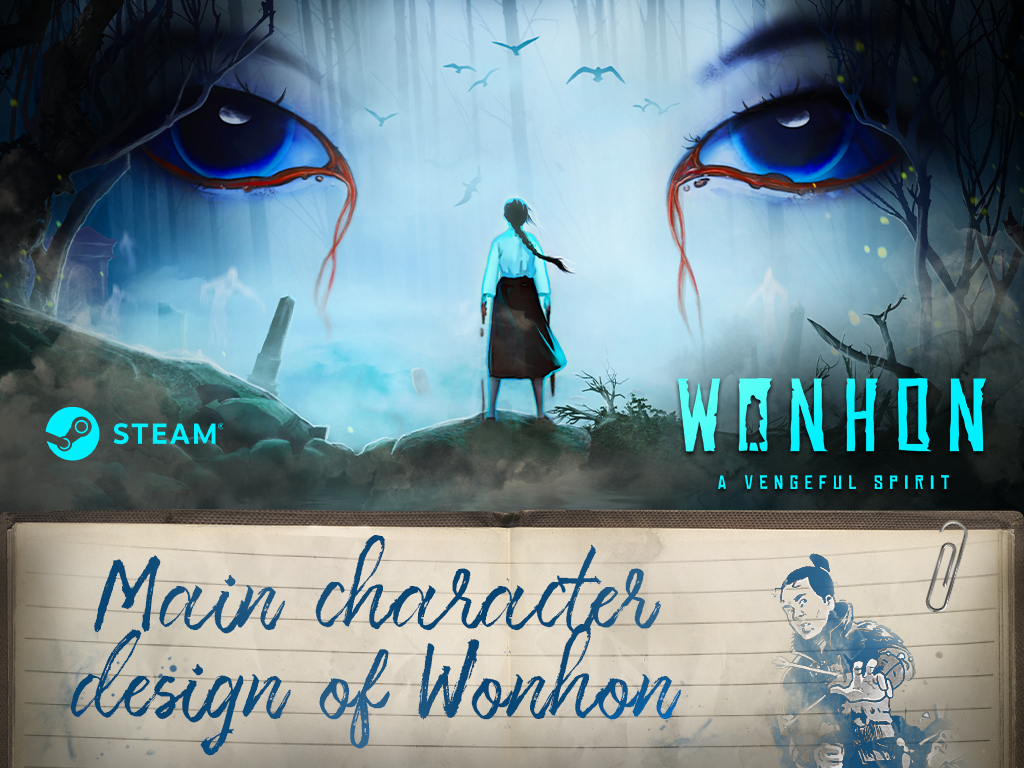 Main character design of Wonhon
Imgur.com

"Today - some thoughts on the main character design. From the start of development, I wanted the main character to have two different forms. Since the story of the game touches on the price of revenge, a vengeful ghost form seemed like a natural fit for the character. At the same time, something I wanted to experiment with on the gameplay side was the experience of constantly switching between being the hunter (ghost hunting for victims to possess) and the hunted (vulnerable human form). So the main character needed a human form in addition to the ghost form.

Imgur.com
I experimented with different types of clothing that existed in the reference setting for the game (1920s Korea), including more colorful and eye-catching fabric patterns, but the one that felt right was the simple white top and black skirt design. This design is almost synonymous with the 1919 March 1st Movement in Korea, and the leader of the movement Yu Gawn-Sun is often depicted wearing this style and waving the Korean flag in illustrations. Considering the inspiration and the setting for the game, this felt like the right design to go with, even if it seems muted for what a video game character is wearing.

The design for the ghost is simple but very recognizable as well, combining long flowing hair with an all-white dress that covers the entire body and hides the character's feet as she floats in the air. Growing up in Korea I remember watching a very scary TV show as a young child. It was called '전설의 고향' which roughly translates to 'Hometown Legends'. Every week there was a different folklore horror story, many of them with these scary ghosts bathed in blue light haunting and punishing bad people. Images of these scary ghosts are so burnt into my brain that I had to use them for this game if it was going to have a ghost as the main character. Here's an example (didn't include a photo because it's SPOOKY)
And combined, here's what the main character's two forms look like in Wonhon.

Imgur.com

Because of the historical and referential nature of this game, I felt that it was more appropriate to borrow designs from existing material within Korean culture, rather than to try to create an original character design that might not fit within the context. At the same time, I feel like the combination of these two well-known tropes (1919 revolutionary and a vengeful ghost) is interesting as a new unified character, kind of like remixing two well-known songs into a fresh new track. I'm happy with the end result so far. Hopefully, others will like it too and enjoy the game when it comes out :)" (c) Sean, the Wonhon: A Vengeful Spirit developer.