Magicite is a 2D Multiplayer/Singleplayer RPG Platformer with crafting, epic loot, and permanent death!
I've done a major update for the visual style of the game. All characters and most props are made on a 16x16 sized texture.
Players will randomly generate their character with stats and traits. Stats include HP, ATK, DEF, MAG, AGI, and LCK. Traits include passive benefits like "Adept Miner" for fast mining speeds or "Aggressive" for a stat decrease in DEF but an increase in ATK.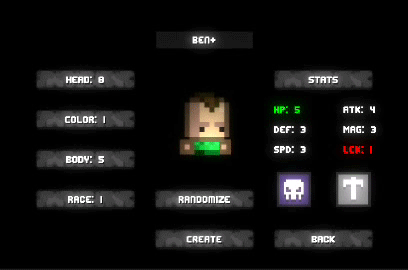 Lifespan for a character will typically range anywhere from 15 minutes (NOOB) to over 2 hours (PRO). The game will keep track of everything you do in the game such as enemies defeated or foods eaten. This will lead way to achievements and unlockables the more you play. You and your friends can work together to progress through randomly generated levels and towns, and I plan on adding PvP.
Perma-death only occurs when the entire party is defeated. Upon "dying" your character will fall to the ground and your other party members can come over and revive you. This promotes multiplayer and teamwork!
Characters level up as they progress through the game. Every 5 levels (Level 5, 10, & 15) a character will be able to unlock an ability. These abilities are bound to the 1 2 and 3 number keys for quick and easy use. Skills include anything from shooting a fireball without mana cost, a passive hp/def buff, temporary flight, triple jumps, invulnerability, dash upgrades, and much more! I want players to be able to mix and match skills to create their own unique type of character "class". Players can also go for more traditional roles such as a support character who as healing abilities or a tank with much more defense and hp skills.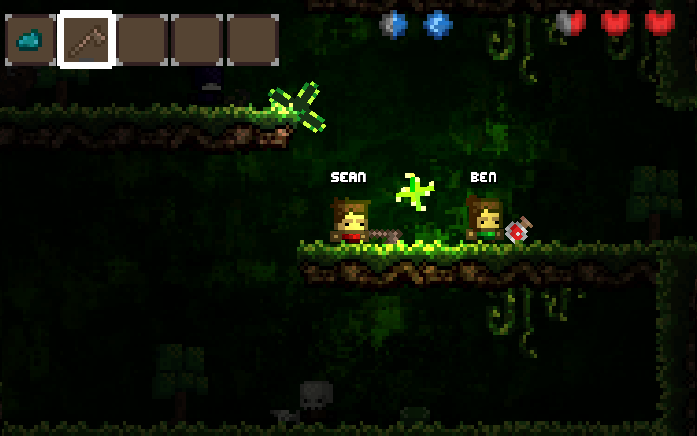 Gear is a very important part of Magicite, which you and your friends can acquire through loot and crafting. Characters can purchase mining tools and smelt ores into bars for their gear. Also, expect HUGE CRAZY BOSS MONSTERS THAT DROP RARE LOOT ! (Think Monster Hunter!)
I plan on launching the Kickstarter and Greenlight in two weeks! Hopefully you all will be interested enough in my game to throw me an upvote or even back my project! Thanks for your time and as always, happy developing!