And here we go, it was time for some Magic in the battlefield of Empires in Ruins! The whole setting is low magic, but there are underlying power sources, mainly tied to a parallel spectral dimension, where some few manage to draw energy from.Forget about thunderbolts and fireballs, the magic in EiR is subtler. It's more linked to curses and bless, and some rare summoning of wild animals. Only the Witch (Rebels army) and the Temple (Player's Kothian army) have access to these powers in the game (there are more occult powers in the world, but none involved in these battlefields, luckily for you).
Temples of Kaer
Even though the interference of the Archbishop Von Siemens-Goetsler is gonna cause Sergeant Heimer more than a problem, the holy symbols and priest he brought along are gonna be a valuable asset in the battlefield. By conveying the holy energies through the massive Simulacra built on top of shrines and temples, and by fanatically motivating (and threatening) the soldiers on the battlefield, the Clergy of Kaer provides three temples to build: Shrine, Temple and Battle Temple. Each with an increasing power and amount of available skills.
Base Temples powers : (Shrine, Temple and Battle Temple)
Aura of Kaer - Provide Moral and Armor bonus to nearby allies
Thou Haethen! - Slow down enemies in the area
Advanced powers: (Temple and Battle Temple Only)
Eyes of Kaer - Show hiding enemy units (Temple and Battle Temple Only)
Shield of Faith - Prevent use and dispel effects of negative enemies spells on allies (Temple and Battle Temple Only)
A coin for a soul - Increase the gold earned by killing enemies in the area (Temple and Battle Temple Only)
Thou shalt not - Protect nearby allies from negative moral effects (Battle Temple Only)
Martyrdom - Allow defenders to fight with negative hit points until engagement is over (Battle Temple Only)
Witches
These old hags lived all of their lives in the wild wood of the Western Marches gathering herbs and worshipping ancient natural forces. When the rebellion arose, they first kept out of it, until the Kothian soldiers hardened the repression on the folks. At that point, they came out of their woods in wrath, summoning gigantic bears and flocks of ravens and throwing curses at the Royal soldiers. Their reasons are unclear, but their presence will give you more than a pain in the neck, Commander.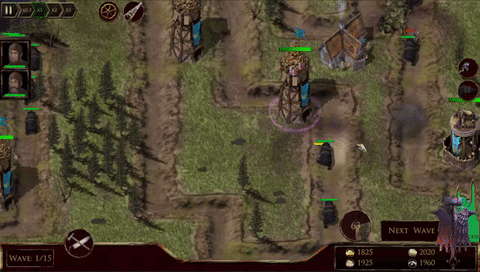 Powers :
Aura of Despair - All the player units, builders and towers in the area around the witch receive maluses
Curse of Ravens - A flock of ravens swarms a target tower preventing it from shooting for a while
Master of the Wild - The witch summons a gigantic black bear companion to join the fight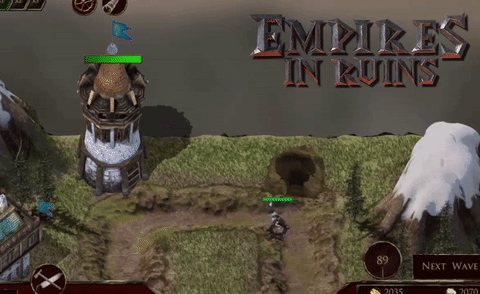 And so for today that was it, sounds like a simple thingy, but believe me, took us a while to get it working flawlessly! More stuff soon!
Cheers, Emiliano, H&R