The Mactabilis 1.5 patch is out and contains cool new features. Here are some nice changes since 1.0 :
You can now change the keyboard and gamepad controls in the options menu.
Improved compatibility and performance with older video cards.
Changing resolution is now a smoother experience.
New background enemy color option for color blind gamers.
New option to toggle pixelization effect on and off.
New option to enable or disable the story sequences.
New option to switch between the blur and color depth effects.
Improved visibility in two player mode.



Vote for the next feature we should implement in Mactabilis!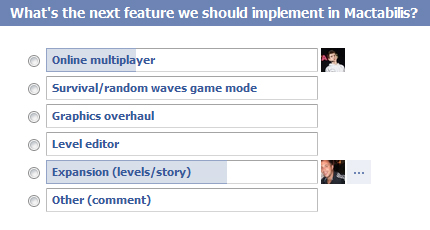 Visit our Facebook page, "like us" and vote for the next feature you'd most like to see added to Mactabilis, for free! From online multiplayer to a level editor.
Blazing Bit Games Facebook page
Try the demo and purchase the game on Desura, or visit the website for more mirrors and information: Mactabilis website