We are very happy to say that v1.4 of Lurk the Horror Game is now available for download.
---
Here are the features of the new update:
Image Effects: Version 1.0 of Lurk the Horror Game was created on Unity Free. Now that we have Unity Pro, we had the ability to add Image Effects and make version 1.4 look much more realistic, better resolution and more fun to play! Image effects include Motion Blur, Contrast Enhance, Bloom and Colour Correct, all included to provide an increase on realism for the game.
Model Upgrade: In version 1.0, there was a scene with a computer. This scene was very 2D-like, not realistic and was not professional at all. Version 1.4 brings an upgrade to models, such as the computer, to be more 3D, realistic and more professional. Combined with the Image Effects in the update, this has been a huge step up for the game quality.
Interactive Objects: This new update brings interactive object such as ringing a bell or playing a church organ. This feature brings more realism to the game and makes the game more enjoyable to play.



Jump Scare Upgrade: In version 1.0 of Lurk, there were a couple of jump scares, although of the same thing. People have mentioned that the jumps do get less scary as they reoccur. In this new update, jumscares are now fully animated and more scary. As well as that, more shadows and sudden movements have been added to increase anxiety for the player.
Animations: As well as the jump scare upgrade, animations have been added to the player such as the moving flash light animation. This features brings realism and looks more professional that just a character that moves in a perfectly straight line.



Lighting: In version 1.4, more lights and shadows have been added to give the game more realism and creepiness, which in turn, makes the game more enjoyable to play.
Controls: Controls have now been updated such as the stabbing key. In version 1.0, the stab key was 'T'. This has been said to be random key to have, so now, in version 1.4, the stab key has been replace with the Interact/Use key, 'E'. This should result in no confusion on the controls. Also, minor GUI updates have been added.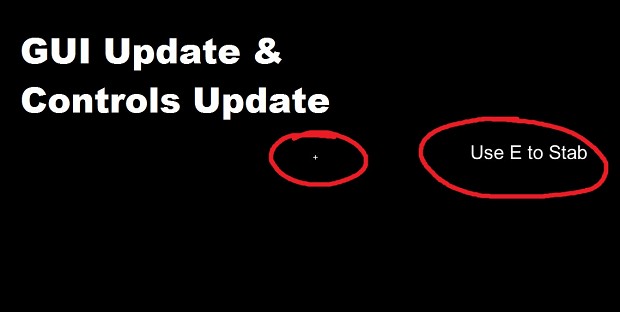 ---
---
I hope you all enjoy this final update to Lurk the Horror Game. Thank you all for helping me get this game so far. Good Luck with the game!