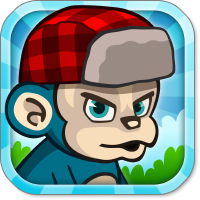 Yes! You heard right! Lumberwhack has been submitted to the App Store for review. So get ready to battle the foul-smelling, mustache-loving lumberjacks that have invaded your forest!
It has been a hot and busy summer here in Shanghai. After some unfortunate delays, the new upcoming defense game Lumberwhack has finally been submitted to iTunes and is waiting for approval.
As well, Lumberwhack's full name will change to "Lumberwhack: Defend the Wild", as some other game has recently been released under the old name "Forest Defense".
I have also been working on the Android version, but I do not feel comfortable to release it before it has been tested on more devices. I also wish to add Google Play to it instead of Game Center that is currently available on the iOS version. So for all Android lovers, check back in the end of September! The game looks gorgeous on the latest Samsung Galaxy's large and sharp screen.
A huge thanks to everyone that has been beta testing Lumberwhack!