Lukewarm Media and EKI One join forces to bring dinosaurs to life in the game 'Primal Carnage'. Primal Carnage is a co-operative multiplayer action shooter combining fast paced action with stunning visuals and immersive environment of dangerous and savage jungles.
The following paragraph discusses the collaboration in detail.
When developing a game there are many hurdles for the programming team. One of the largest is creating your AI. There are multiple game engines on the market with their own AI system integrated into their software, however they all require you to develop the AI routines in either the engine source or scripts, which you need to reload your levels to test these routines. EKI One® creates a new pipeline for developing AI which blows away these antiquated steps that are used throughout the gaming industry.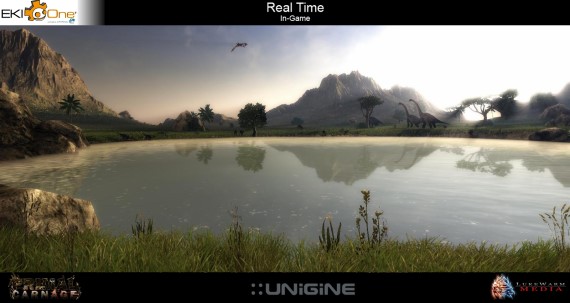 EKI One® allows developers to visually design their behaviors using a visual scripting system, like that of Unreal's Kismet. However unlike Kismet, developers can delve deeper into the scripting system and change the actual code inside the visual objects without ever restarting the software. This shorten the development time by turning the design stage into beginning programming stages. Once the developer is satisfied with their logic they are then able to test their creation inside of EKI One®'s 3D world where you are able to load up your levels and test how the logic works in your level.
EKI One® has the ability to create a navigation mesh which lets your AI know where it can and cannot go. EKI One® allows you to quickly design, create, test, and integrate AI into your game all inside an easy to used SDK.
"Ashton Andersen and Michael Wetherill, together with their talented team have proven that an independent developers' ideas, motivation, professionalism and unique skills of its team can achieve the creation of high quality games. At Artificial Technology, our vision with AI goes hand in hand with the ambition of highly talented teams such as Lukewarm Media. We all want to make virtual worlds as authentic as possible. We want to help independent game developers to achieve this goal, so we have provided our EKI One technology to Lukewarm Media. I think that Primal Carnage can set a new standard for games that feature dinosaurs, which historically, have been extremely rare in the game market. Primal Carnage has much potential, because it brings together a successful game play mechanism, amazing art and assets, and unique ideas into one big package." - Frank Gwosdz – CEO Artificial Technology GmbH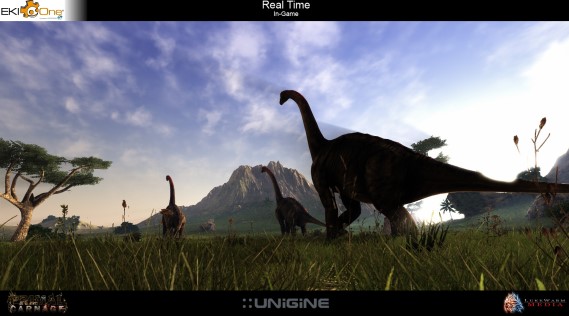 "Working with EKI One® is something every indie developer dreams about, their support and dedicated team has been a joy and has made development easy, fun, and motivating. EKI One® understands the support indie developers need and are very flexible and always willing to work directly with their clients. Using EKI One® will simplify our A.I process which will allow my team and I to focus more on other areas of development while still being insured that we will have ground breaking A.I systems with a click of a button. On a personal side Artificial Technology has been very helpful with advice, direction, and anything else we need. I hope to work with EKI One® for many years and will continue to work with them to bring great products that feature the EKI One® A.I system." – Ashton Andersen, CEO Lukewarm Media
About Primal Carnage
Primal Carnage is a co-operative multiplayer action shooter combining fast paced action with stunning visuals and immersive environment of dangerous and savage jungles.
The game is set on an abandoned military controlled island where an experiment gone awry unleashing colossal dinosaurs out of control. A team of tough mercenaries have been dispatched to prove to be indigestible and contain the threat. A player can choose any of the opposing forces: selecting human side brings the first-person experience, while dinosaurs are controlled from a third-person perspective. With each faction containing unique abilities and each mission having various objectives, Primal Carnage will offer gamers a balanced and highly competitive gameplay experience.
What makes the game unique?
Primal Carnage is one of the few games based around Dinosaurs (ever wanted to play as a T-Rex?)
* Team focused online gameplay with 5 human and 5 dinosaur playable characters
* Several game modes: Survival (4 variations), Capture The Point, single player storyline
* Arcade style fun that's simple and easy to pick up and play at any time
* Long term support with DLC
* Mods SDK, custom content support
Primal Carnage is planned for release for the Windows and Linux operating systems in Q4 2010. More info is available on the official website of the game: www.primalcarnage.com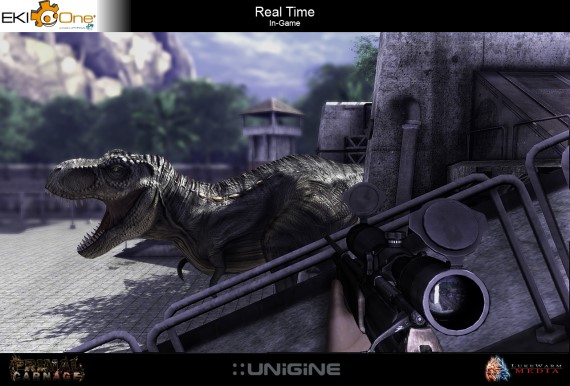 About Lukewarm Media
Lukewarm Media is a newly established independent multimedia design studio. The team has a highly passionate, dedicated and gifted group of artists, programmers and developers who share in Lukewarm Media's common goal of making high-quality, immersive games that bring gamers to the edge of their seats. The studio has grown exponentially in size since it was founded and with its ever-growing roster of up-and-coming talent, will look to ride the wave with the next generation of game developers in this exciting and always expanding industry.
About Artificial Technology GmbH
We bring bytes alive – Making virtual worlds bristle with artificial and emotional intelligence is the motto and fundamental vision of Artificial Technology GmbH. Established in 2007 in Puchheim (Bavaria, Germany), and led by Frank Gwosdz, Serein Pfeiffer and Daniel Renner, the company is on the leading edge of the digital entertainment industry with its ground-breaking EKI One® technology. Artificial Technology gives developers around the world a one-stop solution to implement advanced computer game character behavior.
About Eki One
All in one, and one for all: EKI One® – complete behavior development within a single, integrated development environment (IDE), also for online games. With exceeding implementation of movement & pathfinding, perception, decision-making, planning, and its one-of-a-kind emotional intelligence approach, EKI One® powers all types of NPCs, games and genres. With its emphasis on visual design and configuration, rather than programming, this modular middleware is eminently usable by the entire design team, available for virtually any platform and optimized for every project stage and/or studio. The system's components, EKI One® Engine, EKI One® Server and the intuitive EKI One® Configurator environment, constitute a truly unique package that cuts down on costs and development time, and reduces the risk and maintenance effort associated with creating a digital game. EKI One® is backed by Artificial Technology's legendary, comprehensive support.
www.ekione.com
Artificial-technology.com
www.primalcarnage.com
Our new company website has finally launched - yay