It'd been awhile since I've made a post here! I felt like it'd be awkward if I just showcased one small feature, so I waited until I had the ability to showcase several!
Necessary Beta Features
Recently, I've been finishing all the features that are classified as "necessary for Beta". This basically means that they're necessary for Dunlore to be an actual game and for it to also be unique. A list of these can be viewed below. As you'll see, only one major feature remains. This, of course, doesn't include the many bugs I'll find(unfortunately).
Dunlore Moderation IRC Bot
Finish Scrolls
Finish Trading
Archer Shop
General Shop
Minimap
Finish Archer Armor Art
Finish Glove Art
Finish Hat Art
Finish Flux Shifting Techniques
Redo NPC Hostile Movement
Faith System
Mountain Map NPCs
Finish Stamina and Melee System
Help Menu
Redoing Art
Recently I've also been redoing loads of the old artwork. Some of this artwork dates back to 2 years ago, so a replacement was well overdue!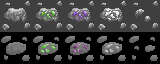 Right here you can see a sample of this. On the bottom there are the old rocks and ores, and on top are the new ones.
Loads of Testing
A few lucky people I know got to test Dunlore in these past few weeks! We worked out a ton of bugs and made quite the significant amount of progress on the game. It was a blast!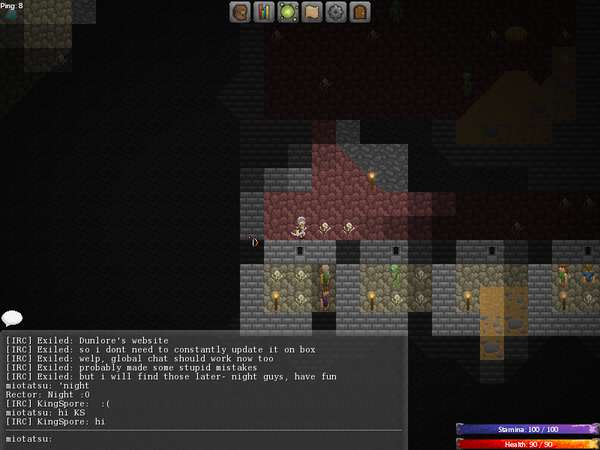 Here's a screenshot of Miotatsu (who is one of the testers) using innocent prisoners as target practice.
That's basically what has been going on. Come and join the community!
-Ex