Elfscape journey
Part 3
Losing time
Firstly, let me show you a video of the gameplay we have sent out with our application for funding – you'll be able to better understand all the alterations mentioned in this article.
---
Now, we'll take a closer look at the main changes and problems Elfscape went through during the year we had to present our results.
The biggest problem was that we have never realised the project was too difficult for our small team, and that we couldn't possibly deliver all the features we'd decided on. Even though our numbers grew and there are 6 of us now. We set our goals too high, our vision of the game was too colossal - big, open world with enough story to fill three books. We wanted to have it all: running, jumping, crouching, multiple weapons with various attack modes, armours, haircuts, dozens of main and side quests, and much more… It was unnecessary to do all of these things, but still, we tried - even if we didn't have a full-time programmer working on the project, so sometimes it took a long time to get things done.
Constantly, we kept running into problems we hadn't realised we would have to face.
For example: did you know how many hours it takes to…?
set the movement and controls of playable character correctly

find the right numbers and variables to calculate jump height/speed/length/...

or just to set the sliding platforms correctly for optimal sliding?
We didn't know either. But it is a lot for a programmer that's working in his free time.
---
After some time, we discovered that the levels occasionally aren't completely user-friendly, and the player doesn't instinctively know where he can or where he can't go. It was mostly due to our thoughtlessly designed graphics. An option to fix these problems was redrawing all of the environment to a 2.5D perspective, which overall looked nicer.

Testing the difference between 2D and 2,5D platforms.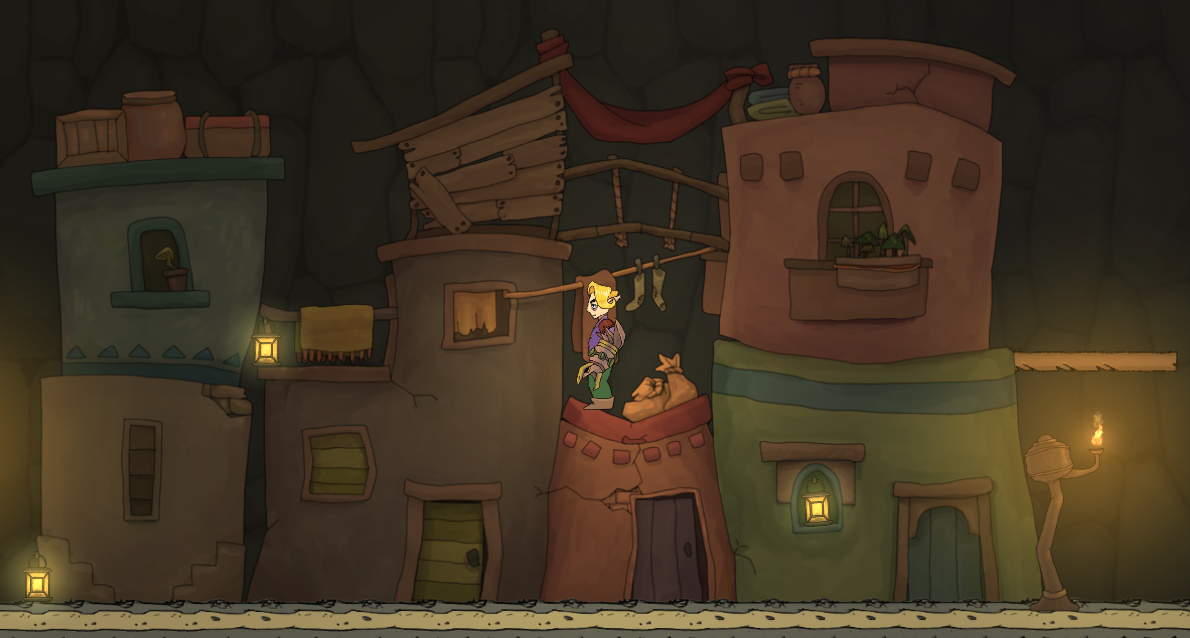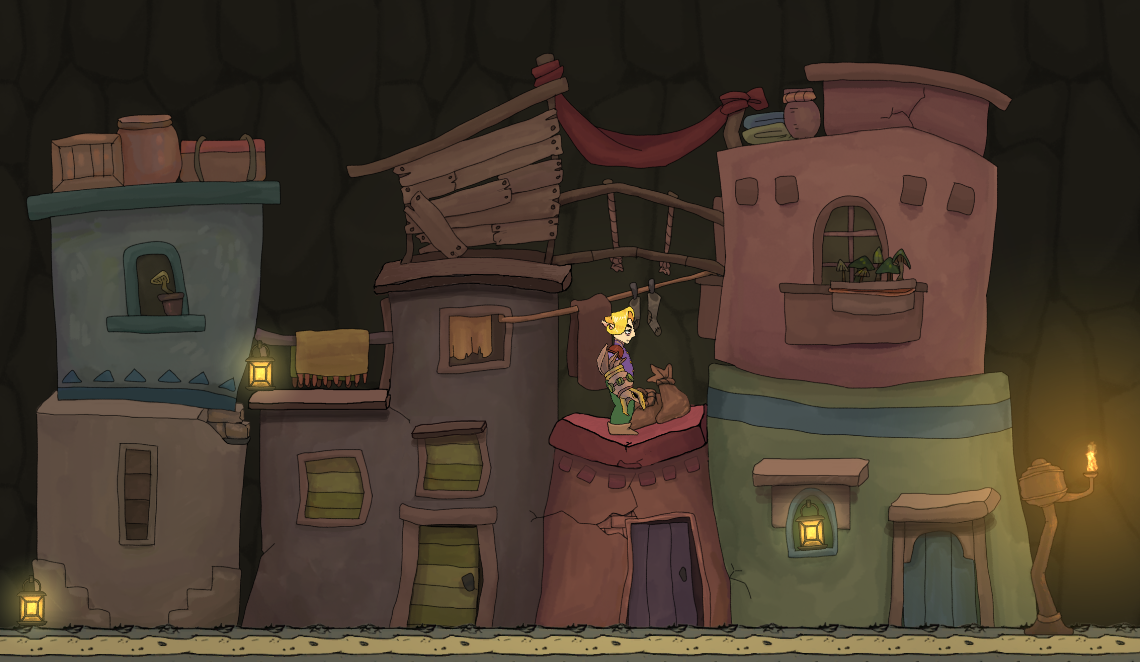 ---
As you can imagine, redrawing everything is a lot of frustrating work, because we had to throw out many good things we had already done. But it wasn't enough. We also had to change the way our main character was animated in order for the 2.5D perspective to work smoothly. We opted to use Spine instead of frame by frame animations. Spine is an animation tool, which attaches images to "bones" or "skeleton" created by the animator, and then animates the skeleton.
Character's "skeleton" used by Spine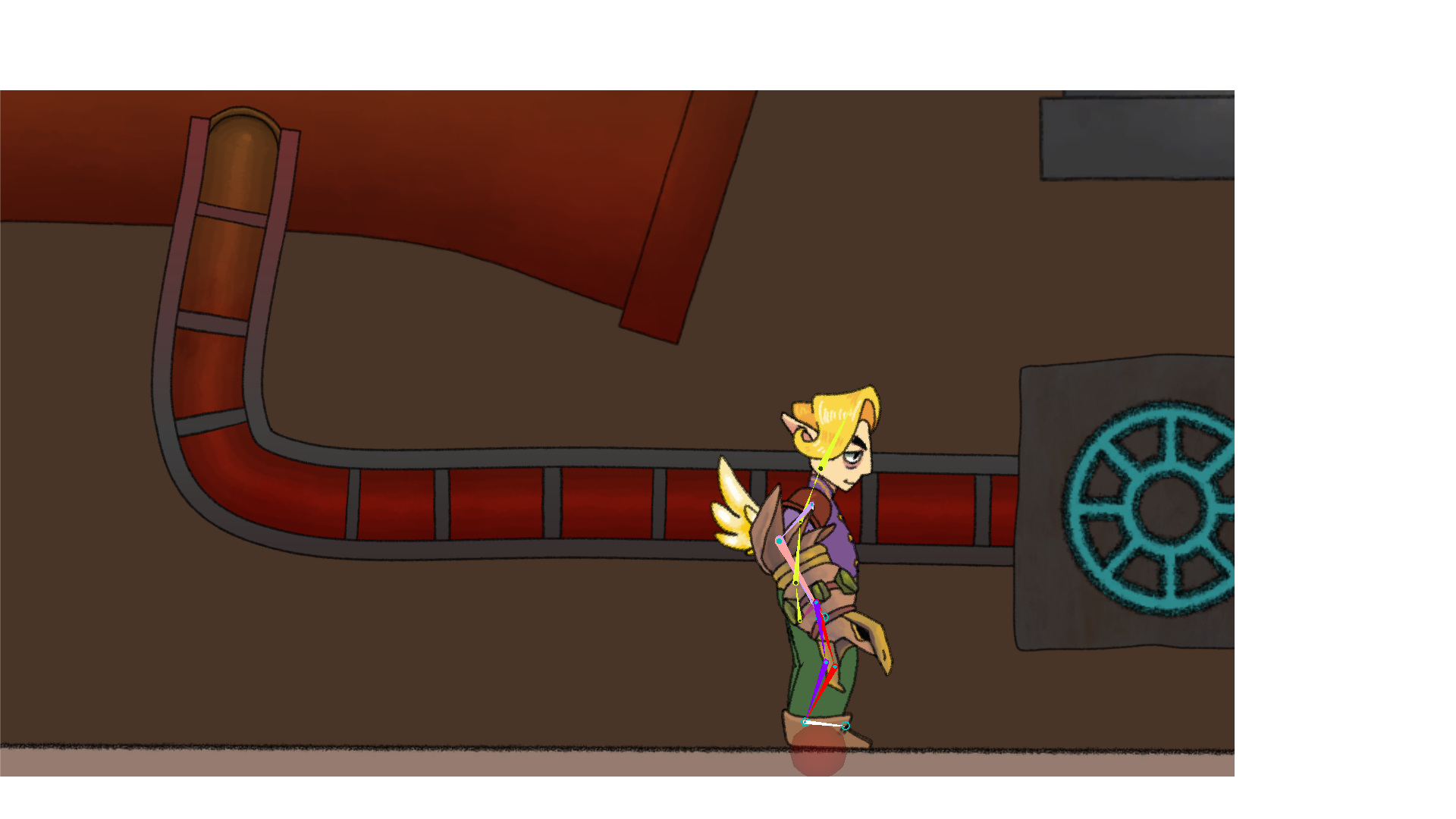 We'd also decided to use this opportunity for the implementation of other changes. As you already know, the game art is inspired by Mesopotamian architecture and culture. We started using it when we were changing the concept from an endless runner.
Examples of inspiration by Mesopotamian culture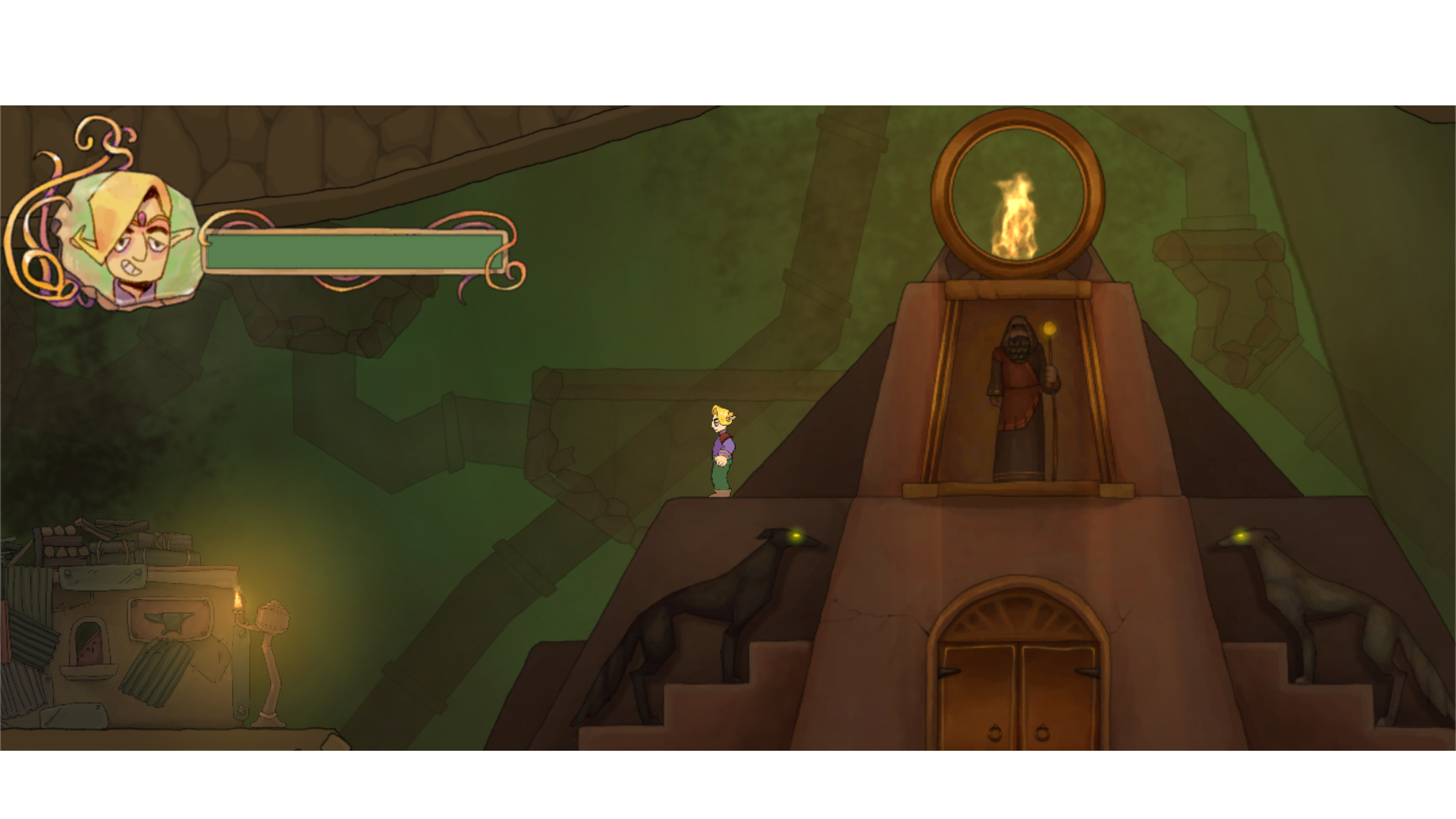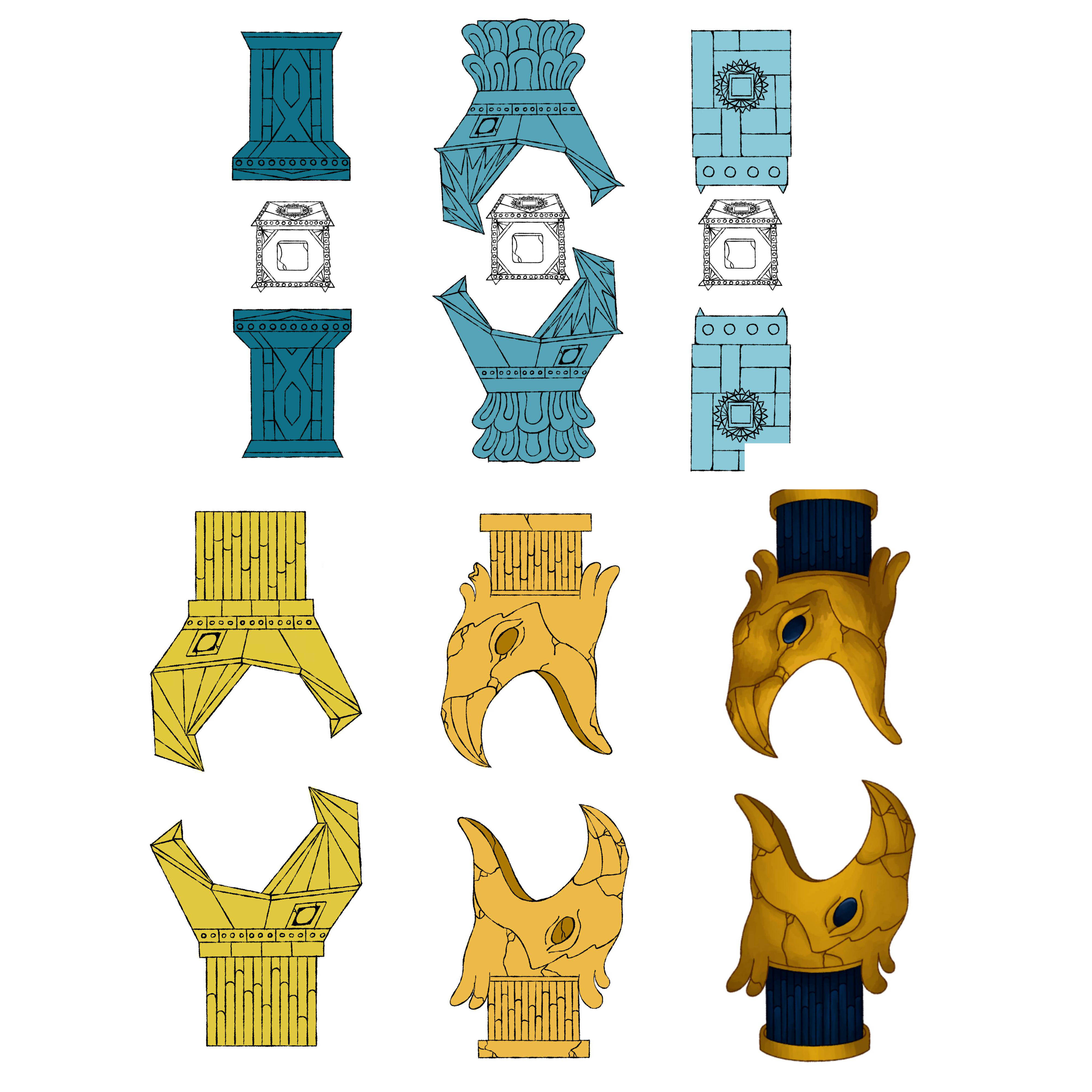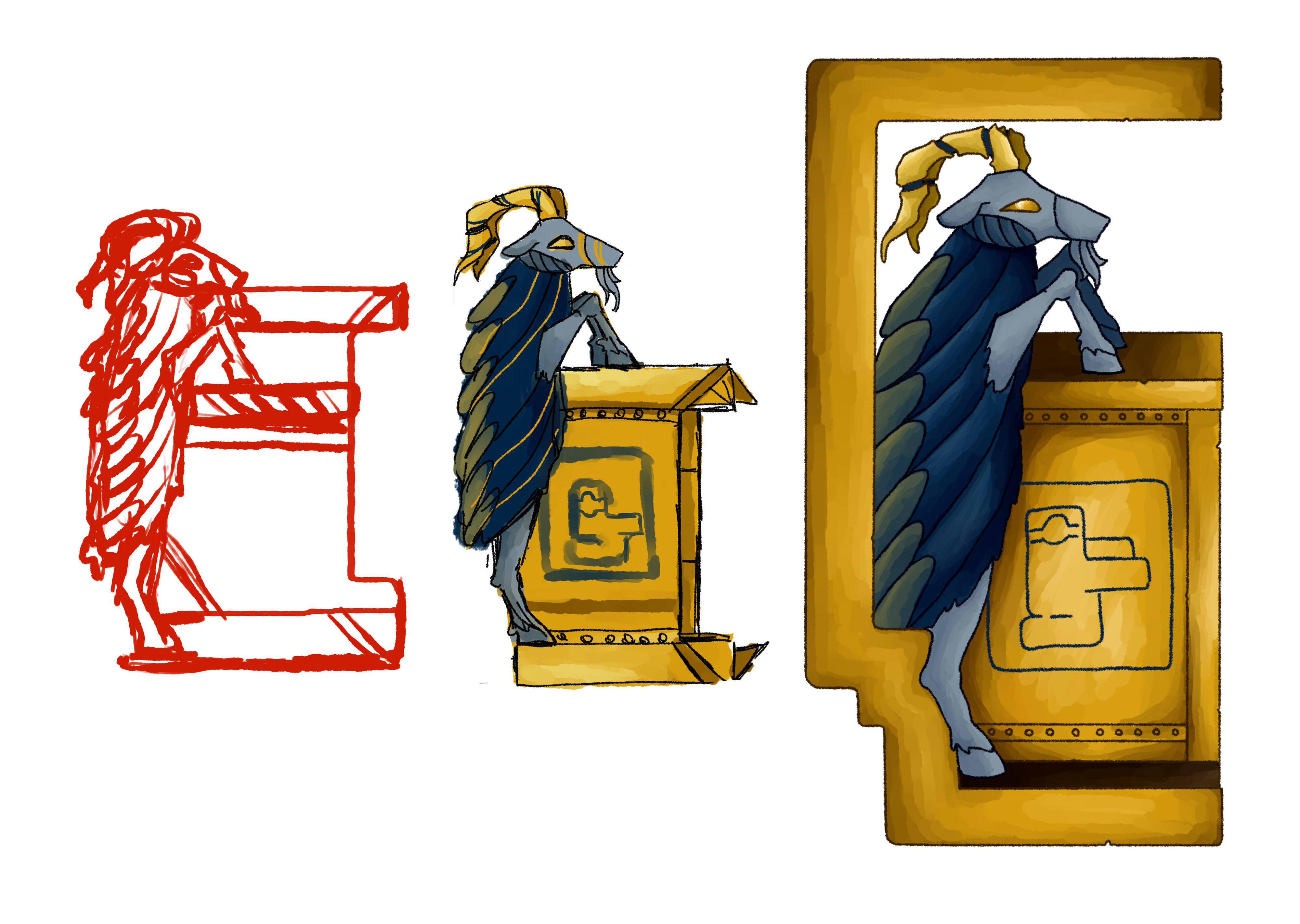 ---
But the main character, elven prince, was taken from the endless runner and didn't fit quite well with the Mesopotamian surroundings. So while our artist was changing simple animations to Spine, she also had an important task to make new sketches for the elf, to give him a new look. Also, all the non-playable characters got their visage changed.
Different new designs for main character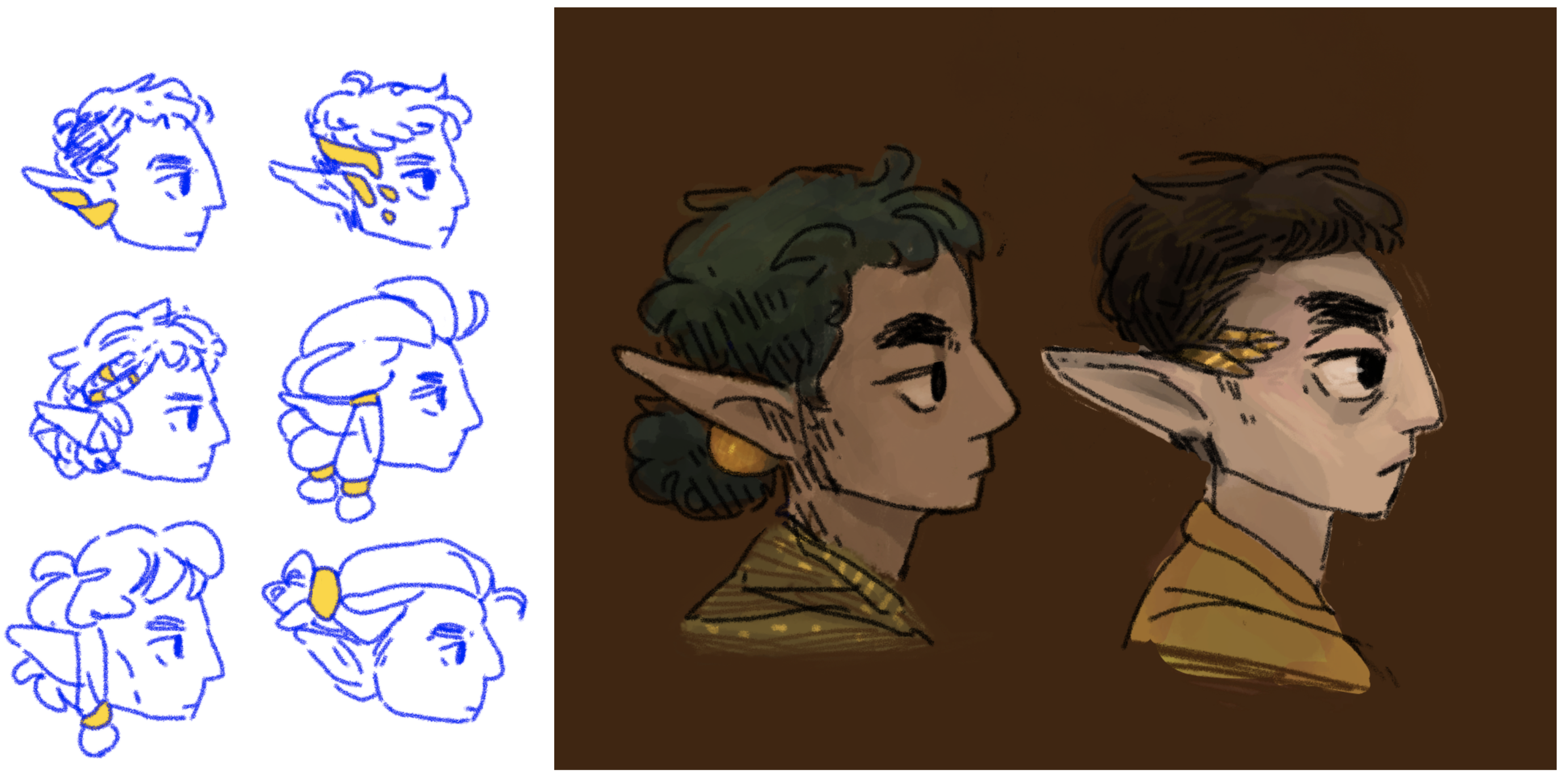 New design in comparison to the old one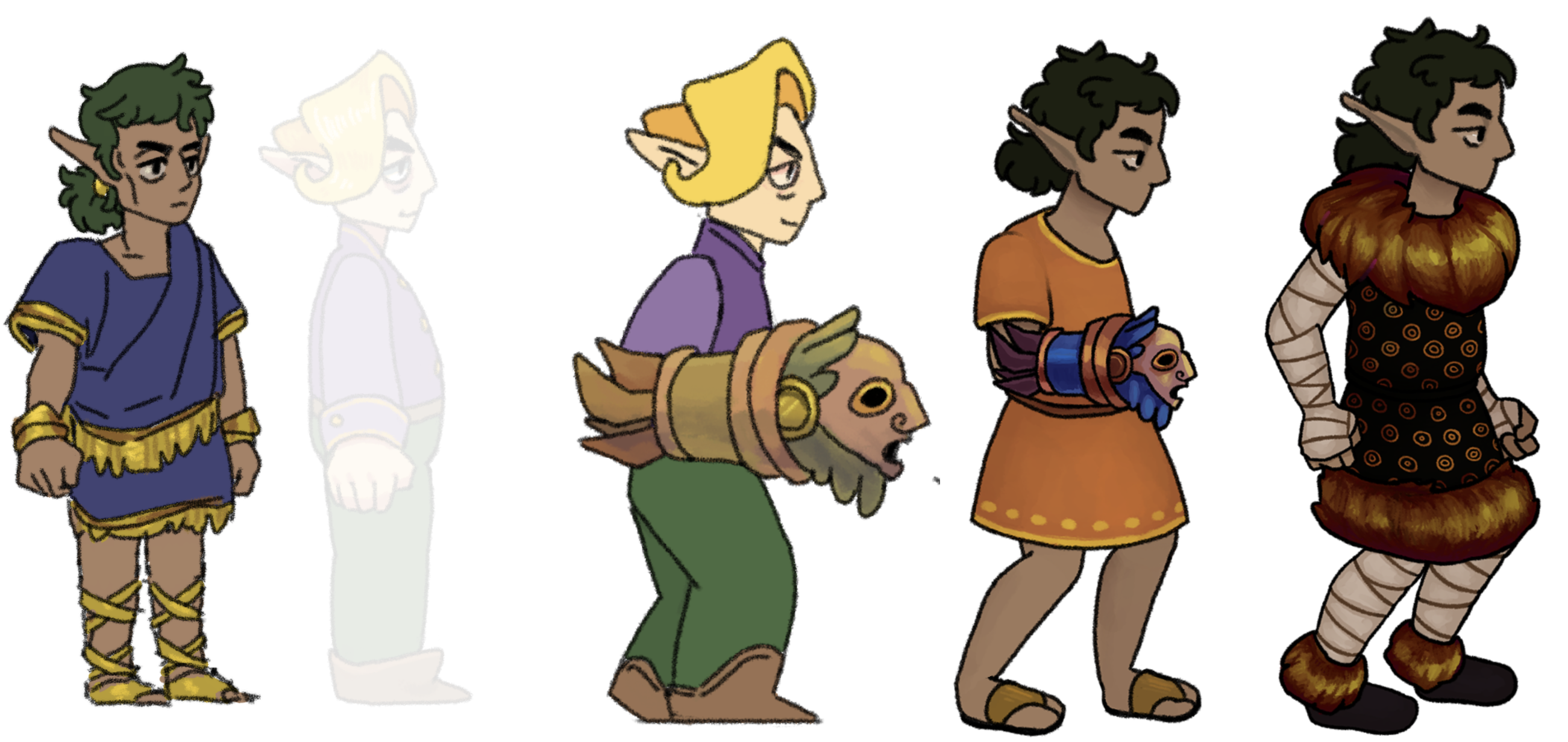 Changing all the characters to fit the surroundings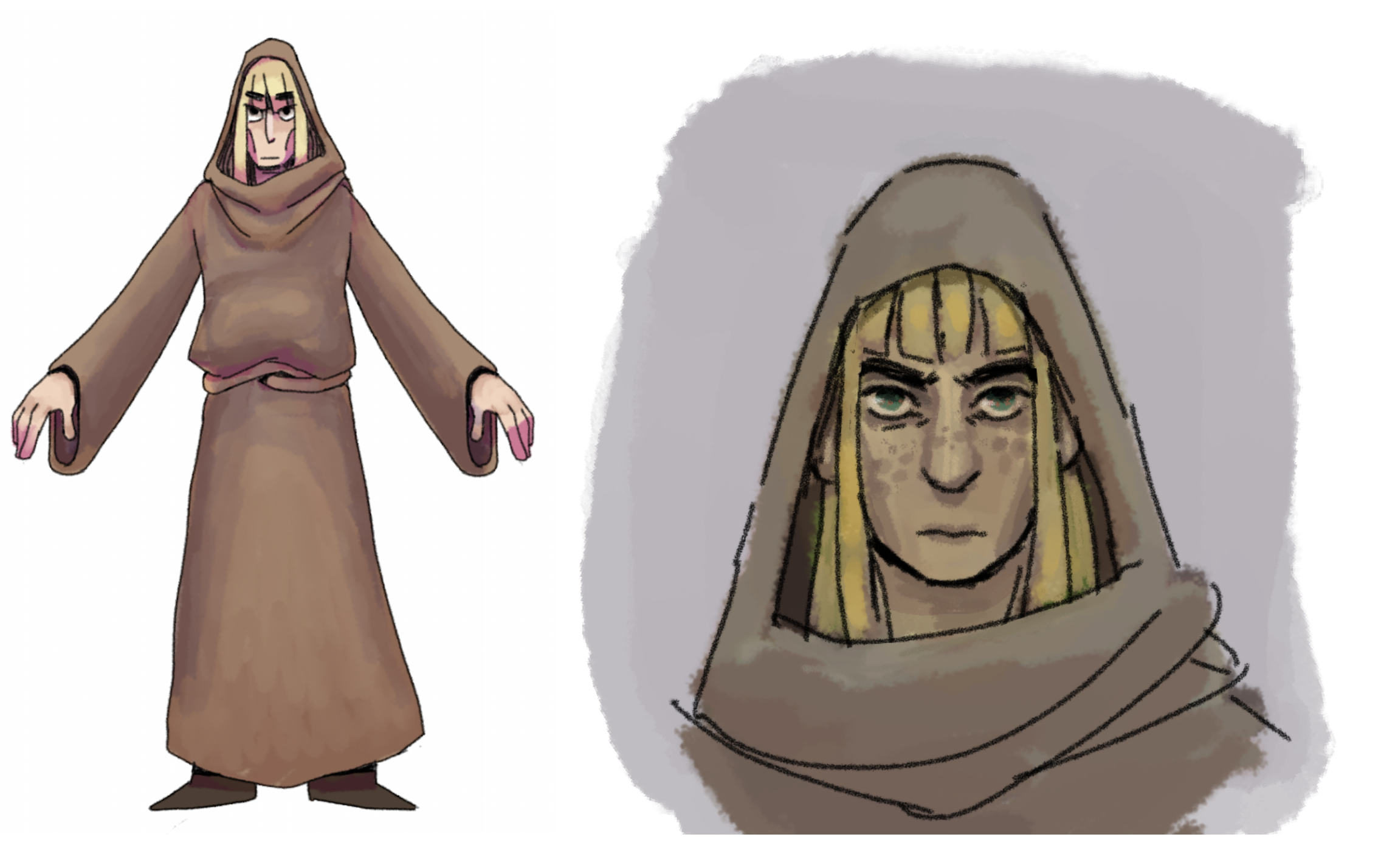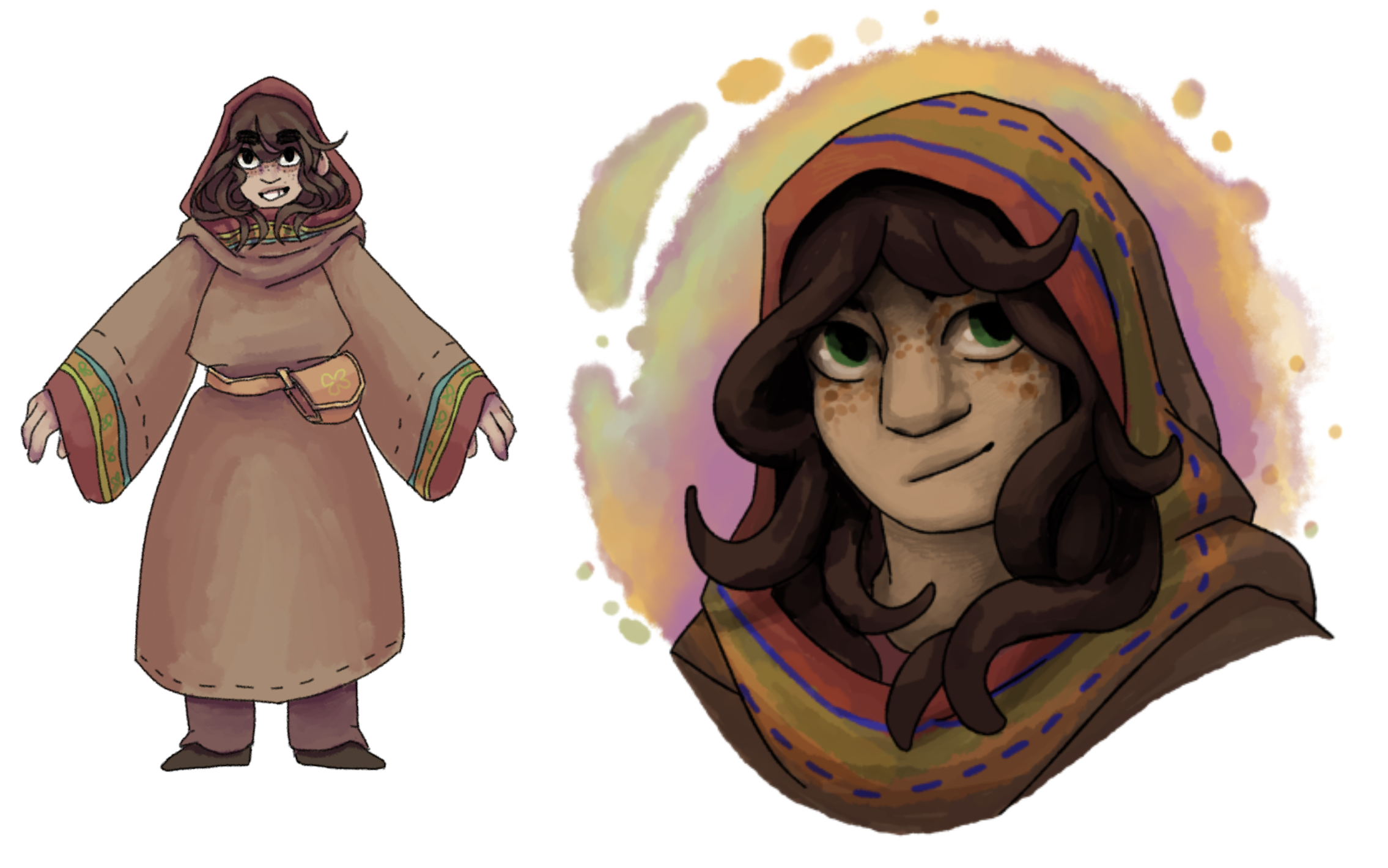 Elven prince, (Mesopotamian ruler), just chilling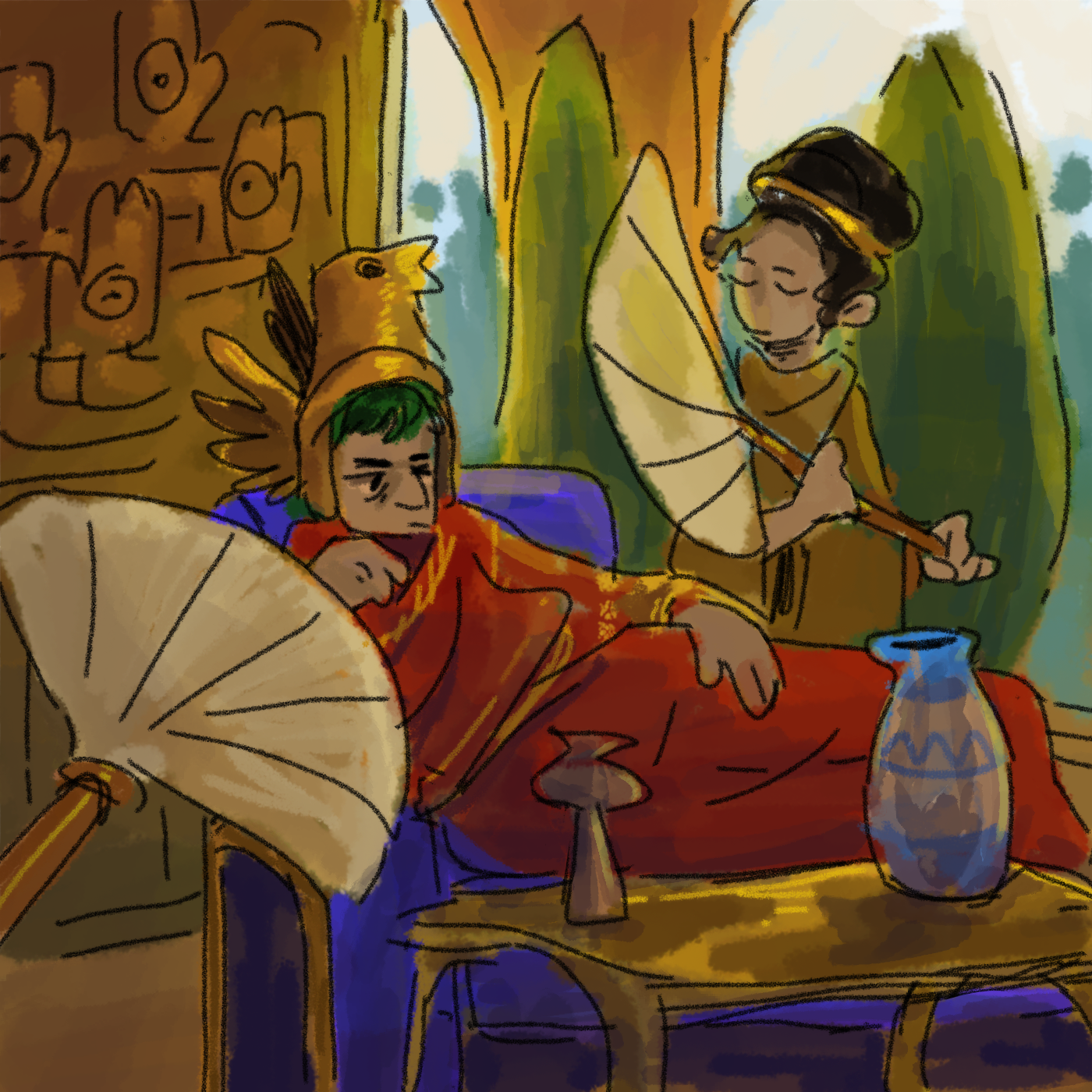 Different designs for prince's hat

---
It's a difficult and time-demanding decision, to make such major changes in a big project. Now we stand behind a theory that even if you know there are some things you could do better on your project, but it's all basically working well - maybe it's better not to throw away all the things you have already done and start fresh, but rather focus on finishing the project instead. Because it'll never be perfect and you'll always find things to make better - it's your first game, the most important thing is: to finish it. Later, you can use your experience to make your second game better.
---
Our biggest mistake in programming was focusing on unimportant things.
We wanted our first enemies - rats - to have a fairly advanced AI. They should follow you and jump at you when you're at the right distance. And that was the simplest of the enemy units; you can only imagine what complicated AI we had thought out for the bosses.
Example of rat jumping on the character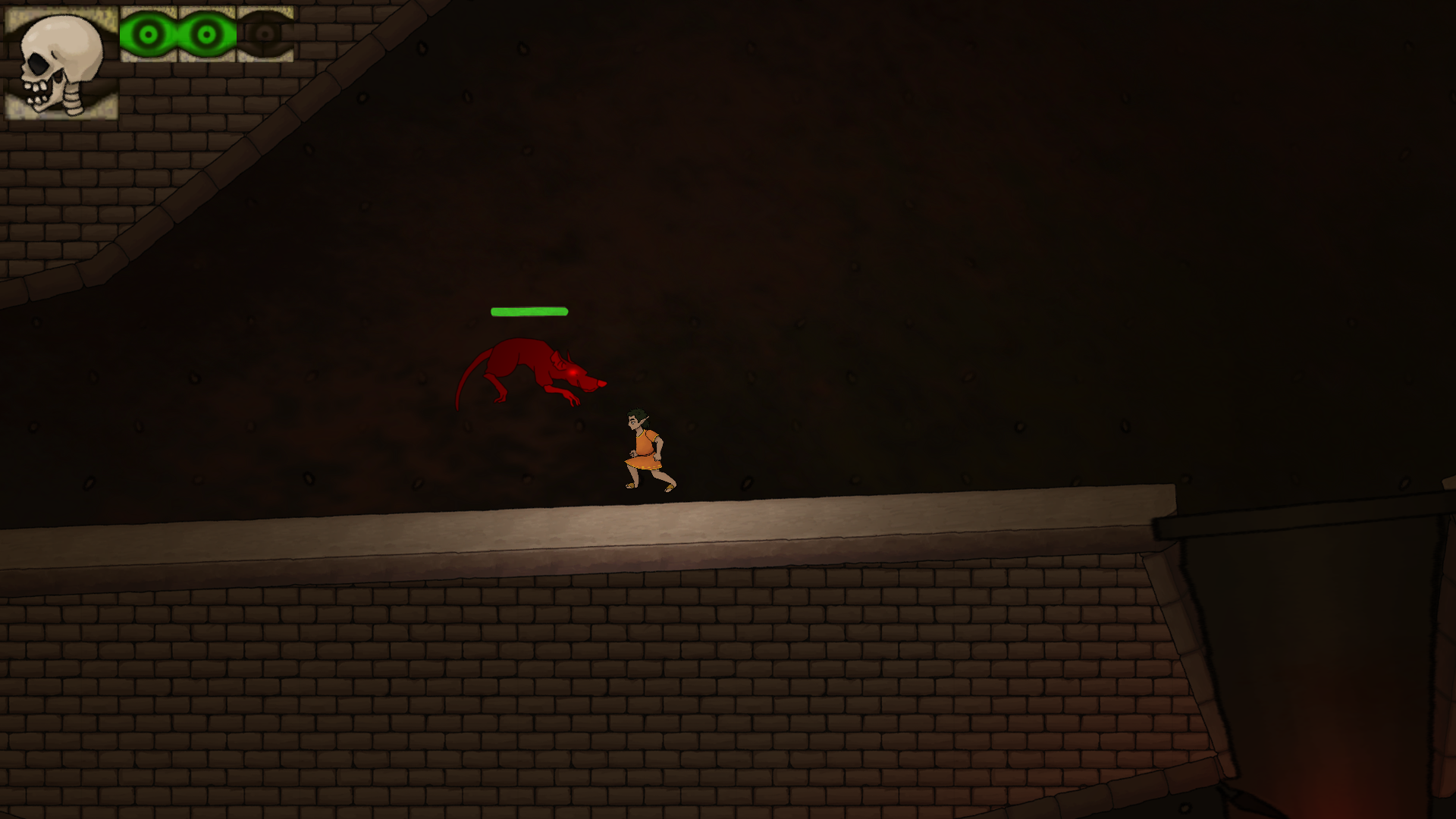 ---
We also wasted a large amount of time on rotating platforms (you can see them in the gameplay video). We created some levels with rotating platforms, the rotation was done by an animation in Unity - but sometimes there was a problem with the timing of the platform movement or with the character's reaction to the rotation underneath its feet. We wanted the rotating platforms to become a highly used part in levels with logical riddles, so focused our attention on writing the code for easier creation and management of the rotating platforms, instead of focusing on more important programming problems. It proved to be more problematic than we have originally thought. After many hours spent on the concept, we have decided to drop it.
---
While our artist was making all these big changes and our programmer was focused on unnecessarily complicated game mechanics, our fund money had been running thinner.
What to do, what to do? Learn more in Part 4!
---
PS: And even the evil shrimp gentleman demon got a makeover: check out his sick platform boots! (Elven prince is so frightened by the demon, even his graphics got shaky) [sketch comparing height of the two].