Hello to everybody.Sorry for the lack of updates or news but due to summer vacations and exams and Skyrim I didn't have much time for Loren.I've added some new spells,items and creatures as well as some new locations.The new spells include holy fireball,necromantic healing,summon a few evil creatures(death hound,ghoul,..),energy ball,teleporting and some other.Also I tweaked everything,so that all items are balanced(cost,damage,...).
Also I was creating a few quests.One of them will allow you to purchase a boat at the Two Fish Inn and travel to Seaton Delaval and Sandgreen Island(see image below).In Sandgreen Island another quest will be waiting for you to explore it which will reward you with a great sword and later even with a ship if you're ready to become a captain!
~Sandgreen Island~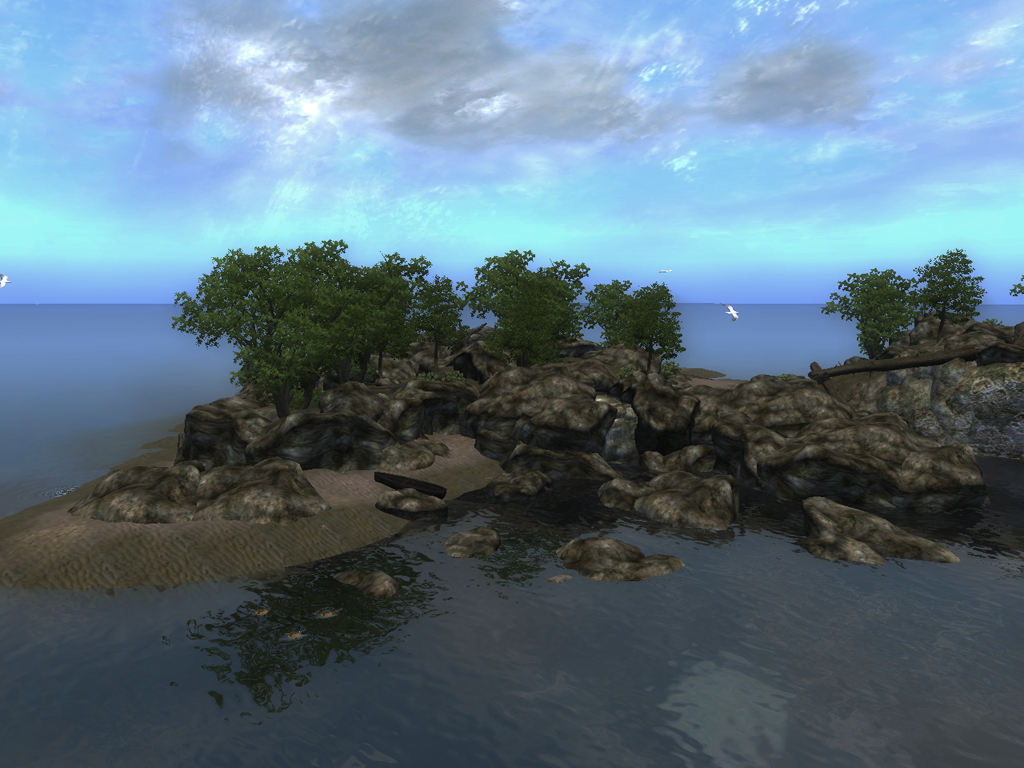 --Future Plans--
The version of Loren which will hopefully come within a month,is going to probably be the last version of Loren because now that Skyrim is out most people stopped playing Oblivion and started Skyrim instead.If there will be any bugs in this version I will fix them or even add more things if you want.Though that's not the end.If you want me to continue Loren in Oblivion I'll more than happy to do it.Here are my plans for the next versions of Loren(in Oblivion):
-finish what's still unfinished(complete all interiors,create more complicated packages for NPCs,voice acting,...)
-fix bugs if there are any
-add a main quest as well as side quests(and voice acting)
-add new items,creatures,spells,loading screens
-create the underworld which will probably be connected to the main quest
-expand Loren even more(new islands mainly)
-add the ability to purchase your own ship and travel to these islands
-make the seaworld more alive(new type of fish,more shipwrecks,more rocks)
-add new dungeons,caves,hideouts,...
-add guilds and factions to join including evil such as Necromancers
-add new homes that can be bought or gained through a quest
-add the ability to dig in specific places,grow plants and trees,forge weapons and armour
-maybe add new music pieces
Now,in case people think that Loren in Oblivion will not be a very big success now that Skyrim is out,I am willing to start a project in Skyrim similar to Loren. Of course the result will be much better since the Creation Engine has much more to offer,but it will take a very long time to finish since it's going to be a big project and because my computer at the moment can't run Skyrim very well(and the CK).
Also I have and other future plans.I have begun to create a stand-alone 2D top-down survival-horror game for PC.Of course it will be in modern age,combining elements from Dead Frontier, Resident Evil and other similar games,but it will be not a copy itself because it will have brand new features.