PROGRESS: Progress has been slow but steady. Focusing on indoor and separate cells, I have most of the walled city of Lockport and it's buildings ready for navmesh, along with a few buildings from some of the northern towns. I'm still working on my new textures and will hold off on screenshots until next month when they're (hopefully) done, but even then I don't wanna show too much. Also I'm still not sure I'm good at lighting yet soooooo we'll see if I can't improve at it before then. This project is obviously smaller than, say, Fallout Cascadea, and I'm only shooting for a Far Harbor-esque scale, so I'll try to avoid showing too much throughout the project.
So, for now, let's talk a little about the region of Niagara Falls. In the years since t war, vegetation has begone to overtake homes and empty towns. The Niagara Falls region is beautiful. There's no question. The county of Niagara, NY, is home to beautiful nature and architecture, and I've been thrilled working on a place of such beauty.
Much like Boston, the cities of Buffalo, Niagara Falls and even Lockport are vertical in the classic stonefaced east coast sense. Brick buildings that take up little square footage extend high up, with small rooms and a smart use of space.
However, its only once you leave the cities that the county shows its real gems of architecture. Yeah, there are a lot of classic farm houses, but in Niagara, Queen Anne homes are in abundance. Elegant trim, turrets, and each is distinct. These homes are a joy to build.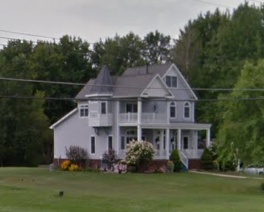 Then there are the factories. Mostly Tesla, some competition. Unlike the sterile space-age factories of F4, I'm going for a more cluttered, tetanus type feel.
The lands around might be cesspools and the cities irradiated husks, but the land along Niagara river truly is a paradise, with trees and growing things that don't want to kill you. Of course, there are plenty of things that do, but they are the minority. Traveling out from the river, the land slowly dies, until, not much further east of Lockport, you find yourself back in the wasteland.
Of course, like Besthesda, there are real buildings and elements from the location I'm bringing into the game, along with some fictitious, exaggerated, and wholly interesting locales. It's my ultimate goal to make every building and every town of the comparatively small map feel distinct.
To help bide the time, if you're interested, below is a Pinterest board of several images which inspired this project, for you to check out and feel the inspiration I feel now. Leave any questions you have below!