Long overdue update
The plan was to update this page a lot sooner but I ran into some trouble with the game's hardcoding and
internal colorpalettes. A playable release will still be a couple weeks from now but I figured I should atleast
show some of the progress. However I thought it'd be interesting to show the progress by showcasing what was
scrapped and didn't make it in the mod.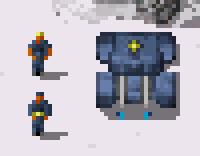 Stickstoff units (concept)
---
Everything related to the snow terrain (credit to Nyerguds for his unofficial patch) was scrapped. I figured it'd
be fun to work with the snow terrain but decided on only using my customized versions of the temperate
terrain. This meant scrapping the snow-related units and snow-related cutscenes as well:
Defeat cutscene (unfinished)
---
What was also scrapped was the first batch of music I made for the mod. Which were remakes of the original
soundtrack (non-convert ops / sole survivor), in favor for an original soundtrack which will be small but ready
for the first playable version.
Act on Instinct Remake (unmastered)
---
Before the release of the first playable version I'll be posting more updates both here and
on Twitter if they're minor updates. I'll do better frequenting updates this time.
Regarding C&C Remastered:
I'll still be working on this mod and only for ''Tiberian Dawn''. The appeal comes
from giving a game from 1994 a new coat of paint. So while I'm excited
for it, my focus will remain here. Next up: Some actual in-game footage.
Stay tuned!