-
--
Weekly Update
--
Hey guys, as stated, and you should all know by now. Tuesdays are Community update days. We've have some interesting stuff to show you, and news to tell you guys all at the same time!
First will be the news, and well there is no other way to put it! And this piece is about Multiplayer in particular. Since, the game will be Open Source. We have to avoid Torment from being a crashy, glitchy, buggy server platform. So starting, in the Public alpha, all public servers must be registered through us here at Hellheim Studios. This was a choice made due to the original Sauer. It's a bit more work but it saves time in the long run. Why? simply because it cracks down on modded servers, in which if a user has a vanilla copy game it will either cause the server to crash or the game client to crash. If you guys have any views or insight, please feel free to comment.
On the other side of things, I had fun with the whole ten minutes it took me to conjur up this map. Just to shoot things and test all the weapons we've been working on, and of course their pick ups.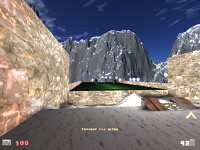 Yea, I'm pretty speechless on this one. Just a little fun thing I made (no design concepts or anything made prior). Like stated, this was just an overall test level, as we tested the Plasma Rifle, Push Gun and the other thing which I can't tell you about. Also you see the little new heightmapping involved here with some snow. Really no reason for it to be there.
On the concept side of things, Bad-AT-Chaos works on props and such to be used as backdrops etc. And he's hard at work. There are a couple things he's working on that he will show further down the road!
And here we go, concept art of the shotgun/rocket arena. Of course this will not be the only vanilla map to sport these gametypes. It's ment for 4 players, but we tested it with 16 sims on this map. And well lets just say, no one was alive longer than 10 seconds and the Kill : Death ratio was around -10.
Daniel has made another video for us, it has epic music or what we like to think is epic. But yea we know the music is a tad bit over used, but enjoy! These are the maps that are going to be in the public alpha. Enjoy.
And of course! The best for last! Kaylon, has been up to some pretty awesome stuff! Check out this song by Kaylon T Sherman.
Hope you guys liked this huge update compared to the other ones! I'll be back next week with news on the Closed Alpha testing, as that is set to start by the end of this week! So that will be fun for sure! This again concludes this weeks update for everyone. Frag hard ladies and gents. Frag hard.
Cheers,
David "Duke-Nightmare" Cluett