A new beta version is ready. In addition to usual bug fixes and minor improvements, this release adds one major feature: Online high-scores. This will likely be the last beta version before the final release (unless some critical bugs are found that need more testing).
Animated scene from 25th single player level: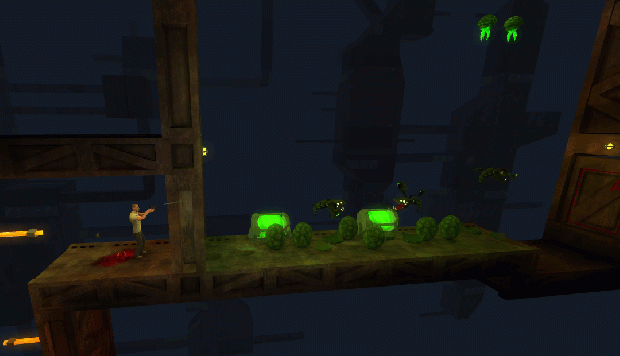 The online high-score tables are currently empty, go put your name in there: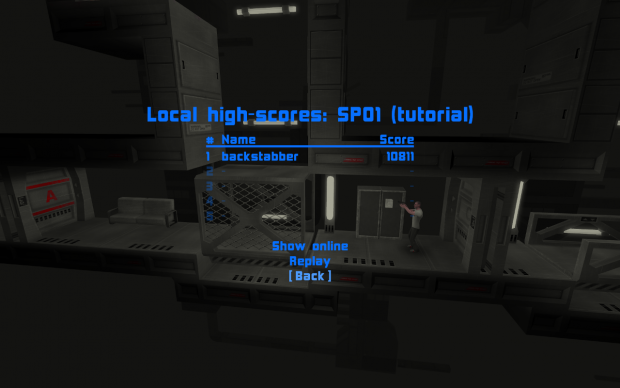 Here's full list of changes since 0.22.0 beta release:
Added online high-scores.
Weapon recoil no longer pushes player backwards while on ground.
Improved look of high-score, shared level and online match listings.
Fixed font artifacts on top of w -letters.
Fixed level sharing silently failing if no title is set for level.
Fixed unnecessary warnings in log when using long player name with non-ascii characters.
Hide old messages after 10 seconds from the in-game "console" to clear the screen.
Disable built-in update checks when running inside Desura.
Removed "share online" feature, the extra player skin is now available in full version.
Log formatted version numbers instead of hex values.
Updated many external libraries to latest stable versions.
Show option to launch browser when new version is available on the website.
Redetect connected gamepads in player controller settings menu.
Default to first available gamepad layout if it auto-detection fails.
Due to updates in my build environment, Lockdown Protocol now requires Microsoft Visual C++ 2010 run-time (previously 2008). If you see errors complaining about missing libraries, please check that you have that installed. The GLIBC version required in Linux has also changed, which means that some old distributions (for example Debian 6.x) are no longer supported.
More information and direct downloads are available on the website.