Although I have been playing around with some new game prototypes lately I have not forgotten Lockdown Protocol.
This update fixes one big cause of frustration that should have been fixed a long time ago. Previously, when pushing objects or when they get moved by explosions and bullet hits, they often end up in a position where you can no longer reach them. Objects intended to be used as cover no longer protect you when they get pushed to the side of the corridor. Also the eggs were sometimes in places where you could not shoot them directly.
The solution was embarrassingly obvious. Movement of most dynamic objects is now constrained to vertical plane so that they will always stay in the middle of the corridors and reachable by the player. The eggs have been made immovable and their positions in all levels has been adjusted so that they can always be shot.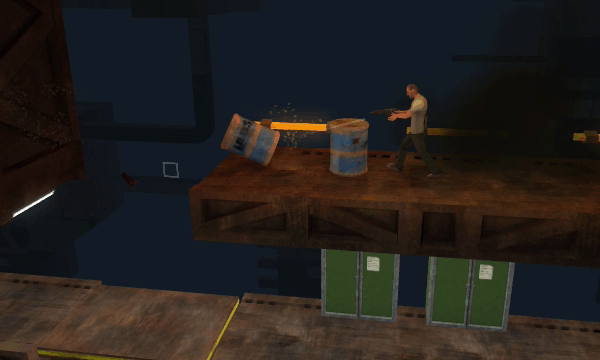 I have finally added a workaround to a long-standing bug that caused many textures to be completely invisible with Intel GPUs on Windows. This is a big thing because modern laptops run the game well, but this has been ruling out a huge amount of potential players. So, if you have dismissed the game in the past because of this, now would be a good time to give it another chance.
Here's a couple of fresh screenshots from the game:
Full list of changes since version 1.3.0:
Added final single player level (sp26).
Disabled mipmaps on Windows with Intel GPUs as workaround to long-standing missing textures bug.
Fixed zero completion target time (no time bonus) in 25th single player level.
Locked most dynamic objects to XY plane so that they won't slide out of reach when moved.
Made dragon eggs immovable and moved them to positions where they can always be shot.
Fixed physics bug causing completely wrong torques on objects hit by projectiles.
Fixed a couple of minor bugs found by static code analysis.
Ignore very small fall damage to prevent unnecessary damage effects.
With this version I'm dropping the demo version. Now that you can pay what you want for the full version, there is very little need for a separate limited demo version. It is possible to download the game for free for evaluation and later come back to pay what you think it's worth.
Check out updated the official game page for more information or go directly to itch.io for downloads.